Sport shorts
Better print online!
Have sport shorts printed
Sport shorts are an integral part of the team clothing for football, basketball or handball teams, as well as for other sports teams. Together with the jersey, they ensure that the team makes a perfect impression. In print24.com, you have found a professional service provider who can print sport shorts with player numbers or customised designs for you, all in professional quality. Select the desired shorts sizes and colours online, configure your print file and have the high-quality shorts printed right here!
Are you a sponsor who would like to equip your home club's team with high-quality sport shorts? Or do you belong to a club and have been given the task of finding a supplier for the low-cost, high-quality printing of sport shorts? In both cases, you've come to just the right place at print24.com. As one of the largest printing companies in Europe, we are optimally equipped for textile printing and can offer you not only excellent sportswear but also professional customisation at fair prices.
Matching sizes and colours for your club
The sport shorts we print come in the colours light blue, red, yellow, black and navy, in the sizes XXS, XS, S, M, L/XL and XXL.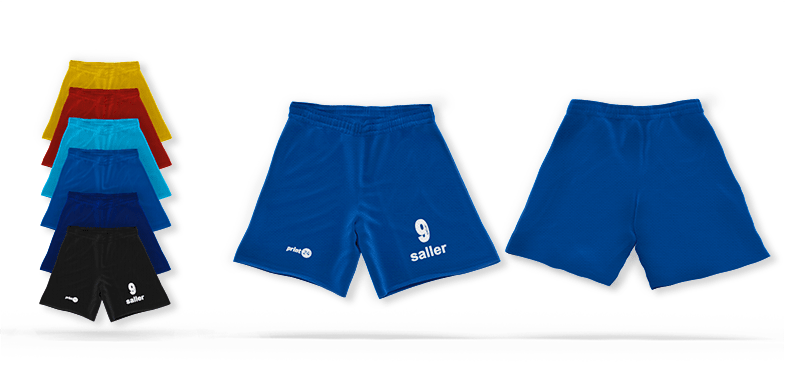 Placement of player number and own motif
Player number: Trouser leg - left: 80 x 100 mm
Own motive: Trouser leg - right: 80 x 100 mm
Versatile printing options for your sport and football shorts
There are two options to choose from for sport-shorts printing at print24.com. You can have your motif applied using either flock film or flex film printing. Both processes denote a transfer printing process in which the print motif is "transferred" to the textile using a carrier material. The flex foil used for flex foil printing consists of a carrier foil, a coloured foil layer and a layer of hot melt adhesive. Flock transfer printing uses a special flock transfer foil, which gives the print a typically fluffy, velvety feel.
The desired motif is cut from the pre-dyed foils and "welded" to the textile by heat. With flexo foil printing and flock foil printing, a wide range of colours is possible and the transfer process used makes it possible to work with absolute ink coverage. Another advantage is the long durability of this durable and tear-resistant print.
Order matching training bibs and field player gloves at the same time
At print24.com you can supplement your order of printed sport shorts with matching training bibs or field player gloves. These accessories come in tried-and-tested quality and are designed for durability.
These products are delivered unprinted. In the configuration menu, you can select your required size and colours.