Jerseys
Better print online!
Have jerseys printed
High-quality player and goalkeeper jerseys contribute to the overall professional image of a sports team. With them, the players can represent their club consummately at home or when playing away. At print24.com, you can have jerseys printed in excellent quality and choose from a range of colours and sizes. The print file for the jerseys can be configured easily and simply online. And we take care of the printing!
A team without jerseys is difficult to identify as a team. This is why jerseys are an essential part of club equipment for handball teams, football teams or hockey clubs. In print24.com, you have found an ideal service provider, from whom you can not only order excellent quality jerseys but also have them professionally printed.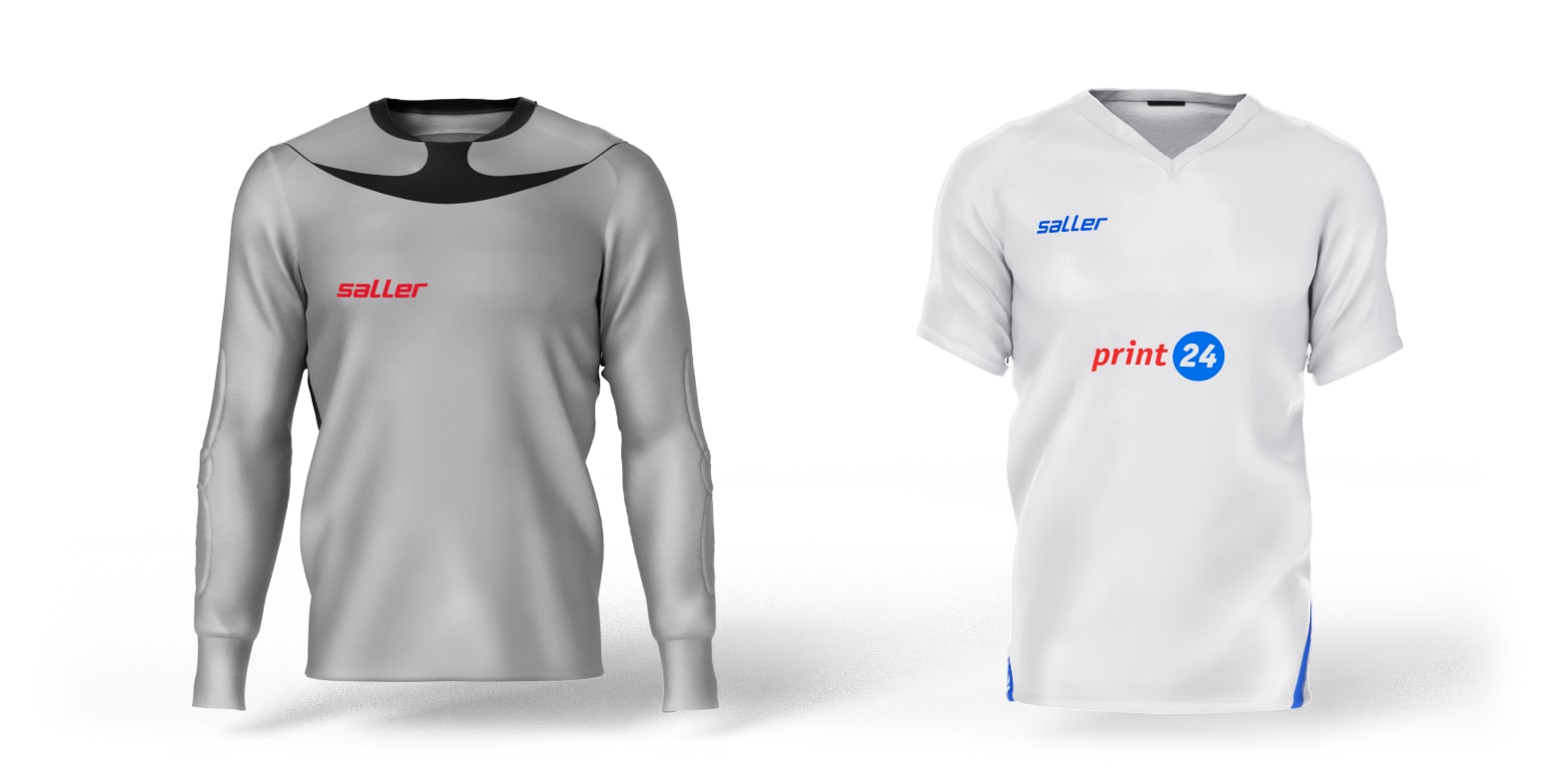 Player jerseys or goalkeeper jerseys
The jerseys are made of sturdy polyester and, as they are of the finest quality, promise the highest breathability and optimal wicking away of moisture.These short-sleeved player jerseys are available in sizes XXS to XXL. When printing the players jersey you can choose between different colour combinations, e.g. white-blue, white-black, red-white and many more.
Player jerseys:
Sizes: XX-Small, X-Small, Small, Medium, Large/X-Large, XX-Large
Colours: Blue/White, Yellow/Blue, Green/Black, Light blue/White, Navy/White, Red/White, Ruby/Light blue, White/Blue, White/Black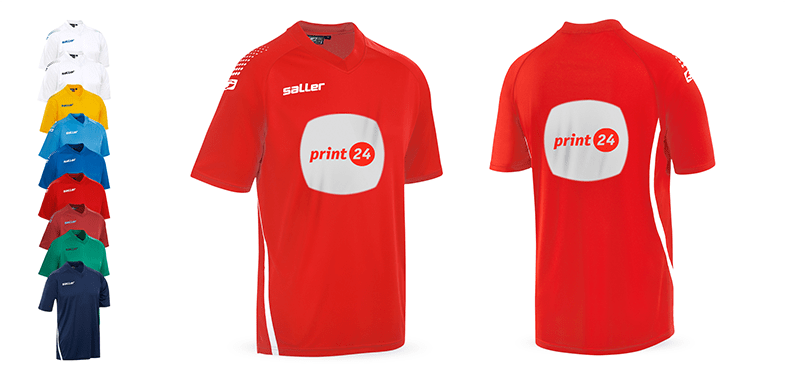 Likewise, if you opt to have a goalkeeper jersey printed, you are ordering a product made of 100 % polyester. This jersey features elbow padding and mesh inserts for optimal breathability.The long-sleeved goalkeeper jersey is available in the sizes XXS to XXL.With the long sleeve jersey you can choose between the colours red, yellow and grey.
Goalkeeper jerseys:
Sizes: XX-Small, X-Small, Small, Medium, Large/X-Large, XX-Large
Colours: Yellow, Grey, Red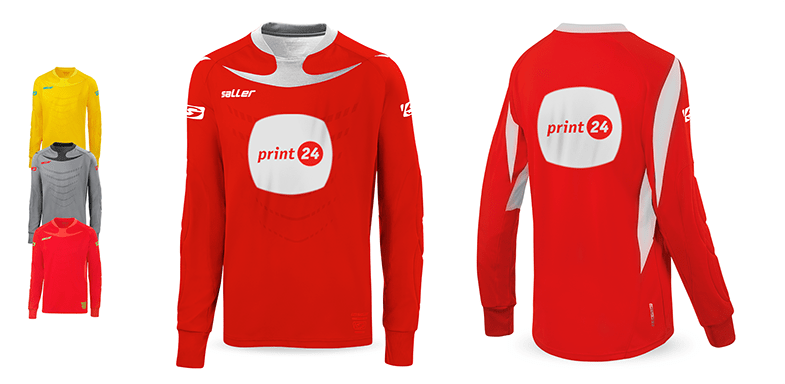 Have jerseys individually printed using flock-foil or flex-foil printing
There are two printing processes to choose from: flex film printing and flock film printing. This product can be printed individually in both flock film and flex film printing. Both processes denote a transfer printing process in which the print motif is "transferred" to the textile using a carrier material. The flex foil used for flex foil printing consists of a carrier foil, a coloured foil layer and a layer of hot melt adhesive. Flock transfer printing uses a special flock transfer foil, which gives the print a typically fluffy, velvety feel.
The desired motif is cut from the pre-dyed foils and "welded" to the textile by heat. With flexo foil printing and flock foil printing, a wide range of colours is available and the transfer process used makes it possible to work with absolute ink coverage. Another advantage is the long durability of this durable and tear-resistant print.
Have player numbers and/or a motif printed on jerseys
You can have our jerseys printed with player numbers or your own designs. Colour selection, player number (1 to 99) and player name can be edited in the shopping cart. The data sheet also contains an overview of player numbers and available colours. The font Arial Bold is used by default for the player name.
Your customised print design, for example, the club name, emblem or logo, can be printed by us on the lower chest or back of the jerseys. Of course, we can also print the player numbers on the chest and/or back.
Player number and player name:
Player number chest left
Player number back
Player number chest left + back
Player name back + player number back: 280 x 360 mm
player name back + player number chest left + back
Own motives:
Front - centred: 250 x 140 mm
Order together with practical accessories
At print24.com, you can complement your jerseys with practical player bibs in red, blue, green, yellow or orange.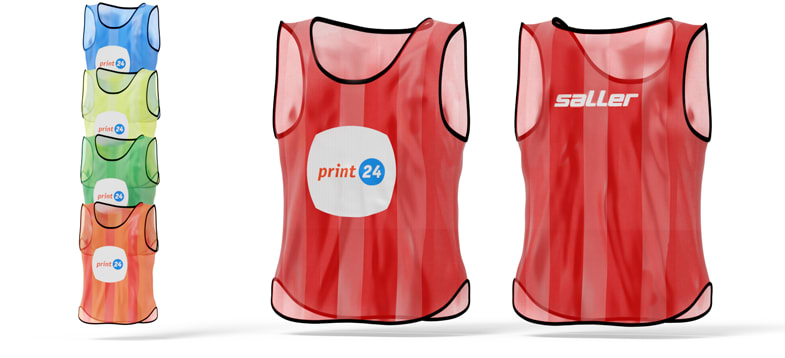 Practical field player gloves for game fixtures or training sessions in winter are also available. Please note that these products are supplied without printing.