Tension fabric frames
Better print online!
Printing tension fabric frames
Tension fabric frames are not only the perfect advertising medium for trade shows or events; these special frames are also ideally suited as design elements in shop windows or company premises. You can have your tension fabric frames printed at print24.com. We can offer you a wide variety of formats to choose from. If you already have your print file to hand, then you can start configuring your tension frame print online straight away!
Those looking for something different when it comes to the presentation of advertising graphics, informational material or company logos will find tension fabric frames to be the perfect product. The simplicity of their assembly and their sophisticated, tidily elegant appearance set these printed products apart from traditional presentation media.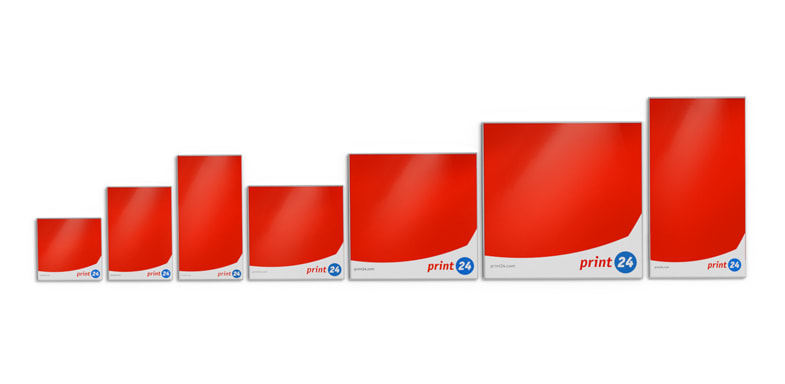 Standard formats as well as special formats
Here at print24.com, you have different formats to choose from. You can have a square tension fabric frame printed in sizes from 400 x 400 mm up to the maximum size of 1,700 x 1,700 mm, or choose a frame in a special format.
The maximum height or width for rectangular formats is 1,700 mm. This gives you a great many design options and plenty of room for your designs and graphics.
High quality fabric for brilliant prints
We print your motifs on high-quality decorative fabric with a grammage of 210 gsm. The 100% polyester material is crease-resistant, tear-resistant, elastic and opaque. This makes the fabric perfectly suitable for frame systems.
It is pre-fixed for sublimation, does not fray and has a good flatness. The fabric has B1 certification, making it flame-retardant, making it suitable for use in public spaces or at public events.
Easy installation and handling thanks to the tension frame
Tension fabric frames from print24.com possess their own tensioning system mounted in an aluminium frame. If, for example, you want to quickly swap prints because you want to hang new or updated content, this can be easily done. The framing system has a 4-mm-wide and 13-mm-deep groove at the edge.
The textile print has a 3-mm-wide and 13-mm-deep rubber lip around the edge. During assembly, this is simply inserted into the groove in the aluminium frame. The new content can then be presented safely and attractively. Additionally, the tensioning system ensures there are no wrinkles in the fabric.
Proven CMYK printing process
We print your designs using the 4/0 CMYK four-colour process. This means that there are no limits placed on your creativity. Printed tension fabric frames from print24.com are very versatile and can be used for logos, pictures of your company or informational graphics and texts.
When creating the print file, observe the specifications in our data sheet. In this way you avoid unnecessary complications during printing and we can complete all tasks for you smoothly and promptly.