Envelopes
Better print online!
Format 110 x 220 mm DL with window on the left
80 gsm Offset, zip and seal
Outer page (number pattern, grey inside printing)
Transfer print data later
Envelopes
Outer page (number pattern, grey inside printing)
110 x 220 mm DL with window on the left
80 gsm Offset, zip and seal
4/0-coloured CMYK
100 Pieces
1 Theme
Delivery to Ireland
By Friday, 04/02/2022
Transfer print data later
Free print data check
Envelopes
Outer page (number pattern, grey inside printing), 110 x 220 mm DL with window on the left, 80 gsm Offset, zip and seal, 4/0-coloured CMYK, 100 Pieces, 1 Theme, Delivery to Ireland, By Friday, 04/02/2022, Transfer print data later, Free print data check
€ 25.31 | € 31.13
| € 5.98 | € 7.36
Print envelopes
With appealing envelopes, you can increase the seriousness of your business letters or ensure the necessary attention and curiosity in recipients. As a private individual, designing and shipping your individual envelopes will prove your sense of style. At print24.com you can print personalised envelopes. Not only standard shipping formats are available, but also different versions with wet-adhesive or zip and seal.
In addition, you can choose from over five different paper variants as well as printing from different spot colours to perfect your envelopes. The order of your personal envelopes is possible from 10 pieces. For major customers we can print up to 100,000 envelopes per order.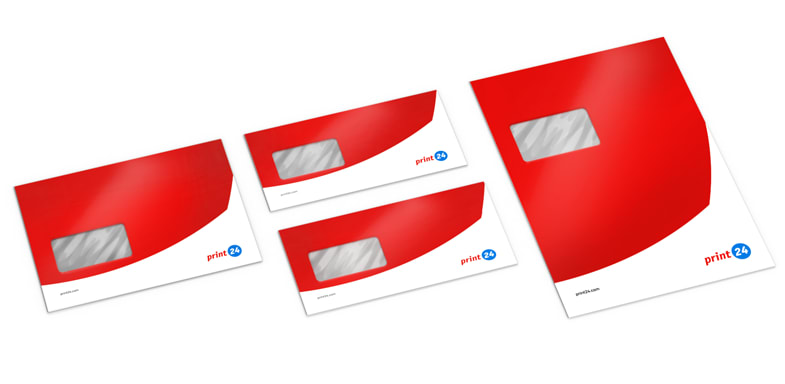 Order individual envelopes
Whether billing, wedding invitation or Infopost ⎼ professionally designed and printed envelopes are always a perfect solution. At print24.com, you can design your envelopes according to your ideas and optimally change them to the desired purpose. This applies to business as well as private life.
Businesses still send invoices, offers or sales letters to a large extent by mail. Official correspondence with authorities and organisations also takes place by post. Professionally created and printed envelopes are ideal for a serious and appealing impression.
Print envelopes in many formats
You can have your envelopes printed in the standard shipping formats DIN-Lang (110 x 220 mm), DIN C6 / 5 (114 x 229 mm) and DIN C5 (162 x 229 mm). We also offer square envelopes in DIN square format (155 x 155 mm). In addition, the formats DIN B5 and DIN B4 (248 x 346 mm) can be customised as mailers.
You can configure envelopes as well as mailers with or without viewing window. For our cardboard envelopes, the opening is on the short side and on envelopes on the long side. For printing the entire outer surfaces are available!
High quality papers for your envelopes
We use offset paper as the standard paper for printing your envelopes and mailers. Alternatively, you can choose eco-friendly recycled paper certified with the Blue Angel. For stylish correspondence we recommend our premium papers.
Upon request, we will print your envelopes on premium paper in the linen version. For envelopes made of offset or recycled paper, you can choose between wet-adhesive or zip and seal.
We only process premium papers into self-adhesive envelopes.
The zip and seal envelopes have an adhesive surface over which a cover strip is pulled. To glue the envelope, this strip is simply peeled off and the tab pressed. The very easy handling makes zip and seal envelopes popular products in offices.
If you are using an inserter, wet-adhesive envelopes are a good choice. They have on the tab a rubberized surface that sticks when moisturized.
Your colour options for printing envelopes
When printing, we can print the outsides of your envelopes in black, CMYK and custom colours. A combination of CMYK and Pantone is also possible. Thus, lettering, but also graphics can be perfectly implemented.
If you want to design the envelopes in your corporate design, we recommend special colours such as Pantone to ensure maximum colour intensity. With gold or silver, you can highlight individual logos or letters.
Something very special is the full-surface print outsides of your envelopes. For example, with print24.com you can print on the outside in Pantone over the entire surface. This will make your envelopes stand out from the standard and become something very special. Especially when advertising you can leave a lasting impression with individually coloured envelopes. For "Christmas mail", the full colour application in red is often chosen.