T-Shirts
Better print online!
Product
Properties
Placement of theme 1 Front
Placement of theme 2 No placement of theme
Quantity
Delivery
Standard estimated by 06-07/12/2022
data
Transfer print data later
Selected product configuration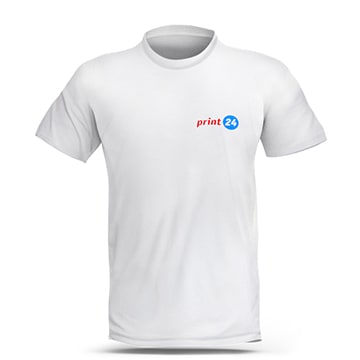 T-Shirts
4-coloured
Classic
Men
White
Medium
Digital printing
1 Piece
1 Theme
Delivery in Ireland
Estimated by 06-07/12/2022
Transfer print data later
Free print data check
€ 7.57 | € 9.31
Ex. VAT | Inc. VAT plus € 4.84 | € 5.95 Dispatch
T-Shirts
4-coloured, Classic, Men, White, Medium, Digital printing, 1 Piece, 1 Theme, Delivery in Ireland, Estimated by 06-07/12/2022, Transfer print data later, Free print data check
€ 7.57 | € 9.31
Ex. VAT | Inc. VAT plus € 4.84 | € 5.95 Dispatch
Printing T-Shirts online
At print24.com you can print on t-shirts in excellent quality on high-quality material. Whether as a promo shirt for advertising campaigns in pedestrian zones, as a t-shirt in the corporate design for your employees or as a beautiful gift idea for for friends, t-shirt printing with print24.com offers you a wide range of possibilities for individualisation.
Thanks to modern textile printing processes, we produce a long-lasting product that you, your employees or friends can enjoy for a long time. Individualised T-shirts can be printed from one piece at a favourable price. However, we can also process up to 25 pieces and more for you per order.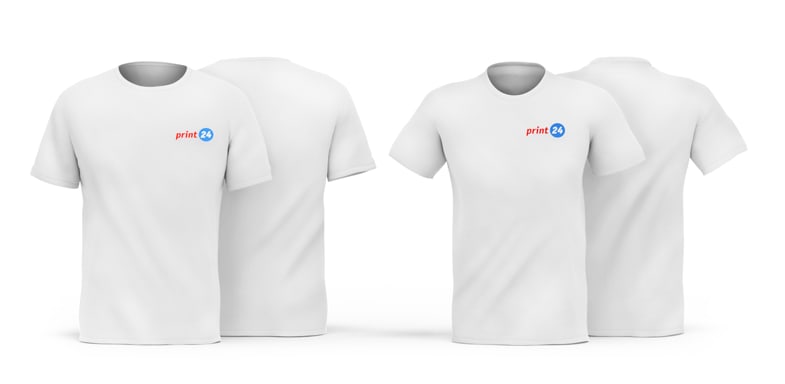 Choose your style: Premium or Classic
The premium versions are classic single jersey t-shirts with an elastane component in the narrow ribbed cuffs. They are made of 100% long staple combed cotton, which with a grammage of 180 gsm is extremely dimensionally stable and durable, but still feels extremely soft. The particularly fine surface also makes it ideal for any type of refinement. The T-shirts have reinforced shoulder and double seams as well as a neckband. Our baby T-shirts have a bordered collar with overlapping shoulders, which makes them particularly easy to put on and take off. While the women, children and baby T-shirts are made with side seams, the men T-shirts are made of tubular fabric. All premium T-shirts have a modern cut.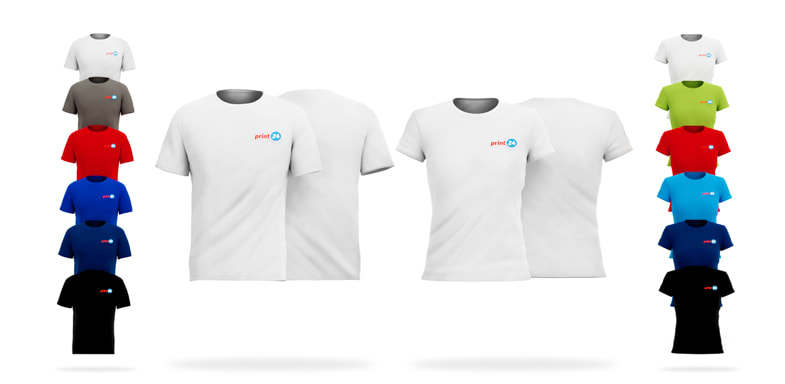 Our Classic t-shirts are jerseys made from 100% half combed cotton with neckband and rib collar (Classic Miss = jersey collar). With a grammage of 150 gsm they are light and comfortable to wear in warm temperatures. Children (up to 4 years) and women's t-shirts are made with side seams. The children (from 6 years) and men t-shirts are made of tubular fabric and are traditionally cut, while the women shirts are fitted.
The printed t-shirts should be washed at 40°C maximum. Bleaching and drying in a tumble dryer is not recommended. Iron only warm and not hot. Cleaning with perchloroethylene is possible without any problems.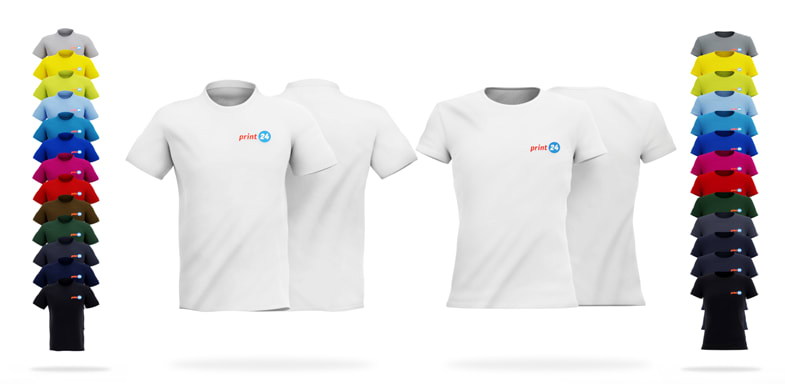 Print custom T-shirts for men, women, children and babies
At print24 we print t-shirts in the common sizes as well as in large sizes for women, men, children and babies.
The range goes from small to XXL for ladies and from XS to 3XL for men. Our available child sizes cover all size steps from 86/94 to 140/152. Individually printed baby shirts are available in sizes 56/62 to 80/86.
The T-shirts are made of 100 percent cotton and depending on the configuration you can choose from different basic colours.
Depending on the desired shirt, up to two areas are available for your motifs. You can print the t-shirts for example on the sleeve, back, neck, front and bottom.
Huge range of colours
At print24.com, we print T-shirts not only for women or men, but also for children and babies. Depending on the configuration, you can choose from various basic colours.
The men's shirts are available in many colours, for example apple green, blue, fuchsia, yellow, red, black and white.
You can also choose between different colours for the ladies' T-shirts. Here is a small excerpt: Blue, Cherry berry, Yellow, Light green, Red, Black, Turquoise, White.
T-shirts for children print on u.a. in the variants blue, Yellow, light green, red, black or white.
For babies you can choose from shirts in Yellow, light blue, navy, pink, red or white.
So you can perfectly align the basic colour of your T-shirts with the later print motif.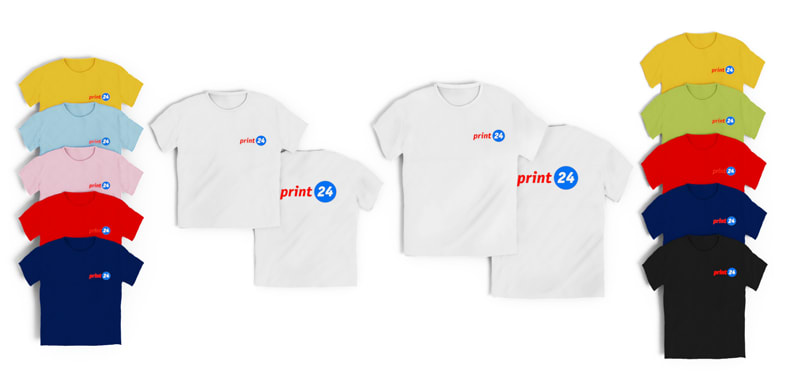 Details about the printing process
For the product T-shirts, choose between digital printing, screen printing and transfer printing.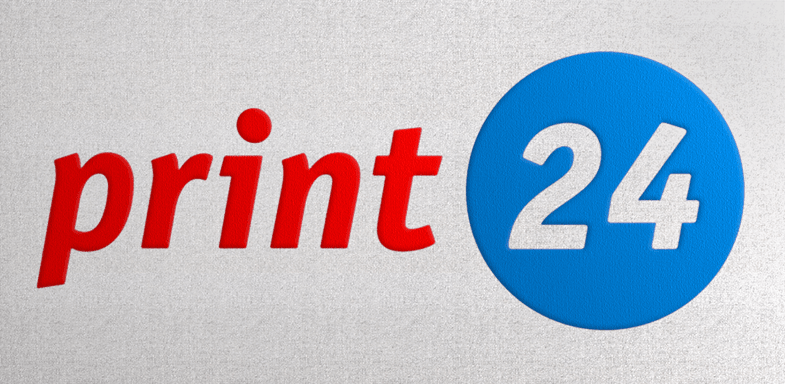 Digital print
With modern digital printing relatively large areas can be printed on textiles. With this pressure-free process, motifs are printed directly onto the textiles using an inkjet printer. The process makes individual prints possible even for single pieces. Furthermore, many colours and gradients can be displayed because the printing technique is based on the so-called subtractive colour mixing of CMYK. In order to ensure that the printing ink adheres to your T-shirts, we first treat the textiles with a spray, an "Odorless Fixation Agent". This spray is then dried at 160 ° C in two 6.5 minute operations. After printing, no additional coating is applied. By using a Kornit Avalanche Hexa 1000 press, we use the ink-jet process to produce particularly bright colours and extremely high levels of detail. At the same time, the soft-touch surface of the print looks very good. The environmentally friendly printing inks also have a very good wash resistance at 40 ° C. Plus there's another bit of good news: no screen-making costs are incurred during this printing process!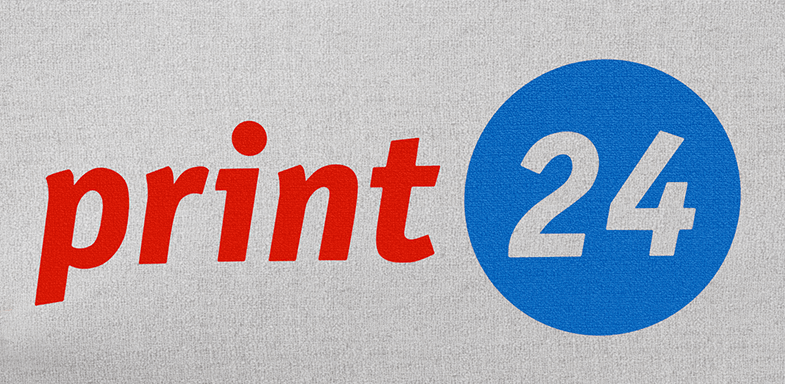 Transfer printing
With the digital transfer process, motifs and fonts are printed in CMYK on a backing paper and then transferred to the fabric with a transfer press. In transfer printing, flat colours as well as the finest colour gradients, for example in photos, can be brilliantly represented. By printing on a white transfer film, colours are reproduced perfectly, as the background does not shine through. Furthermore, transfer printing is characterised by high contour sharpness and coverage. A further advantage is undoubtedly the independence of fabric and colour, which is achieved by transfer printing. Regardless of which textiles are printed, the appearance of the print is identical on every fabric.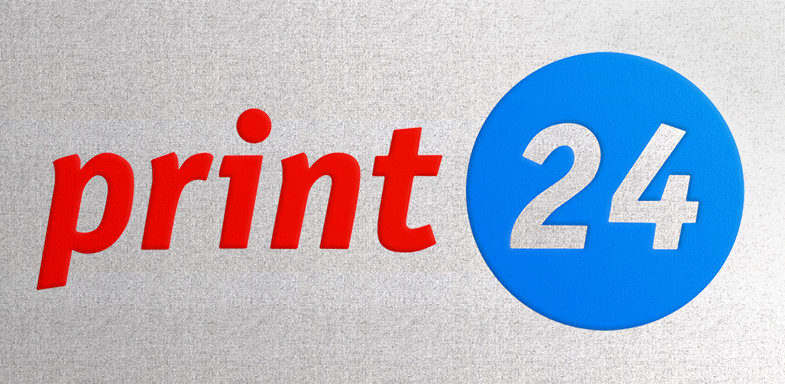 Screen printing
Screen printing is a real all-rounder among the printing processes. Here the printing ink is printed through a finely woven fabric onto the corresponding textile using a rubber squeegee. The areas that should not be coloured in the final printed image are made colour-impermeable by means of a stencil at the corresponding mesh opening. The direct transfer to the fabric makes the haptics very neutral and, in contrast to alternative printing processes, feels less gummed. This ensures a high wearing comfort which does not affect the fabric feel even after repeated washing and ironing. The screen printing process, which is characterised by long durability and resistance, produces rich colours with high covering power even on dark textiles. Especially for long runs, this process achieves top printing at comparatively low costs. In addition to printing with conventional inks, so-called spot colours can of course also be selected. For example, metallic colours such as gold, silver and bronze are considered exclusive spot colours with particularly high recognition value. Metallic colours are not created in CMYK but are pure Pantone colours. You should use the following Pantone colours to display these elements: Pantone 871 C (gold), Pantone 877 C (silver) and Pantone 876 C (bronze). Of course, all other metallic colours of the standard Formula Guide and Metallic Formula Guide from Pantone are also available.
Please note: Use a minimum font size of 11 for an optimum print product. Lines should also be at least 0.5 mm wide.