Brochures
Better print online!
Print your brochures conveniently
Whether as an advertising brochure for your company, exclusive catalog for a fashion label, elaborately richly illustrated brochure or extensive product catalog, with brochures from print24.com you are in the right place. In addition to a variety of paper options, there are also attractive refinments for your print products to choose from. The print job is possible from a single piece onward.
Brochures can also be printed at print24.com in large quantities with more than a thousand pages in excellent quality, and at reasonable prices. You can choose from popular DIN formats as well as special sizes such as "art size brochures".
Wire binding or perfect binding
Brochures can be bound in four different ways. For example, you can choose from classic staple binding. However, if the paper is thicker, we recommend a spiral or perfect binding. It is recommended to use the perfect binding for high-quality product catalogs. If you want to use a spiral binding, you can choose between the high-quality metal wire-o binding in white, black or silver.
Has your brochure 12 pages or less? We can also use a loop-binding instead of a conventional staple binding. This has the advantage that your broshures can be easily filed in lever arch files or ring binders.
If you choose staple binding, we recommend creasing lines from paper thicknesses of 170 gsm onwards. For perfect binding, creasing is automatically included.
Optionally, we can add perforation lines to your brochures. This variant is useful, for example, if your brochure is to contain detachable vouchers. Up to four perforation lines can be created in the configurator.
What is the difference between PUR Eco and PUR Classic?
Both versions are processed with a high-quality PUR adhesive binding, which offers longer durability and greater robustness. The only difference lies in the printing technology used: While the PUR Classic brochure version is produced using the classic offset printing process for orders of 500 or more, the PUR Eco version is produced using the digital inkjet printing technology. This makes PUR Eco brochures suitable for smaller, more cost-effective print runs.
In which formats can we print your brochures?
Comprehensive brochures are printed for you in the classic DIN formats from DIN A6 (105 x 148 millimeters) over DIN Lang (105 x 210 millimeters) up to DIN A4 (210 x 297 millimeters). The DIN sizes are very good if you want to file the brochures, for example, in ring binder or insert them into presentation folders. Brochures in DIN-Lang are perfectly designed for the mailing of advertising mail or invitations in long envelopes.
In addition to these DIN sizes, we can also realize your brochures in other formats. For example, product catalogs in square format 148 x 148 millimeters can be very appealing. Small product brochures are also possible in 120 x 120 millimeters. We can also create your products in 105 x 297 millimeters, the "half DIN A4".
For lavish brochures, the "Art Size" size is 210 x 280 millimeters. Supplemented by a high quality spine-glued binding, exclusive brochures can be created.
On request we can print rectangular sizes in landscape or portrait format. Of course, special formats are possible. These are created individually in the configurator. Please note that the format specification always refers to the closed brochures. Also, remember to add two millimeters of bleed on the page you want to crop.
We can print brochures with over a thousand pages for you. The page number always indicates the closed and finished or folded brochure.
Which paper should I choose for my brochure?
The contents of your brochures are printed on coated art paper as standard. This has the advantage that colours and depths come into their own. You can choose between five paper thicknesses of 90 to 250 gsm in gloss or matt. If, for example, you want to print brochures yourself with addresses or instructions, the offset paper is ideal. It is available in three thicknesses of 80, 90 and 100 gsm.
The offset papers, like the optionally available recycled paper, are bright white and can be used in laser or inkjet printers.
If you select a cover, we can realize it with different sizes of paper, 135 gsm, 170 gsm and 250 gsm as glossy or matt paper. Depending on the configuration, 170 gsm offset and 170 gsm recycled paper can also be selected for the cover.
Your refinement options for the brochures
Depending on your choice of paper and product selection, print24.com offers many different ways to enhance the surface of brochures: For a very special haptic impression, the blind embossing offers a deep or high embossing of the outsides of your brochures.
If you want a cellophane wrapping, we laminate the outside with glossy or matt foil. It provides additional protection of the product. If you also select soft-touch or linen texture as a variant, the surface gets a special feel.
Your product will be a real highlight of presentation or invitation if you finish the outside with a hot foil or hot foil relief embossing.
For example, you can have individual letters, your logo or motive embossed. These are covered with gold-coloured, silver-coloured foil or foil in bronze, blue, copper or red. A really extraordinary effect!
With UV varnish, we can finish either the entire outer surfaces or only individual spots. At the same time we can combine different finishes for you to make your brochures or brochures even more noble.
If you have CD-booklets, DIN A5 brochures or DIN A4 brochures with a maximum of 12 pages printed, we can laminate all pages if you wish.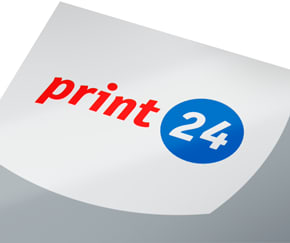 A protective varnish makes your product more resistant to wear and tear, more attractive to the touch and even more appealing to the eye. That's why a protective coating is the recommended finish for postcards, for example.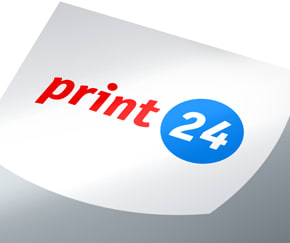 With laminating, a wafer-thin film is applied to your printed product. This gives your printed product a higher quality and at the same time makes it more robust.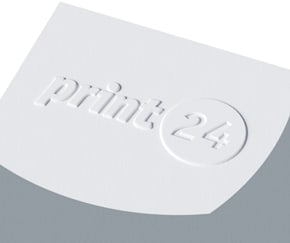 With blind embossing, you can highlight a motif vividly. If you choose a high embossing, your motif will be displayed in a raised position, if you choose a deep embossing, the motif will be imprinted as a dent in your printed product.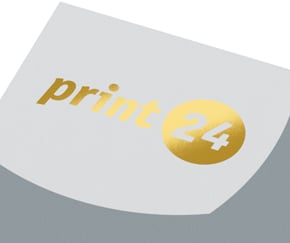 Hot foil stamping uses pressure and heat to apply coatings from a carrier foil to your printed product. This allows you to enhance your print product with metallic effects, for example.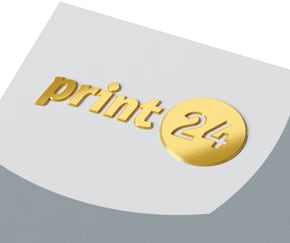 Hot foil relief stamping is a combination of relief stamping and hot foil stamping and combines visual and tactile effects.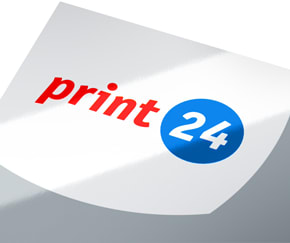 With UV surface varnishing, an additional layer of varnish is applied to your printed product, which gives it additional protection and makes it look even higher quality.
With UV spot varnishing, the varnish is applied only partially. This allows you to highlight certain areas of your product both visually and haptically.
Pantone, Silver and Gold: Your colour options for booklet printing
If entire surfaces are to be completely coloured, you should choose Pantone. The special colours allow a very evenly application of paint without deviations. Choosing Pantone is also recommended when printing your corporate design to prevent colour diviations. Black and CMYK can be combined with Pantone, gold or silver.
We print the cover pages of your brochures in black, CMYK or with special colours, like Pantone, gold and silver. How about printing individual lettering, headlines or logos in gold or silver on the cover pages and choosing CMYK inks on the inside pages of your brochures?
FAQs about the product Brochures
Staple stitching or perfect binding, what is better for brochures and leaflets?
This depends on the use. An adhesive binding holds very well, but with staple binding the brochure can be opened "properly".
Is the spine of brochures grooved automatically?
If you choose an adhesive binding, the back is automatically grooved.
If you opt for staple stitching, you can create a groove in the print data yourself.
What kind of perfect binding do you offer for product brochures?
Brochures are attached with a PUR adhesive binding. The PUR adhesive is a special polyurethane adhesive, which is applied to the back of the block during adhesive binding and thus joins the individual pages together as a block.
What are ring loops for brochures for?
With the help of ring loops, brochures can subsequently be filed in a ring binder for archiving.
What is the difference between perfect binding and spine-glued binding for brochures?
For adhesive binding, the individual pages are joined together as a block and joined together with the special polyurethane adhesive (PUR), which is applied to the back of the block. This bound block with the inside pages is placed in the binding and fastened. The result is a thin or thick spine, depending on the number of pages and the paper. Brochures with adhesive binding are particularly popular for extensive brochures, such as travel brochures.
In spine-glued binding, the printed sheets (i.e. double pages) are collected and placed one inside the other. These are then glued together in the fold or waistband. Spine-glued binding is suitable as a supplement in newspapers or magazines. These are usually ordered in large quantities. For this reason, we only print booklets with spine-glued binding from a large print run of 10,000 copies.
From which quantity can A4 brochures/leaflets be ordered in landscape format?
From 250 pieces A4 brochures can be ordered in landscape format.
Can I order a brochure with punched holes?
We do not offer brochures with holes. Instead, you have the option of choosing a ring loop binding that can be used to file your brochures cleanly.
What types of binding do you generally offer for brochures and leaflets?
We offer the following binding types: staple binding, perfect binding, spiral binding and spine-glued binding.
Can brochures also be printed in small runs?
Yes, we print brochures and leaflets from 1 piece.