Banner-displays
Better print online!
Banner-displays printing
L-banners and X-banners are versatile tools for simply and efficiently appealing to target groups. These print products are multi-purpose, and can be used for indoor visitor and customer information, as well as effective outdoor advertising. To ensure your selected print motif is long-lasting, the print quality and material used in your promotional and presentation banners are particularly crucial. That's why you should leave the creation of L-/X-banners to the experts at print24, who will take care of your printing order reliably, precisely and quickly.
Do you often present at smaller trade fairs with your company, and want to effectively attract attention to your products or services? Then promotional banners are a simple, low-cost solution! They are easy to transport, and can be put up wherever they need to be. Thanks to their high-quality print materials, our L-banners can be used several times without any problem. You can also order the right fastening system for your promotional banners here at print24.com. By the way: In addition to L-banners, you can also optimise your trade fair presentation with complete counters, roll-up banners or exhibition panels by print24.com!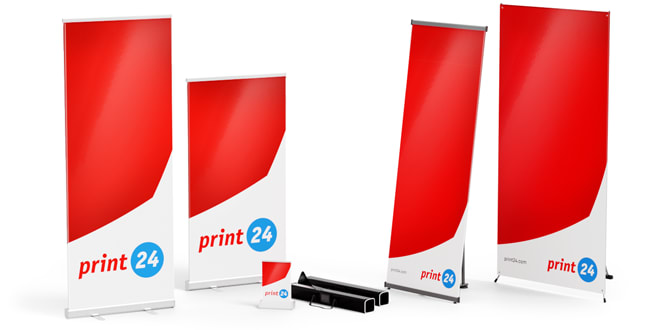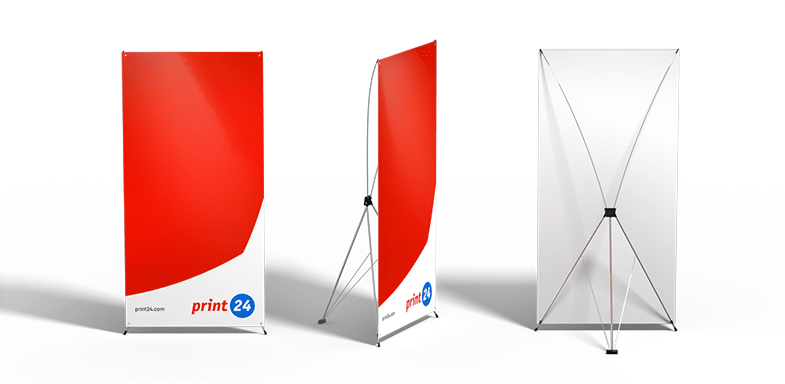 The material – non-tearing, scratch-proof or water-resistant
If you need your promotional banner to be more robust and equipped to cope with all weathers, choose non-tearing, highly tensile, scratch-proof, 510 gsm-thick PVC tarpaulin. This vinyl fabric is not only waterproof, but also UV-resistant. Regardless of the product selection, the banners offered here meet the criteria of fire protection class B1. You can therefore use your L and X banners at public events without any problems and thus comply with fire protection regulations.
From small & handy to large: our range of formats
With print24.com, you can print striking L-banners and X-banners. Present your company logo on a 1,000 x 2,000-millimetre promotional banner! Or imagine what you could put on a 800 x 2,000-millimetre PVC banner to attract potential customers to your workshop! Whichever format you choose, we can print your banners in top quality!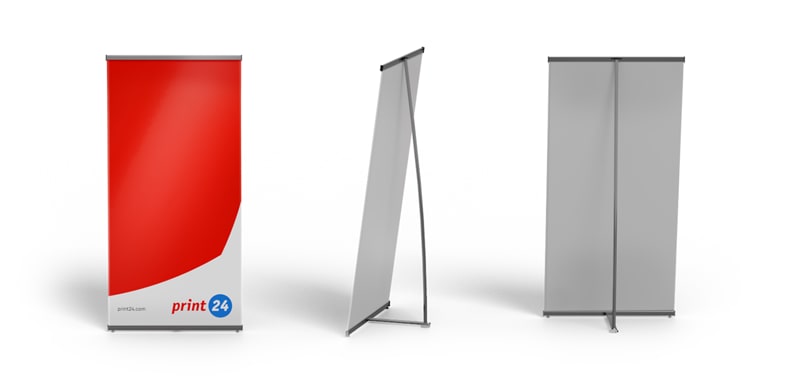 With fastening system upon request
If you want to use your L-banner instantly, we offer you an extremely practical solution. Because at print24.com, not only can you print banners, you can also order a matching fastening system at the same time. You have the choice between two systems. For the L-banner it consists of aluminium clamping strips clipped onto the banner. A reinforced rod behind the print clamps it. This rod can be broken down into three parts to facilitate transportation. X-banners come with a flexible pole-tension-frame system. The banner can be easily replaced due to four eyelets at each corner.
The extremely light frame-system can be folded for saving space, is easy to transport and can be set up instantly. In addition to a protective cylinder for the print, banner formats of 800 x 1,800 millimetres and above also come with a handy carry bag. The print24 fastening systems are suitable for materials up to 0.5 millimetres thickness. You can of course order the system and tarpaulin or banner print from us separately online.
Which printing inks shall we use on your L-banner?
Our print shop uses a CMYK four-colour printing process for your promotional and presentation banners, printing on the front side of your product. We exclusively employ quality inks to guarantee perfect print products.
When creating the print file, observe the specifications in our data sheet. In this way you avoid unnecessary complications during printing and we can complete all tasks for you smoothly and promptly.