Stickers and Labels
Better print online!
Have Stickers and Labels printed
We print stickers and labels for you in many different formats and designs. Depending on the product selection, free forms and special formats are also possible. You can perfectly configure your labels as address labels or bottle labels. Thanks to a wide range of variants, the stickers can also be used as price tags for packaging and products. Traditional stickers are simply ideal for emblems or badges. With your slogan or a smart phrase, stickers are of course also suitable as advertising material.
In addition, labels and stickers can be used to seal product packages or to mark and label them. Benefit from the variety of formats and print24.com will print labels and stickers that perfectly match your requirements!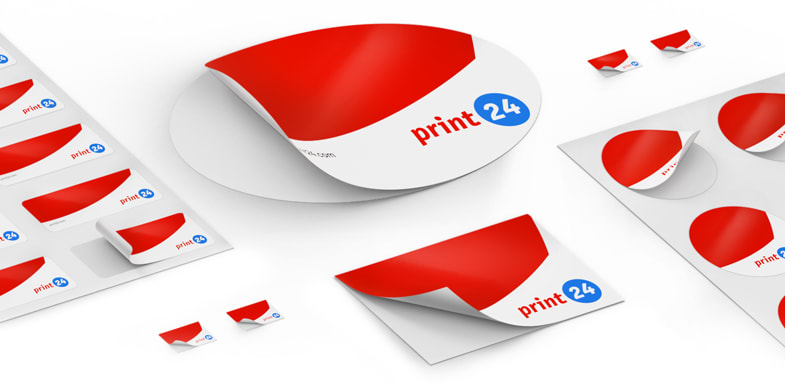 Design stickers and labels in various formats and free forms
Various different standard formats are available for printing your stickers. The smallest, selectable format is stickers in 50 x 20 mm format with rounded corners. With DIN A3 stickers (297 x 420 millimetres) you have the maximum size available. In between, all common DIN formats from A8 to A4 are possible. We can also print DIN-long stickers for you.
An elegant variant are stickers with rounded corners. Round stickers with a diameter of 40 or 80 millimetres as well as oval stickers are ideal for creating stickers or badges. Of course, special formats are also possible.
You can print labels at print24.com in round, square, oval, rectangular as well as in special formats and free forms. 20 x 20 millimetre labels are very popular. For example, they are perfect as price labels, while 60 x 80 millimetres are ideal for address labels. A total of ten different standard formats from 20 x 20 to 280 x 500 millimetres are available.
When choosing the format, remember to trim three millimeters for labels and two millimeters for stickers in the print file. For round and oval stickers, it is best to plan for a 2.5 millimeter bleed.
Our sticker variants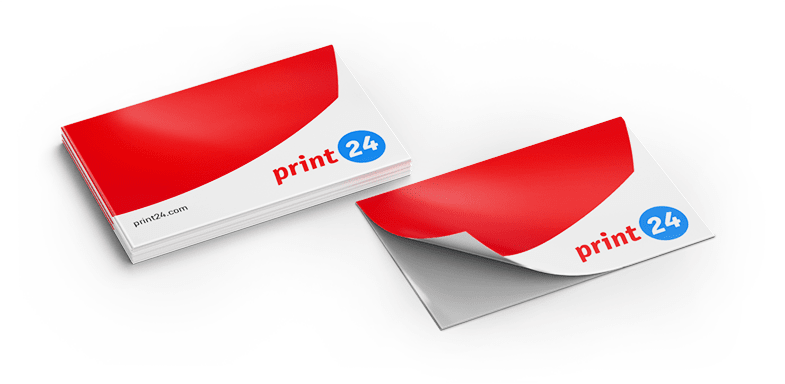 Die-cut stickers
If you choose die-cut stickers, you will receive your stickers as individual stickers that are cut rectangularly (except freeform) and sorted in a stack.
Die-cut stickers are particularly suitable for distributing or passing on stickers individually, for example as an addition to a purchase, as a merchandise item, or similar.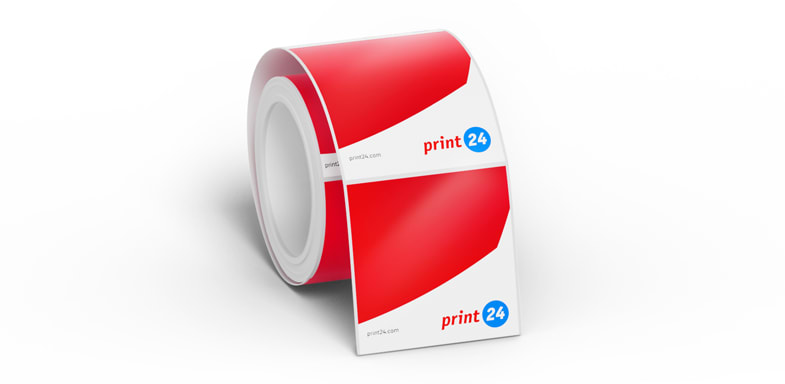 Labels on rolls
If you choose labels on rolls, your stickers/labels will be applied on a rolled carrier material. Thanks to the roll, the sticker or label is immediately ready for removal. Mostly, this variant is preferred for business use.
Labels on rolls are particularly suitable for operational use, for example in the area of packaging/shipping.
High-quality materials for your sticker and label printing
We create your stickers from high-quality adhesive paper if you want to use the stickers indoors. For use on exterior surfaces, for example on vehicles, stickers made of adhesive film are recommended.
Seven paper variants are available for labels. The white, felt-marked uncoated paper offers an additional haptic effect thanks to its special surface and is often used for bottle labels.
With adhesive film you are opting for a very robust solution.
The film is permanently adhesive and is available in both white and transparent. Transparent labels are ideal if the products are to be stuck to white surfaces later on, for example, and only the text and logo should be visible.
Labels made of adhesive paper are suitable for interior use. These are available in white. For example, if you want your labels to mark dangerous goods or attract general attention, you can use yellow or red neon adhesive paper for printing.
Modern printing processes and quality inks
We print your stickers, depending on your choice, in 1-colour black or with the CMYK four-colour process. CMYK can also be used to print photos or other graphics as stickers. With the help of the digital printing plate exposure (Hightech-CTP) we can achieve excellent printing results in the offset procedure.
We also print your labels in 1-colour black or CMYK. As a standard, the surface is finished with UV-protective varnish after printing. In this way we increase the scratch resistance of the labels and your motifs are optimally protected from scratches.
Die-cutting and trimming of individual label shapes
Depending on the chosen format, we die-cut your stickers after printing or we cut them to size. The stickers are delivered either as single stickers or in sheets.
We print your labels on a roll. You have the choice of whether the products are printed with the narrow or wide side in advance. The labels are rolled in such a way that the printed image points outwards.
FAQ for product stickers
How are the stickers delivered?
The stickers are sent as follows, depending on the format:
50 x 20 mm (rounded corners)
70 x 25 mm (rounded corners)
85 x 55 mm (rounded corners)
37 x 52 mm
40 mm (round)
80 mm (round)
145 x 95 mm (oval)
All formats listed here are delivered on A4 sheets (maximum). All other sticker formats are delivered as single die-cut stickers.
Do the stickers feel more like paper or foil?
Adhesive paper (MC white) is used for the indoor area, which is more like paper and has similar properties (easier to tear). For outdoor use, permanent self-adhesive white film (polypropylene) is used. As the name suggests, it feels more like film (smooth) and is tear-resistant, which allows it to be used outdoors.
What do you mean by "permanently adhesive"?
Adhesive paper and film are "permanently adhesive". This means that they cannot be easily removed and may leave residues on the surface when removed.
How can adhesive residue be removed from stickers?
Glue residues can often be successfully removed with household remedies such as soapy water or vinegar. Alternative ways to remove adhesive residues are benzine or special adhesive removers. Although these aids are very effective, caution should be exercised as they can also attack the surfaces.
Is the adhesive for stickers vegan?
The adhesive used for adhesive paper and film is vegan.
Why does it make sense to round off the corners of stickers?
This minimises the risk of the corner areas becoming detached from the surface.
How can stickers be removed from the backing material?
Our stickers have a slotted reverse side, which can be removed from the carrier material by folding it.
Can I attach stickers to the glass from the inside?
No, but the product Adhesive films makes this possible.
Are the stickers temperature resistant?
The bonding temperature is between 5 °C and 40 °C and the operating temperature is between -40 °C and 80 °C (short-term 100 °C).
Are the stickers water soluble/wipeable?
The adhesives are water-based and dissolve in a water bath after prolonged immersion. Therefore, especially adhesive paper semigloss should not be wiped off. The PP film, on the other hand, is less sensitive.