Tent cards
Better print online!
Tent card printing
Tent cards are perfect forms of advertising in the food & beverage industry. On tables, they promote trendy new drinks or dishes, while on counters they display tasty snacks or send your promotional message straight to the target group. You can print tent cards with your own personal text and motifs at print24. It doesn't matter if you want to order them in a small batch of 25+ or a large volume of several thousand – we process all orders in top quality, at low prices.
We go to bars, restaurants or cafés because we generally want to enjoy ourselves. Whether it be relaxed chats over a cool drink, leisurely dining with friends at a restaurant or a romantic tête-à-tête, the food & beverage industry provides the perfect setting for this. As an advertiser, why not make the most of this opportunity and address your target audience precisely where they feel comfortable? Tent cards can play a key role here. And they don't just have to advertise food or drinks; the most important thing is that your information or announcements regarding events or competitions are laid out constructively. You can then use the finished design to start configuring your tent cards here at print24.com, and we'll reliably and professionally take care of printing!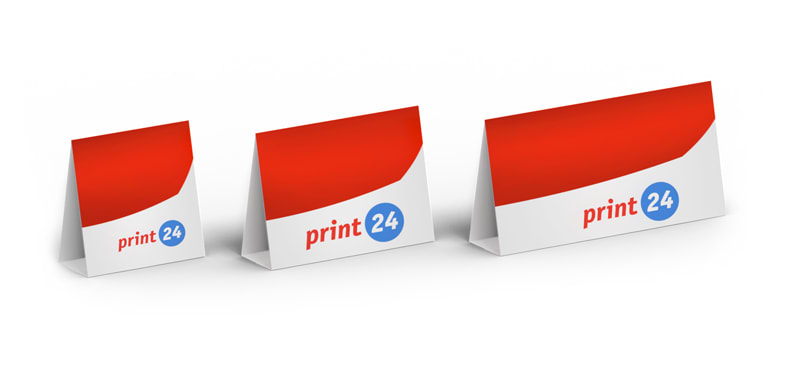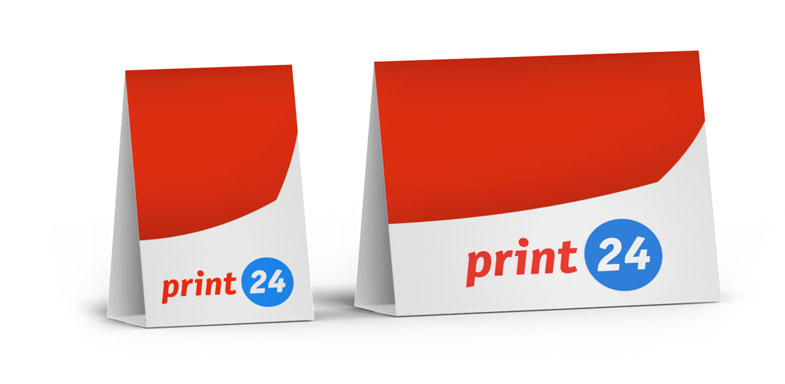 Your choice of format: various options for your tent cards
Choose from five different formats for your tent cards. For example, decide whether your tents look better in landscape or portrait style, or whether you want to print your advertising or information on an extra large tent.
We offer you the following options, which you can select as you please from the configuration menu:
74 x 105 mm portrait/landscape
105 x 148 mm portrait/landscape
105 x 210 mm landscape
Different paper types and two options for your tent cards
At print24.com, you can make creations using our full range of paper types when printing your tent cards. Whether it be cardboard, coated art paper, recycled paper or offset paper, we can perfectly adjust your tent cards to suit their subsequent application/event. In addition to the aforementioned options, you can also choose from four different premium papers: 300 gsm Premium Chamois, 350 gsm Premium Ribbed, 340 gsm Premium Bright White and 350 gsm Premium Linen.
Both coated art papers (250 gsm and 350 gsm) can be ordered in matte or glossy finish when configuring your tent cards. Our solid 350 gsm premium cardboard comes in matte as a standard. The smooth, white recycled paper has the "Blue Angel" certification.
Added effect: Your refinement options
If you have your tent cards printed on 250 gsm or 350 gsm coated art paper, you can also have their surfaces refined. We offer you three options for this:
Lamination: You'll make your tent cards even more robust through lamination, allowing you to use them multiple times if necessary.
UV surface varnish: Your tent card with UV varnish has a high resistance to abrasion as well as an attractive gloss value. In this way you increase the visual effect of the displays.
UV spot varnish: The UV varnish is only applied to certain elements of the tent card. The wafer-thin coating can visually highlight important information by reflecting the light even more intensely.
Even more room for creativity with special colours
For one-sided tent card printing, you may be happy with simple black, e.g. if you just want to print a conference programme. Special colours, as well as gold and silver, create more variety and add a more exclusive touch. At print24.com, you can enjoy a wide range of Pantone colours, and combine these with the classic CMYK four-colour process, or even with gold, silver or black.
The combination options are as follows:
Black, Black + Pantone, Black + Gold or Silver
CMYK, CMYK + Pantone, CMYK + Gold or Silver
We print your motifs and designs on the outside of the tent. The inside remains white.
Processing of your table stands
After printing, your table displays at print24.com are die-cut according to the configuration menu and grooved at three points. Please note that your displays are delivered unfolded (plano).
This means that you must assemble the table stands yourself before using them for the first time.