Climate neutral printing
Print better online
How the CO₂ offset works for your print products
As a responsible printer, we have decided to give our customers in cooperation with us the opportunity to offset their CO₂ footprint when creating paper products. In this way, together we want to make our contribution to more sustainability in the printing industry. For the CO₂ offset, we work together with the renowned organisation ClimatePartner.
ClimatePartner has determined the CO₂ footprints of our paper print products in an elaborate process. In the next step, we chose two climate protection projects from ClimatePartner that reduce CO₂ emissions through reforestation and access to clean drinking water, among other things. The selected ClimatePartner climate protection projects are proven to save CO₂. For example, the projects are monitored by TÜV and other independent auditing organisations.
So that you and your customers can clearly understand that a product is climate neutral, each product is given a unique order-related ID. This ID allows you to transparently track all information about the supported project and the print job on the ClimatePartner website.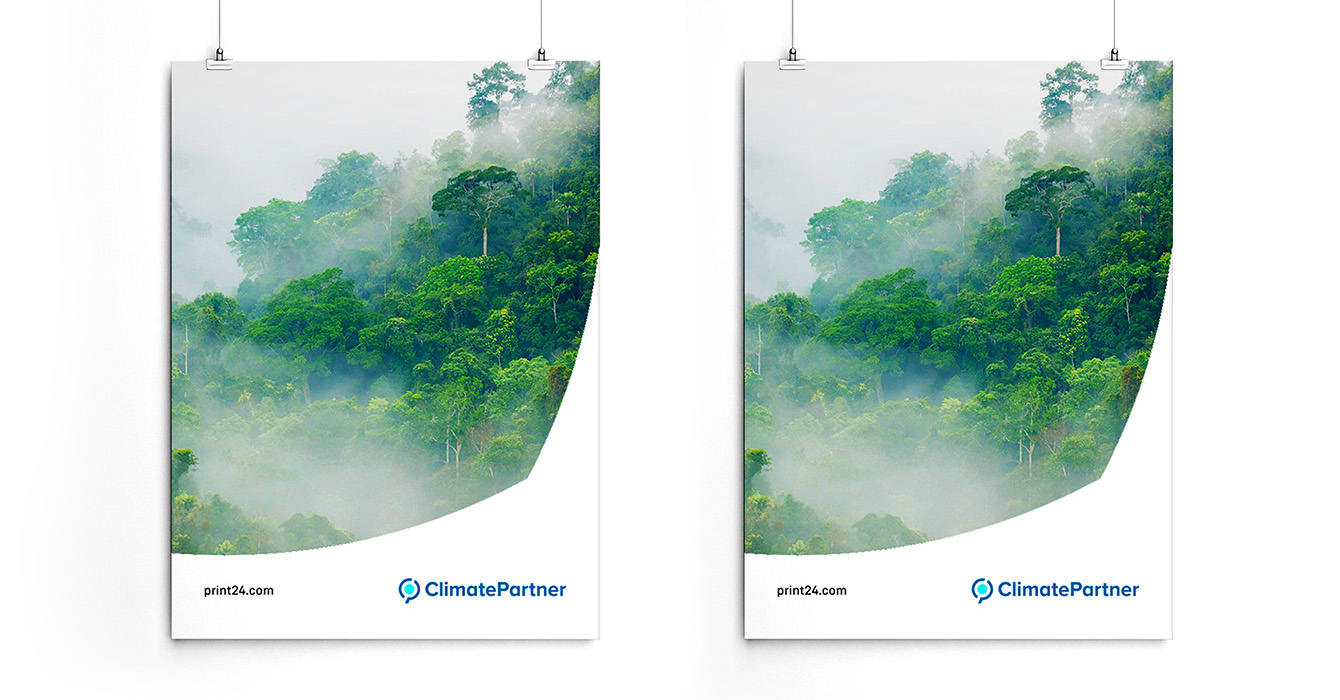 As a customer, it is very easy to print climate neutrally on our website. To do so, select the CO₂ offset option in the shopping cart. In the background, ClimatePartner calculates the CO₂ footprint and the price for offsetting it. The small surcharge flows directly into the climate protection projects. In this way, you support the reforestation projects that are important for the world's CO₂ budget with every offset.
You receive a certificate as proof of the CO₂ offset. Optionally, you can download the logo with the certificate ID and add it to your products. Your paper product may then be labelled climate neutral.
Promoting forest conservation in Colombia with print jobs
We have chosen to channel our contribution to climate protection via ClimatePartner to a project to protect forests in Colombia. The money will be used to protect more than one million hectares of tropical rainforest in Mataven. In this way, the biodiversity of this unique vegetation can be preserved. At the same time, important living space is being created for 16,000 indigenous people. The project also improves the living conditions of the local people and promotes a sustainable economy.
The project in Mataven promotes the self-determination of the local people and helps to improve the self-sufficiency of food for these indigenous peoples in a sustainable and holistic way.
Ensure clean drinking water in Mozambique with your print products
Through ClimatePartner, we want to support yet another project. We have chosen a drinking water project in Mozambique for this. In Manica, Sofala and Tete, wells are being repaired and installed so that over 100,000 people can be supplied with clean drinking water. Thanks to this water supply, the inhabitants no longer have to sterilise their water by boiling it over an open fire. This also reduces CO₂ emissions. At the same time, respiratory diseases caused by exhaust fumes are reduced among the local population. Children in particular benefit from the new well facilities. The drinking water project works together with NGOs on site and regularly explores where new wells need to be built and existing ones repaired in order to ensure high water quality in the long term.