Food packaging
Better print online!
Have food packaging printed
Food packaging has several functions for restaurants, street food stands, food trucks or food suppliers. The packaging protects the food and presents it attractively. On the other hand, food packaging with the right print can be used excellently for branding. At print24.com you can have food packaging in a wide range of variants and designs printed with your motifs, your logo or in your corporate design at a reasonable price, starting from just 100 pieces.
Do you already have suitable graphics to hand? Then simply start our intuitive tool online, upload your print data and order your individually designed food boxes here in our online print shop. We ensure excellent printing and fast completion.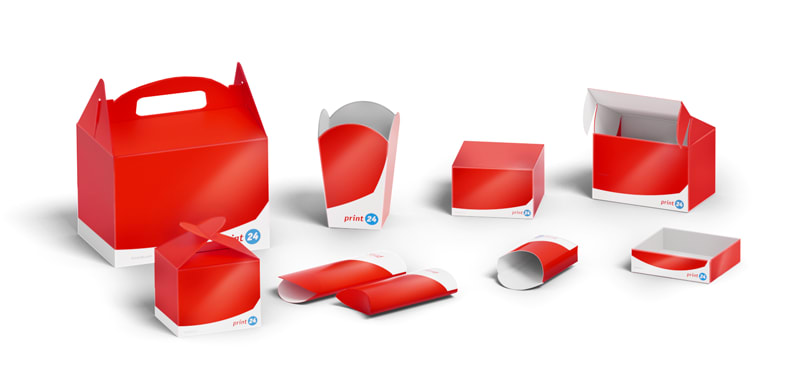 Food packaging can be printed in many different designs
At print24.com you can print food packaging for your company in seven different variations.
Lunchbox: With the Lunchbox, you choose a visually very attractive gable box, which appeals through its special case shape and the practical carrying handle. The box is available in different sizes and is ideal for food products that are given out as giveaways at trade fairs or at food stands, e.g. pastries or confectionery. The handling is extremely simple. The high-quality design also allows multiple opening and closing without material impairment.
Loop packing: This product is ideal for confectionery products such as pralines or chocolate. This box is also ideal as a gift box for spices or packaged food. Thanks to the innovative loop closure, opening the product is already a highlight.
French Fries Boxes: These food packagings are suitable in various sizes for French fries, doner meat or other fast and street food products. The coated inner side is food safe and moisture resistant.
Popcorn boxes: These food packaging should not be missing in any cinema. But they are not only suitable for popcorn, but also for nuts, roasted almonds, chips or other nibbles. Even fatty or savoury food can be handled with them.
Junk boxes: These practical food packagings are ready for use with just a few handles. Just fill in biscuits, sweets or other packaged food products.
Snack boxes/Sushi boxes: Whether for fresh and tasty sushi or for fruit, organic vegetables or pastries, these food boxes are always a good choice. They are designed for direct contact with food and are made of robust material.
Pillow boxes: When a giveaway or a special food product needs a very luxurious and high-quality packaging, these pillow boxes come into play. The luxury cardboard used provides additional value.
Individually printed packaging for food in different sizes
Our food packaging is available in many different sizes. This allows you to choose the boxes perfectly according to your products and requirements.
The food boxes (folding boxes) with carrying handle can be printed in six different sizes from 90 x 70 x 50 to 185 x 195 x 80 millimetres.
If you want to print a high-quality loop packaging for your food, here at print24.com there are four sizes from 76 x 57 x 55 to 166 x 125 x 120 millimetres.
Our French fries packaging is available in two different sizes in M (W 99 x 62 x 219 millimetres) and L (108 x 68 x 242 millimetres).
The popcorn bags are available in five formats from S (7 x 7 x 12 centimetres) and a filling capacity of 360 millilitres up to XXL (15 x 15 x 24 centimetres) and a huge filling capacity of three litres.
You can order junk boxes from us in 15 different sizes and have it printed, from 100 x 100 x 30 millimetres to packaging in the format 300 x 300 x 80 millimetres.
Our sushi packaging or snack boxes for fruit or fresh produce are available in twelve sizes, from 100 x 100 x 40 to 250 x 300 x 50 millimetres.
We print the visually appealing pillow boxes for you in eleven sizes from 65 x 60 x 25 to 200 x 250 x 80 millimetres. Do you have any questions about the individual sizes?
Then you are welcome to contact our service department.
Food packaging made of high-quality cardboard
For your food packaging, 350 gsm thick, double-coated food cardboard (Symbolcard cardboard) is used. The paper features a high degree of whiteness and high flexural rigidity. All papers are suitable for use with food and have FSC certification. You receive the printed packaging flat. Depending on the chosen product, the food cardboard is pre-glued or folded. All cartons can be used immediately without any further processing.
Multi-page CMYK printing for your food cartons
Your food packaging is printed using the CMYK process. This gives you maximum freedom in choosing your motifs. On request, you can order a screen proof of your configuration. Then you will receive a digital preview of your self-designed food packaging.