Spiral bound notepads
Print better online!
Product
Properties
Cover colour 4/0-coloured CMYK
Contents Chequered (double sided)
Paper cover 300 gsm Coated art paper
Contents 80 gsm Offset (printer-suitable)
Cardboard back (plain) 320 gsm Grey board
Metal Wire-o binding Silver
Quantity
Delivery
Standard estimated by 15-16/12/2022
data
Transfer print data later
Selected product configuration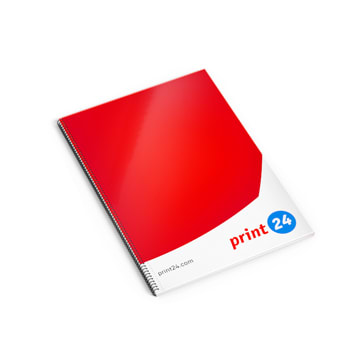 Spiral bound notepads
1 Theme
Delivery in Ireland
Estimated by 15-16/12/2022
Transfer print data later
Free print data check
€ 157.15 | € 193.29
Ex. VAT | Inc. VAT plus € 6.21 | € 7.64 Dispatch
Spiral bound notepads
1 Theme, Delivery in Ireland, Estimated by 15-16/12/2022, Transfer print data later, Free print data check
€ 157.15 | € 193.29
Ex. VAT | Inc. VAT plus € 6.21 | € 7.64 Dispatch
Have Spiral bound notepads printed
Even in the age of smartphones, tablets and digital tools, the spiral bound notepad is an indispensable helper in the office, at university or at school. Spiral bound notepads are perfect for handwritten minutes of meetings, notes in lectures and seminars or for recording ideas and sketches. Another advantage: the already punched pages can be easily detached from the pad and then neatly filed away.
If you would like to design your own spiral bound notepads as a reseller, for your company or your educational institution and have them printed at a favourable price, you have come to the right place. Create your print order here with just a few clicks and order up to 10,000 pads per order online.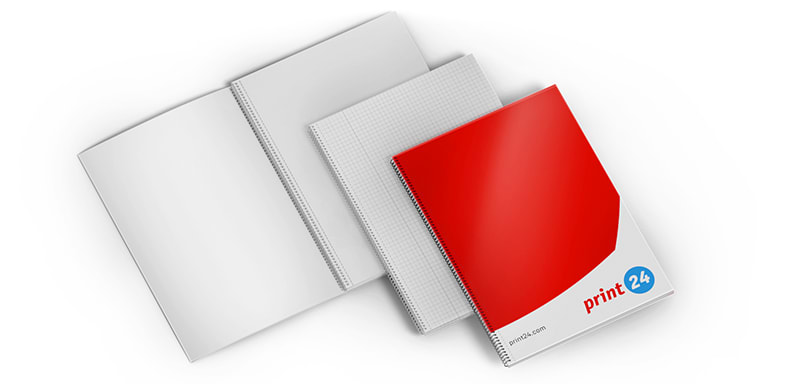 Have spiral bound notepads made with printer-grade offset paper
Our Basic spiral bound pads are available with 50 or 75 sheets. If you opt for the premium version, up to 100 sheets are possible. The pads are loaded with 80 gsm Soporset premium offset paper. The paper is ideal for drawing or writing. At the same time, you can also process the paper on standard printers.
We use a sturdy grey board with a thickness of 320 gsm for the back of the Basic college pads. The Premium pads get a back made of offset paper in a grammage of 300 gsm.
To give your spiral bound notebooks the protection they need, the cover for them comes with a matt scratch-resistant cellophane coating as standard. The laminating keeps your notebooks in pristine condition for longer, even with frequent use.
Perforated insert sheets and refinement of the cover
To make your spiral bound notepads even more high-quality and robust, we offer refinements of the cover sheet in the premium version. The scratch-resistant matt foil lamination makes the premium spiral bound notepad the ideal companion in the office or at university. The glossy finish provides a visually appealing effect. Premium and Basic college notebooks are equipped with a sturdy metal Wire-O binding. In the basic version, this consists of silver-coloured binding wire.
If you choose the premium pads, you also have the choice between white and black ring binding. For example, the binding can be perfectly adapted to the motif or to your logo printed on the cover sheet. The sheets in the pad can be easily separated thanks to the perforation and are four-hole punched for easy filing.
Create squared, ruled or blank spiral bound notepads
When it comes to designing your cover sheets, we have all the options open to you. You can have both the front and the back printed. With the CMYK four-colour process, photos, graphics, logos or lettering can be printed on the cover sheet according to your taste and design wishes. The sheets in the pad are available blank, squared or ruled. Of course, you can also print your own graphics, e.g. your company logo, in colour.
In the premium version, we can create both the front and back sides of the college notebook sheets for you in CMYK four-colour printing. Alternatively, with the Premium version you can also choose to print in Pantone cool Gray 4U.