Balloons
Better print online!
Have your balloons printed
Balloons are perfect decorative products for company parties, weddings, birthdays or anniversaries. They are also suitable for the festive design of business openings, exhibition stands or as printed advertising balloons for marketing campaigns. Furthermore, balloons are practical giveaways at trade fairs.
At print24.com you can have balloons printed with your motif, logo or other graphics. You can choose from more than 50 balloon variants in over 30 different colours for printing. We print balloons from 100 pieces, but we have the capacity for orders of up to 45,000 balloons in our print shop. Do you already have a motif at hand? Then you can configure your print order online here!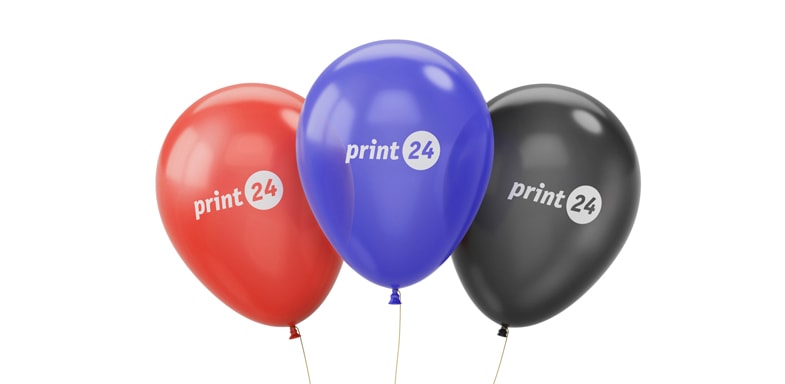 High-quality balloons with your personal imprint
You can design your balloons from three different variants: Pastel, Crystal and Metallic. The Pastel series looks particularly fresh and friendly and is available in 29 colours. The colours are perfect for parties, events or celebrations like a wedding. If you want your motifs or logos to look particularly classy, we recommend the metallic balloons. Here you have 24 colours available for printing. A loose and light decoration is possible with our crystal balloons.
These products are dyed but still transparent. They are available in 9 colour variations and can be individually designed. All balloons are made of 100 % natural latex and are therefore free of toxins and 100 % biodegradable. The balloons are manufactured in Europe and meet all the requirements of EN-71-3. If you do not need your balloons immediately, this is not a problem, as the products can be stored for up to two years.
One-sided or double-sided printing
Our balloons have a diameter of 27 centimetres, so there is enough space for your motifs, texts or logo. If you wish, you can have one or two sides printed, e.g. a number on the front and a graphic on the back for a round birthday.
Printing in full-tone screen printing for best colour reproduction
For printing your balloons we use the screen printing process. In order to achieve optimum colour reproduction, we use spot colours. You can create two different colours per printable side. If you wish, you can have us make a screen proof for your balloon to get a preview of your balloons. Please note that there may be colour variations after printing due to the elastic material.