Bottle openers
Better print online!
Have bottle openers printed
Whether it is at the next party or for a bottle of beer after work, bottle openers are always a handy household item to have. Here at print24.com, you can have bottle openers printed with your own customised designs as promotional items. You can choose between different printing options and can start your print job right here online, with print runs from just one piece.
A "PLOP" and the bottle is open! With the right opener, bottle caps can be quickly and cleanly removed. From small bottles of lemonade and mineral water in the catering trade to classic beer bottles, your customers can use a bottle opener to open all bottle caps. The bottle opener is very well suited to being an advertising medium because it is a practical everyday utensil for many target groups. With the right printed design, you can reach your customers with your messages or company logo on a daily basis and make sure that they remember you.
Your advertising message, in a maximum size of 90 x 37 mm
You can have your company slogans, your address or Internet addresses printed on over 3300 square millimetres. With spot colours, you can have your motifs and messages printed on an area of 50 x 30 mm. When printing with the CMYK process (white bottle openers only), a print area of 90 x 37 mm is available.
When creating the print file, observe the specifications in our data sheet. In this way you avoid unnecessary complications during printing and we can complete all tasks for you smoothly and promptly.
High quality and very practical design
For printing, we offer high-quality bottle openers that can also be used to reclose bottles. This means that a bottle does not have to be finished immediately, because it can be closed again with a flick of the wrist.
The high-quality plastic housing lies well in the hand, is stable and break-resistant. You can choose between blue, red or white.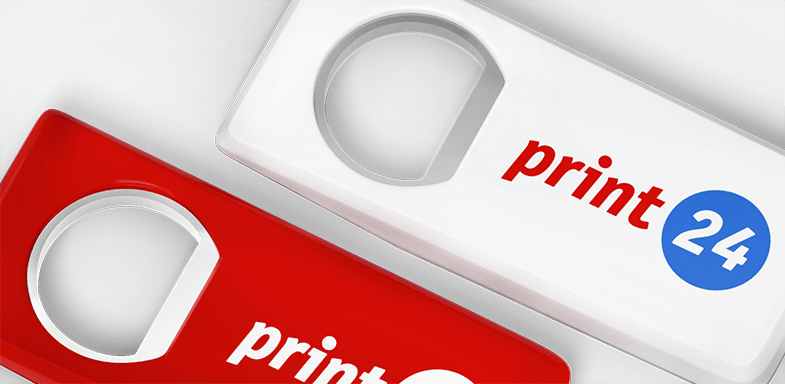 Your motifs in CMYK or spot colours
If you opt for the CMYK four-colour process, the design selection is particularly flexible, as this modern printing process allows practically all colours to be reproduced. However, please make sure that your graphics have a sufficiently high resolution to ensure that they can be clearly reproduced on the bottle opener.
Enter the colour code of your corporate design, if you want us to print your company name or logo. When selecting the colour, also consider the basic colour of the plastic housing.