Bathrobes
Better print online!
Have bathrobes embroidered
Whether it is at a spa hotel or at home, a bathrobe will keep you really cosy after a massage or a swim. At print24.com, you can have high-quality bathrobes custom-embroidered. These products are, for example, ideal as hotel amenities or as promotional gifts for gyms and sports clubs. You can easily prepare all your order information right here online, and we will take care of the embroidery professionally and at low prices!
Rumour has it that bathrobes are one of the most commonly stolen items in hotels. In fact, for prestigious firms, this loss does represent a cost that should not be underestimated. Nevertheless, a cosy bathrobe with the logo or emblem of the establishment is quite simply indispensable. If you have your bathrobes embroidered by us, your customers or guests will enjoy a great product that they can wrap themselves up in and be warm and cosy after swimming or using the sauna. That's perfect service!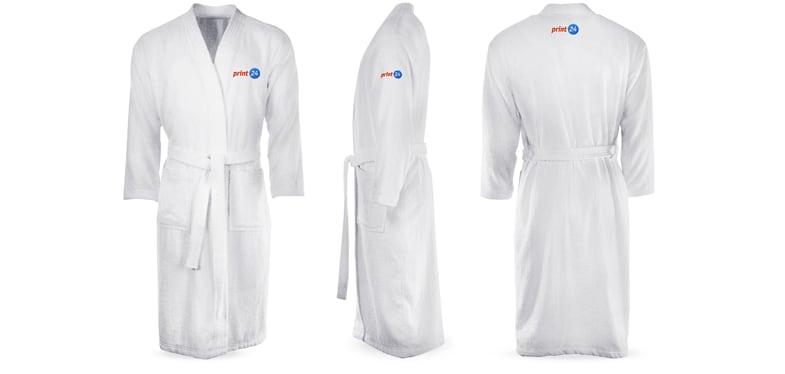 Additional amenities in your corporate design
If you run a guest house, hotel, fitness club or sauna, you can delight your guests with custom-embroidered, high-quality bathrobes. They not only strengthen customer loyalty but also branding, as you can have your logo or company name embroidered on the front of the wonderfully soft towelling robes.
Towelling robes can be used by your club or association as well. How about, for example, if as well as having football shirts your football teams also had bathrobes with the club logo?
The bathrobe − embroidered with a logo or a beautiful design - This is also suitable as a promotional gift.. For example, you could give the robes away to new members of your fitness club. And the bathrobes can also be used for targeted customer advertising or marketing campaigns.
At print24.com, we can accept order sizes starting at five robes.
High-quality material
For bathrobe embroidery, we use high-quality terry cloth with a weight of 380 gsm. The fluffy white robes can be worn by men or women. The sizes S/M and L/XL are available.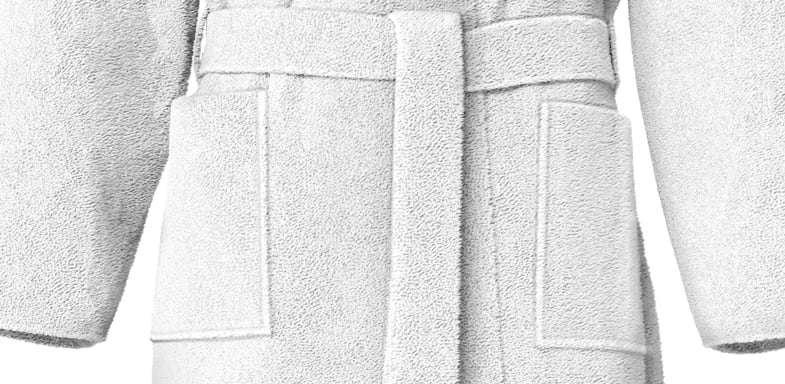 Furthermore, our bathrobes have two sewn-on pockets, a belt with double loop and a practical loop for hanging.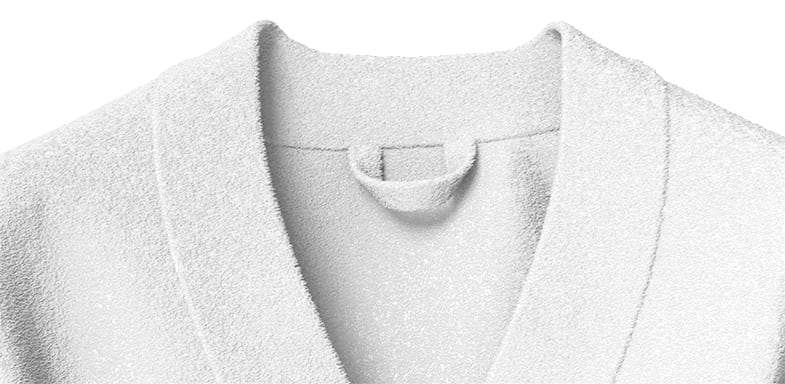 Twelve-colour embroidery
While motifs are applied to surfaces by printing, embroidery enables them to be woven directly into textiles. This particularly durable embroidery, which is also resistant to washing and light, is particularly suitable for heavy-duty clothing, such as workwear. The use of high-quality yarn colours creates colour-fast and noble-looking embroidery designs. At the same time, a unique look and feel is achieved, which makes your clothing look exclusive.
To embroider your bathrobes, up to 12 different thread colours from the Pantone colour spectrum can be used. So the logos of clubs or companies can usually be reproduced without any problems. You will need to create spot colours for this. In addition, we can also embroider slogans or whole addresses onto the bathrobes for you.
Here you will find space for your motifs
There are various motif areas to choose from: left or right side of chest and sleeves, as well in the centre of the neck. You can have up to two different areas embroidered on your robe. The maximal size of your motive depends on the placement on the bathrobe. The following sizes and placements are available:
Chest - left or right: 100 x 100 mm maximum
Sleeves - left or right: 30 x 30 mm maximum
Neck - 80 x 50 mm maximum