Shirts
Better print online!
Personalised shirts
Whether it is behind the bar or at the point of sale, with embroidered shirts your team will always cut a fine figure. At print24.com, you can have customised embroidery with your logo or the names of your employees applied to high-quality shirts in all standard sizes. A variety of embroidery colours and shirt colours are available. Start configuring your order and the details of the embroidery easily right here online.
We are all familiar with team clothing from team sports and the procession of athletes at the Olympic Games opening ceremony. However, when it comes to a neat wardrobe for the service or retail sector, a consistent image is rarely thought of, even though finely embroidered shirts really can make a very professional impression. For example, your sales representatives will look even more reputable if they have the company name, as well as their own name, embroidered on their shirts. The same applies to employees in the high-end retail sector or the hotel and catering industry. At print24.com, you can design high-quality outfits for your team, customised with your corporate design. If you have any questions regarding the embroidery, please do not hesitate to contact us by phone or by email!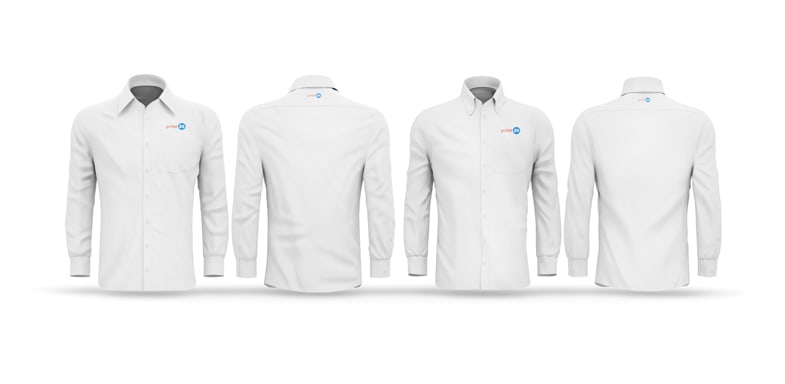 What would you like to have embroidered − Exclusive or Premium shirts?
The Premium and Exclusive shirts are all 100% cotton and do not need ironing. This means that the shirts in your corporate design will be particularly easy to maintain. All types of shirts are long-sleeved, have a breast pocket on the left and adjustable cuffs. The Exclusive shirts differ from the Premium shirts in that they have a Kent collar and two rear side pleats.
The Premium shirts have a button-down collar and a rounded hem. Shirts with Kent collars are a classic, they can be worn for almost any occasion. Shirts with button-down collars, on the other hand, are more casual and have buttons on the collar wings which can be attached to the shirt.
What sizes are available?
At print24.com you can have your shirts printed or embroidered in sizes S to 4XL or 38 to 56.
Premium:
Small, Medium, Large, X-Large, XX-Large, XXX-Large, XXXX-Large
When printing or embroidering, please note that you can order several different sizes for each print job.
Exclusive:
38, 40, 42, 44, 46, 48, 50, 54, 56
You can choose from these colours
Print24.com can print shirts in different colours, depending on the chosen design.
Premium:
Light blue, Pink, Black, White
Please consider the selected shirt colour when choosing your printing colours, so that your motif is shown to its best advantage.
Exclusive:
Light blue, Black, White
This is the process for your personalised shirts
Embroidery
While motifs are applied to surfaces by printing, embroidery enables them to be woven directly into textiles. This particularly durable embroidery, which is also resistant to washing and light, is particularly suitable for heavy-duty clothing, such as workwear. The use of high-quality yarn colours creates colour-fast and noble-looking embroidery designs. At the same time, a unique look and feel is achieved, which makes your clothing look exclusive.
Transfer print
Motifs and fonts are printed in CMYK on a backing paper and then transferred to the fabric with a transfer press. In transfer printing, flat colours as well as the finest colour gradients, for example in photos, can be brilliantly represented. By printing on a white transfer film, colours are reproduced perfectly, as the background does not shine through. Furthermore, transfer printing is characterised by high contour sharpness and coverage. A further advantage is undoubtedly the independence of fabric and colour, which is achieved by transfer printing. Regardless of which textiles are printed, the appearance of the print is identical on every fabric.
Positioning the embroidered motif on your shirts
If required, we can apply up to two areas of embroidery to your shirts. The breast pocket is a very popular position. Here, an area of up to 30 x 30 mm can be embroidered. The available areas on the collar and the cuff have more space, with an embroidery area of up to 80 x 25 mm, while lower down or at the neck 80 x 50 mm is available. The largest embroidery area of 100 x 100 mm is on the front of the shirt, on the left or right.
Printing:
Sleeves - left or right: 80 x 80 mm
Breast pocket: 100 x 100 mm
Collar area - left or right: 80 x 25 mm
Cuff area - left or right: 80 x 25 mm
Neck area: 100 x 50 mm
Back - center: 250 x 150 mm
Front - left or right: 100 x 100 mm
Front - lower left or right: 100 x 50 mm
You can also have two different areas embroidered, each with a different motif. For example, you could have your logo embroidered on the collar and the employee's name on the breast pocket. You can choose from a total of twelve different spot colours for your embroidery.
Embroidery:
Breast pocket: 30 x 30 mm
Collar area - left or right: 80 x 25 mm
Cuff area - left or right: 80 x 25 mm
Neck area: 80 x 50 mm
Front - left or right: 100 x 100 mm
Front - lower left or right: 80 x 50 mm