Textile Products
Print better online!
Exclusive workwear in the corporate look
Whether working pants, work jackets, vests or baseball caps for your craft business, blouses and shirts for your hotel business or cooking jackets and aprons for your catering company – at print24 you can embroider high-quality workwear at low-cost for many industries, for example with the name and logo of your company. This ensures a uniform appearance of your employees and also strengthens the team spirit. Due to high quality materials and robust workmanship, our workwear is particularly durable and sustainable at the same time, due to many different designs, colours and sizes also suitable for the requirements of your company.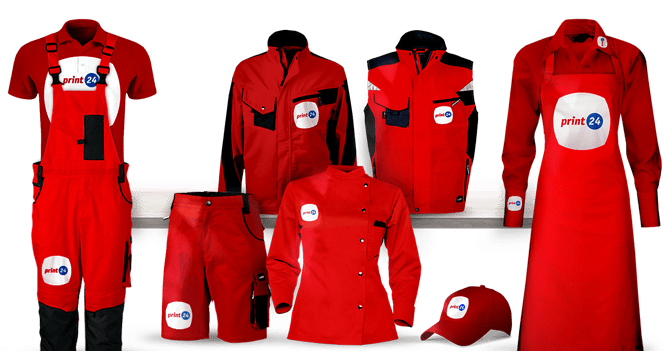 Individual sportswear for clubs and event organizers
With basecaps, functional shirts, sports pants, sports bags, socks, sweat jackets and jerseys, print24 offers a comprehensive range of sportswear for clubs, event organisers or companies. Through the use of breathable and flexible cotton and polyester fabrics for printing, flocking or embroidery, high-quality individual sports clothing, which meets the specific requirements of athletes is created. With the option to print jerseys and sports pants with player names and player numbers, entire teams can also be equipped with high-quality, individually printed team clothing, even on a small budget.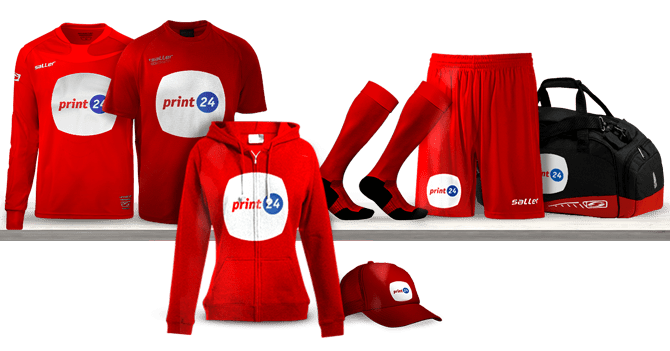 Personal casual clothing, children's clothing and home textiles
Hoodies and T-shirts as classics of individualised leisure clothing, children's clothing such as children's and baby shirts or high-quality home textiles such as bathrobes, towels and tote bags as well as many other products complete our wide selection of textile prints. Our textile products for everyday and leisure use are made of high-quality cotton, terry or polyester fabrics are individually printable and embroidered and available in many different designs, colours and sizes. Many of our textile products are already available starting at run 1 i.e. small editions and are therefore also suitable for private purposes and occasions.