Canvas bags
Better print online!
Personalised canvas bags
Imagine if you could surprise your customers with a fancy cloth shopping bag printed with a witty saying, your logo or an attractive motif? Because cloth bags are back in vogue, for all ages, whether in the city or out in the country. Don't just get your customers to carry your advertising around; give them a practical benefit! Take advantage of the great advertising potential offered by cloth bags, or give individually printed cloth bags to your friends as a gift. At print24.com, you can configure your order in a flash, and we'll reliably take care of printing, combining excellent print quality with top prices.
Who would have thought? Cloth bags are very much back in vogue. In the '70s and '80s, cloth bags were more a sign of environmental awareness, and the slogan "jute, not plastic" was imprinted on people's collective memories. Today, versatile cloth bags are indeed more of a fashion accessory. Simple cotton bags with attractive designs now dominate the streets.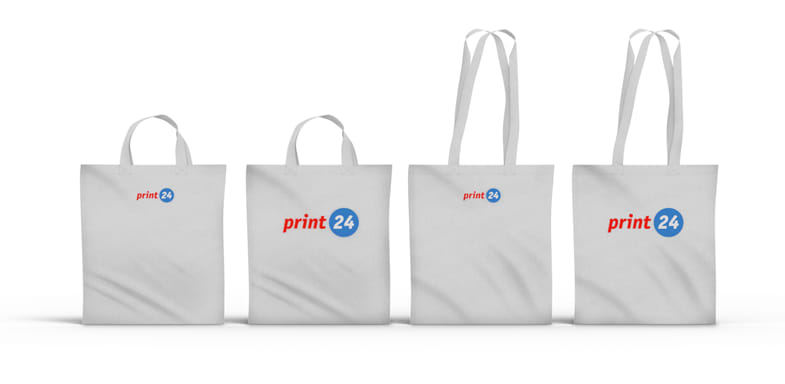 Fabric bags in excellent quality
All cotton bags that we print are characterised not only by their excellent printing but also by the material quality. These bags offer an elastic and soft soft-touch textile handle and are therefore particularly handy. At the same time, the fabric with a grammage of 150 gsm is particularly sturdy.
All fabric bags are made of 100 % cotton. The bags can be washed in the washing machine up to 40°C without any problems. But you should not bleach the fabric bags, dry them with the dryer or iron them hot.
Practical size
With a size of 380 x 420 mm in the plain version and 380 x 400 mm in the colour version, our cloth bags provide lots of space for purchases or even files. Shoe boxes can also be easily carried. If you let us print your promotional bags, you'll be offering your customers a product which reliably serves its purpose for shopping, daily purchases or uni, while also being a chic accessory!
Their low weight (plain bag 65 g, colour bag 51.25 g) makes the bags super easy to stow away.
7 different base colours
You can leave your first mark simply by selecting the bag colour. How about displaying your promotional message on a bright red background? Or working with complementary colours and having your text printed in orange on a pale green bag?
In addition to these two colours, you can also choose from white, black, blue, red or yellow. You can create a particularly natural impression by selecting a plain bag.
Our bag printing process
With our carrier bags you have the choice between digital printing and screen printing. Short handle carrier bags are screen printed whereas long handle carrier bags can also be digitally printed.
Screen printing
For this product, you can choose the screen printing process, which is a real all-rounder among the printing processes. Here the printing ink is printed through a finely woven fabric onto the corresponding textile using a rubber squeegee. The areas that should not be coloured in the final printed image are made colour-impermeable by means of a stencil at the corresponding mesh opening. The direct transfer to the fabric makes the haptics very neutral and, in contrast to alternative printing processes, feels less gummed. This ensures a high wearing comfort which does not affect the fabric feel even after repeated washing and ironing. The screen printing process, which is characterised by a long durability and resistance, produces rich colours with high covering power even on dark textiles. Especially for long runs, this process achieves top printing at comparatively low costs. In addition to printing with conventional inks, so-called spot colours can of course also be selected. For example, metallic colours such as gold, silver and bronze are considered exclusive spot colours with a, particularly high recognition value. Metallic colours are not created in CMYK but are pure Pantone colours. You should use the following Pantone colours to display these elements: Pantone 871 C (gold), Pantone 877 C (silver) and Pantone 876 C (bronze). Of course, all other metallic colours of the standard Formula Guide and Metallic Formula Guide from Pantone are also available.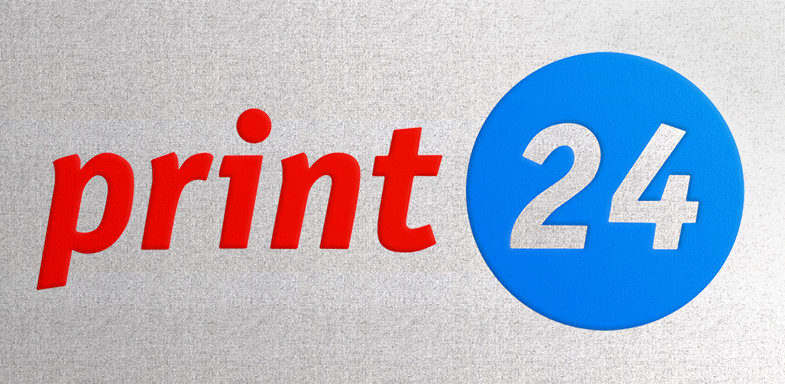 Please note: Make sure the line width in your print order is at least 0.5 mm to enable an optimum result. If you have chosen text, the font size should be at least 11. Smaller fonts cannot be printed on the cloth.
Digital printing
This product uses the modern digital printing, in which relatively large areas can be printed on textiles. In this process without printing form, motifs are printed directly onto the textiles using an inkjet printer. The process makes individual prints possible even for single pieces. Furthermore, many colours and colour gradients can be displayed, since the printing technique is based on the so-called subtractive colour mixing of CMYK. We can print your bags one-sided or two-sided, each with a printing area of 260 x 320 mm. Before we can print the bags, the textile surface must be treated to ensure the ink sticks. To do this, we apply an "Odourless Fixation Agent" spray. The bags are then dried twice, for 6.5 minutes at a time, at 160°C in a special dryer. During printing, we use a Kornit Avalanche Hexa 1000 printer, based on the ink-jet process. This not only produces outstanding detail and bright colours but is also particularly environmentally friendly. We can print up to 250 bags per order for you. If you need larger quantities, please contact our customer service.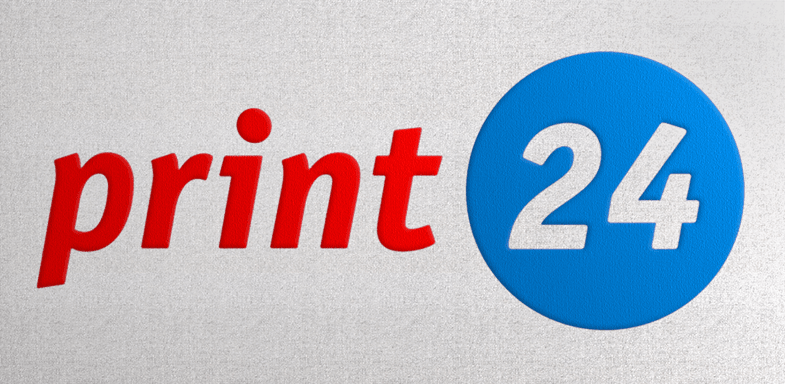 Print motifs on front and back
Depending on the chosen printing method you have different large areas that you can have printed on.
Screen printing
Front and back - centred: 300 x 320 mm
Digital printing
Front and back - centred: 260 x 320 mm