Banner frames
Better print online!
Have banner frames printed
Banner frames are an excellent advertising medium for trade shows, building signage or sporting events. At print24.com, you can have your banner frames printed in excellent quality. If required, we can provide you with up to 15 pieces per order. However, a print run of just one piece is also possible. You can easily create your print job online and, with just a few clicks, get the printing of your banner frames started.
Who would not want their advertising to benefit from maximum visibility and range? Use portable banner advertising with banner frames from print24.com. We professionally print your slogans, logos, texts or pictures on banner frames that you can then flexibly position anywhere.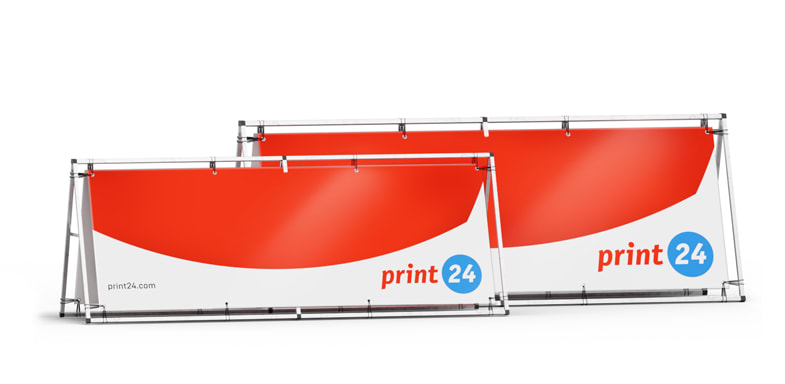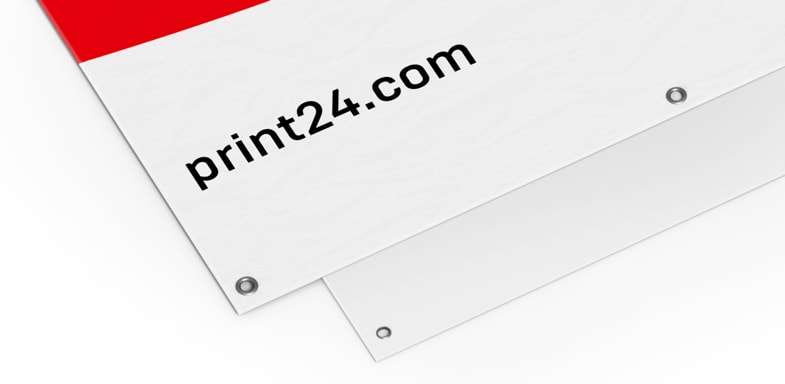 A wide range of possible uses at events and trade shows
The mobile band stands are perfectly suited for your trade fair appearance. Whether you advertise your products or services or draw visitors' attention to your stand in a similar way to a customer stopper - you decide entirely according to your trade fair concept. At events, you can optimise your sales stands with mobile banner advertisements. At print24.com you have two formats to choose from.
The 3,000 x 1,200 mm frames offer you a fantastic 2,840 x 1,090 mm print area. Even the "small" frame is a great option. It measures 2,500 x 975 mm and offers a print area of 2,340 x 840 mm. When creating your print file, please make sure that you leave a sufficient bleed. For all other specifications, please refer to the data sheet. This can be found in the configuration menu.
Suitable for indoors and outdoors
With frames from print24.com, you can use your portable banner advertising both outdoors and indoors. The print is made on robust and durable 510 g/m² PVC tarpaulin, which also withstands greater strains. The tarpaulin is then mounted in the frame with rubber straps. Ground pegs ensure that the system remains stable, even in windy conditions or under impact. Setting up the aluminium frame is as simple as setting up a folding frame, as is transporting it. If required, at print24.com you can also purchase either the frame system or the banner advertising separately.
Print only or aluminium frame included
If you wish, you can also buy the system or the banners at print24.com individually. You have the choice between 2 prints (same motif), 2 prints (same motif) incl. folding frame system or only the folding frame system. In this way you can re-order changing motifs for your system at any time.
Proven four-colour printing for your displays
We will print your designs using the tried-and-tested 4/0 CMYK four-colour process. This means that there are practically no limits to your selection of graphics and colours.
If you want to know in advance how your banner frames are going to look, simply order a screen proof. We create a digital preview of your print and send the file to your customer account.