Poster rails
Better print online!
Order poster rails with a printed poster
Frames for posters are a very practical and versatile presentation system for advertising or for trade shows. At print24.com, you can order printed poster frames in different standard formats. We print on high-quality and robust banner material made of PVC in various thicknesses. Configure your print job right here online with just a few clicks.
There could scarcely be such a simple but brilliant presentation system as these frames. Banners are simply clamped into the bars along the top and bottom and then they are ready to hang. The easy handling is made even easier by the low weight of the frame system. This makes these poster frames suitable for changing presentations or advertising space. In the same way, the frames are perfect for trade shows or events because, after the trade show, you can simply roll up your banner together with the bars. The space-saving system can be transported to the next site without any great effort.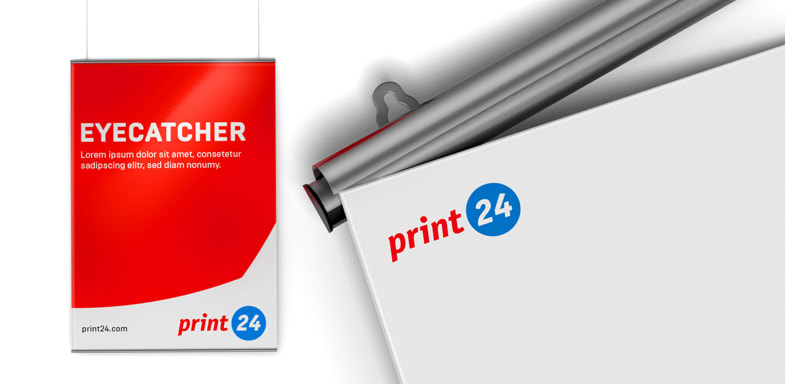 Various standard formats to choose from
You can order frames, including printing, in four different standard formats at print24.com. Your options start with A3, the smallest possible size, and go up to banners with dimensions of 1,000 x 3,000 mm.
If you have questions on specific formats or using poster frames in general, please feel free to contact us. We are available by email or over the phone.
Your print on high quality banner material
We print your designs, slogans or information with UV-resistant ink on mesh-, PVC- or block-out banner. This tear- and scratch-resistant, dimensionally stable PVC has a thickness of 500 gsm and is very popular for the use outdoors. The blockout-banner is with 800 gsm strongest banner material and therefore also dimensionally stable and tear-resistant.
A blocking layer is incorporated between the front and back-side, making the banner light-tight and opaque. The airy mesh fabric looks almost delicate compared to the other two fabrics. Yet it is very robust with its 300 gsm and offers a very good wind load resistance with its fine holes in the fabric.
A modern printing process for a free choice of design
Your banners for frames will be printed using the tried-and-tested 4/0 CMYK four-colour process and optionally even 4/4-colour for the blockout-banners if printed double-sided. In this way, graphics, photos and texts can be optimally realised. Whether you want to present your products on banners or need information material for a meeting, with a CMYK print, you are completely free in your choice of designs and colours.
However, please make sure that your print file, especially for larger formats like A0, has sufficient resolution to avoid pixelation.