Place cards
Better print online!
Place cards printing
Place cards are an essential accessory for many private and official events, e.g. banquets, galas, conferences and trade fairs. Whether placed elegantly on serviettes or upright on large conference tables, place cards are used in many different formats. If you want to have your place cards printed by print24.com, you'll not only be utilising the expertise of one of Europe's largest online print shops, you'll also enjoy excellent print quality combined with fair prices. We print place cards for business or private customers, regardless of whether you need 25 or several thousand.
Weddings often involve up to 100 guests – or even more. When planning your big day, you should certainly also think about having suitable place cards. Already found a nice design you want to have printed on them? How about a romantic photo of the future bride and groom as a background? Get started here, and configure your place cards online. We'll be glad to assist further if you have any queries. We're happy to answer any questions about place card printing by telephone; we even offer consulting services via email!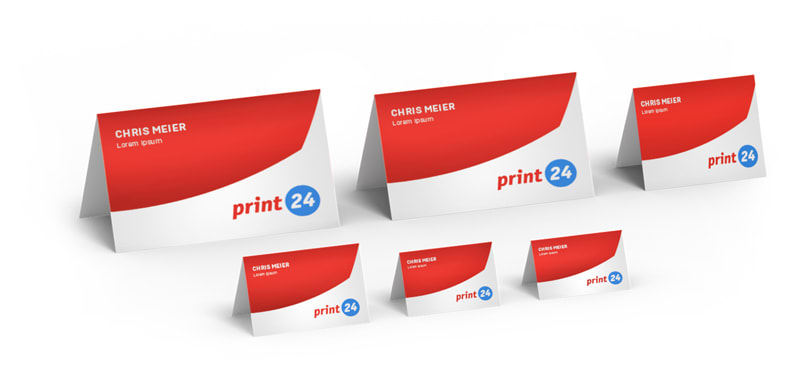 Perfect for galas or balls
Grand balls or galas are all about the formal dress, stylish tuxedos and famous faces. They also have a long tradition of pre-determined seating plans. Place cards are thus used to assign each guest to their seat on the main table or on the banquet tables. To ensure these cards look suitably exclusive and stylish, you shouldn't just rely on plain paper, but rather also use refinements or special colours. The print24 printing options give you the chance to perfectly tailor your place cards to your exclusive social events!
Name tags and name cards for conferences or conventions
Conventions and conferences bring together many people who have never met before. Place cards can be used as identification at conference meetings or in the event of various speeches. They are discreetly placed in front of the respective participants. At large events, place cards can also be combined with a tent card, which can, for example, be printed with the programme of events or speakers.
Various standard options, or special formats upon request
We print your place cards in seven standard formats, from the smallest DIN A7 to the large and effective DIN-Long format. The latter is particularly elegant for weddings or large gala dinners. You can choose the following standard formats for your place cards: 74 x 105 mm (DIN A7), 85 x 55 mm, 90 x 50 mm, 100 x 210 mm, 105 x 105 mm und 105 x 210 mm (DIN-Lang).
All these options are printed in landscape format. If you choose the square 105 x 105-mm format, you'll later be able to rotate the card as you wish. Please remember to create your place-card print file with a 2-mm bleed on each side due to be cut.
Various types of paper to choose from
You can have all our place-card formats printed on the following types of paper:
250 gsm and 350 gsm Coated art paper, 400 gsm Coated board Premium, 350 gsm Offset and 300 gsm Recycling white.
Using the particularly solid 400 gsm premium cardboard will give you an elegant matte finish. When it comes to the coated art papers with grammages of 250 gsm and 350, you can choose between matte and gloss. Your place cards will be both cut & creased and are delivered unfolded. A note about environmental protection: All print24 recycled paper has Blue Angel certification.
Place-card refinements for more than just special occasions
When printing your place cards on 250 gsm or 350 gsm coated art paper or 350 gsm premium cardboard, you can also choose to have them laminated. This involves applying an additional coating to the paper to give the place card a unique effect. Eight other options further modify both the look and feel.
When printing on 250 gsm and 350 gsm coated art paper, print24 also allows you to use UV varnish, giving your place cards a non-sensitive surface, and the motifs added depth. UV varnish can be applied in both matte or gloss style.
Get more out of your place cards: Your colour options
As a modern print shop, we can offer you the full range of printing inks. It's up to you whether you want to simply print your cards in black, or also want to use one of the special colours of Pantone, or even gold and silver effects. You can perfectly tailor your place cards to your event through your choice of colour scheme. Gold and silver are particularly common on place cards for weddings or birthdays.
At print24.com, you can combine black, silver, gold and the classic CMYK four-colour printing with another printing process, resulting in countless possibilities! The following options are available:
Black, Black + Pantone, Black+ Gold or Silver
CMYK, CMYK + Pantone, CMYK + Gold or Silver
Processing of your place cards
Your table cards are both cut and grooved. After printing, your place cards are die-cut at print24.com according to the product illustration and grooved at one point. Please note that your cards will be delivered unfolded (plano). This means that you must fold the place cards yourself at the groove before using them for the first time.