Cardboard box with handle
Better print online!
Printed cardboard box with handle
Simple folded boxes make ideal packaging for gifts or high-quality products. If fitted with a handle, they can also be carried like bags, making carry-handle boxes excellent giveaways at trade fairs and on promo tours. If you wish to print personalised carry-handle boxes, print24.com offers you different the tried-and-tested CMYK four colours printed process. All you need to get started is a print file. You do the configuring yourself online on your computer, and the print24.com team will professionally attend to the printing, delivering up to 50,000 in up to 10 different versions (= 500,000 boxes) per order.
A gift packaging which not only looks stylish and high-quality but is also practical, carry-handle boxes are true all-rounders. Gifts which fit easily in the hand along with the obligatory bouquet of flowers are particularly ideal for official occasions. Start configuring here, and print your folded boxes with your corporate design, slogan or logo. Or, depending on the season, choose motifs like Santas or flowers. Let your imagination run wild.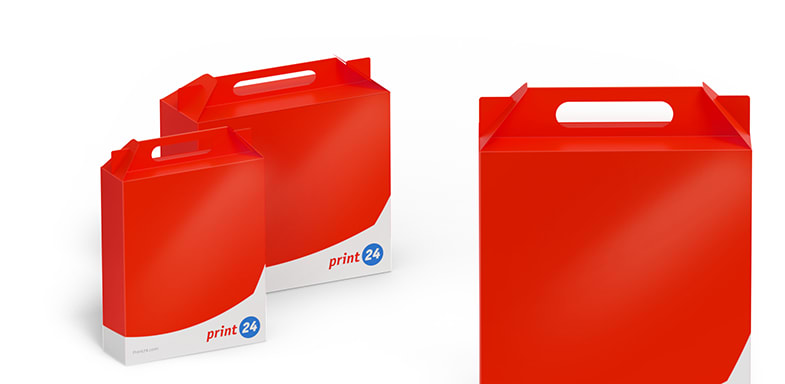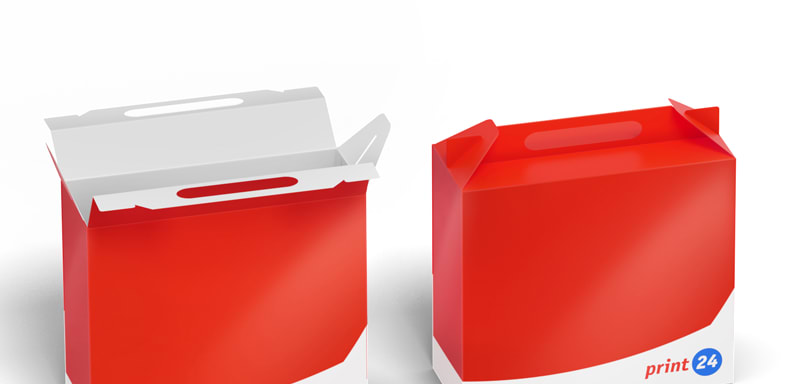 The perfect format for your carry-handle boxes
The smallest version of our carry-handle boxes has dimensions of 180 x 60 x 220 mm. Two larger sizes are also available: 250 x 100 x 220 or 250 x 100 x 320 mm. If you know the dimensions of your products, simply select the relevant format in the configuration menu. When creating the printing file, please remember to leave a two-millimetre bleed. We recommend only using our PDF template, to avoid printing problems later on.
Maximum strength thanks to chromo board
With a grammage of 300 to 350 gsm, the chromo board double-coated on one side, and which we use for your folded boxes, is particularly rigid and sturdy, making the boxes very solid and robust.
Classic four-colour process
We print your carry-handle boxes using the tried-and-tested CMYK four-colour process as a standard because it provides the greatest possible range of shades. We can thus print high-quality photos or elaborate graphics on the boxes just as easily as we can large colour fields. We only ever print on the outside of the box.
Processing after printing
After printing, we punch, crease (flat) and glue the handle onto your folded boxes. We only glue on one side, and your boxes are delivered unfolded. The packaging is particularly easy to assemble thanks to the instant base; as soon as the box is placed upright, the base forms automatically.
For the best impression: Your refinement options
For a high-quality, elegant look, you can have the exterior of your folded boxes refined. Choose from lamination on its own or combined with UV spot varnish. If you have your folded boxes laminated, you have the option of three different variants:
The gloss finish makes the surface pleasantly smooth and shiny, while the soft-touch gives the box a nice feel.
Matte lamination provides added strength because it makes your box's surface scratch-proof. You can create additional highlights by combining glossy lamination with UV spot varnish. If you choose matte or soft-touch, one side will be laminated and the other treated with UV spot varnish.