Cardboard envelopes
Better print online!
Cardboard envelope printing
Cardboard envelopes are often underestimated compared to other packaging materials like folded boxes or postal boxes, yet these practical products can serve a number of different purposes – as pattern books, info folders or gift wrapping. If you need individually printed cardboard envelopes for your company, store or online shop, print24.com is the place for you. As one of Europe's largest online print shops, we offer you state-of-the-art printing processes for your print products, as well as professional implementation with excellent service, and fair prices!
Do your customers like to know how a sofa's materials feel? Or do you want to send diagrams with a quote? Perhaps you want to send potential subscribers a pack of magazines? Then cardboard envelopes are the way to go. Thanks to a wide range of different formats, print24.com is bound to have the size best suited to your samples. With a maximum height of 20 mm, these envelopes also provide enough space for taller samples, e.g. carpets.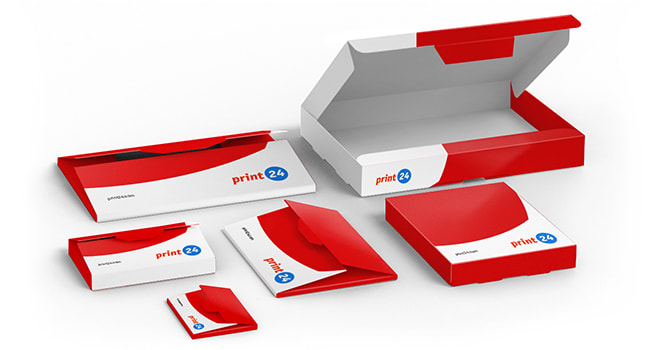 Various formats to choose from
From the handy 110 x 80 x 5-mm format to the large 310 x 220 x 20-mm format, we can print cardboard envelopes for you in a total of 16 different sizes. The shape is always rectangular, while the side lengths can vary depending on your selection.
Choose from four different heights: 5, 10, 15 or 20 mm. When creating your print file, please remember to leave a 2-mm bleed. And you should only work with print24.com's PDF template, so as to avoid errors during printing.
Paper: solid chromo board
We print your cardboard envelopes on high-quality chromo board with a grammage of 300 gsm. The single-sided double-coated cardboard is ideal for creating long-lasting envelopes thanks to its high flexural stiffness and volume.
Your printing options
With the tried-and-tested CMYK four-colour process, you'll be using a printing technique covering the widest possible range of reproduction options, allowing even photos or other graphics to be easily printed onto the cardboard envelopes.
Processing of the cardboard envelopes after printing
After printing your envelopes, they are punched and creased flat, saving you lots of space during storage. If the envelope needs to be used, simply insert the side flaps into one another, and place the desired contents inside.
For that something extra: Refinements
We offer you two different refinement options for your cardboard envelopes, plus a further three lamination options. If you configure the exterior with a gloss finish, your envelopes will be given a very smooth, shiny surface. If you want your envelopes to be particularly non-slip, use the soft-touch option, while matte, scratch-proof lamination provides added stability and robustness.
All laminations can incidentally be combined with UV spot varnish, where we apply an additional layer of varnish to selected areas or lettering, creating very attractive light effects.