Postal boxes
Better print online!
Postal boxes printing
Great products or good advertising ideas need attractive packaging. print24.com's postal boxes are the ideal solution if you're looking for a stylish way to package your promotional gifts, a personalised shipping solution for your postal deliveries, or a secure folded box as additional protection when shipping your products. As experts in professionally printed postal packaging, we offer you a high-quality print product which you can perfectly tailor to your needs, and have it printed by us in quantities of up to 50,000 in up to 10 different versions (= 500,000 boxes) per order.
Run your own small jewellery label or an online shop selling smaller, flat products? Then we can print your personalised postal boxes. Not only will this create a professional impression for your customers, but you can also apply your corporate design (which you presumably already use on your letterheads or labels) to your packaging. Because after all, every package sent bearing your logo is another way of promoting your business. But you can of course also use the postal boxes as actual packaging for your goods. The solid cardboard provides enough protection for the product packaged and stored inside it.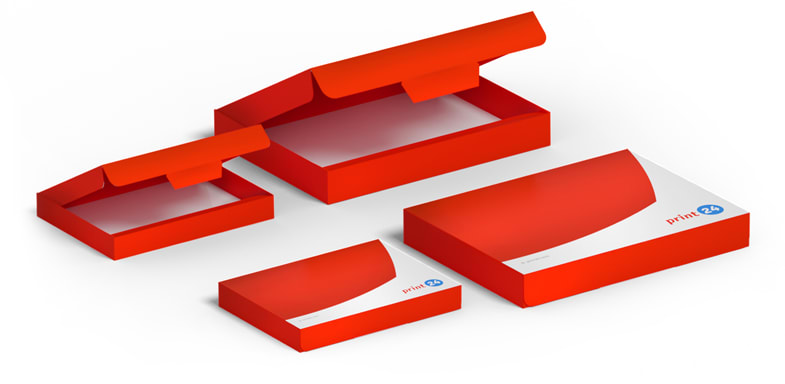 Handy format, ideal for postage
We print postal packaging in two different sizes. The smaller format measuring 226 x 170 x 30 cm is perfectly for holding brochures or inserts (even unfolded) in DIN A5 size, while the larger 326 x 245 x 45-mm box can also fit unfolded DIN A4 sheets.
When creating your printing order, please make sure you leave a 2-mm bleed in your print file. Please only use the PDF template provided by us to create your print files, so as to ensure optimum printing.
Your printing options
As a standard, we print the outsides of your postal boxes using the 4/0 CMYK four-colour process. Thanks to modern printing processes, we can easily reproduce both images and text. Apart from your logo or slogan, for example, we can also print your latest promotion on the boxes.
Processing your postal boxes
After printing, your product will be punched, creased flat and glued as per the selected diagram in the configuration menu. We deliver your postal boxes unfolded.
Solid chromo board for secure shipping
Both postal-box formats available at print24.com are made from high-quality GC2 chromo board. The high volume, combined with a grammage of 350gsm, ensures great strength and rigidity, which are particularly necessary for mailings. The coated fresh-fibre cardboard has a smooth, white surface, while the interlayer and back are pale.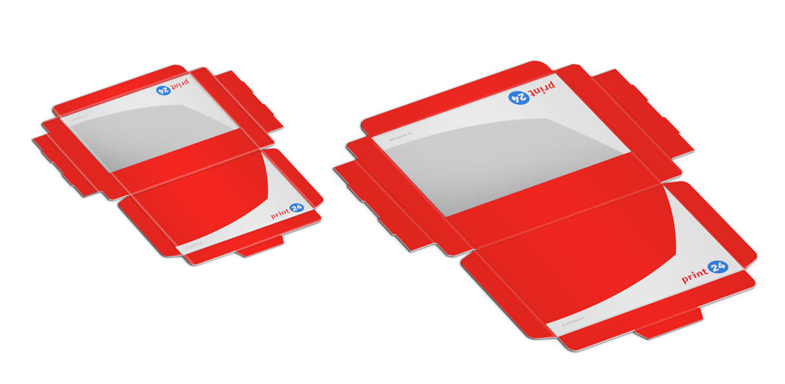 Refining your postal boxes
How about capping your mailing off with some refinements? At print24, there are lots of ways to do this. For example, you can laminate the box's surface. This special layer not only makes your print products more visually attractive, soft-touch lamination can also give it a unique feel. The smooth surface is particularly noticeable in the gloss finish, while the matte lamination provides added protection against scratches.
UV spot varnish can be used to highlight certain text elements or printed motifs. This involves us applying a special layer onto the surfaces selected by you during configuration. Both refinements – spot varnish and lamination – can incidentally also be combined!