Sleeve boxes
Better print online!
Personalised sleeve box printing
Sleeve boxes are the classic form of packaging for premium products and gifts, such as perfumes, jewellery or cosmetics – because the boxes are not opened by unfolding, but by rather elegantly sliding, to reveal their contents. If you want to sell or give your items in highly attractive packaging, print24.com gives you the chance to have personalised sleeve boxes printed. Choose from many different formats for the configuration.
What would an exquisitely scented perfume be without stylish packaging to emphasise the exclusivity of these precious few millilitres of fragrant liquid? The bottle is slid out of the package; no ripping or unfolding here – it's the refined way to open packaging. The same is true for cosmetics packaged in sleeve boxes. Whether it be night creams or argan oil, these products look even more attractive in neat sleeve boxes. All you need now is a print file with your design ideas. Then you're all set to start configuring your sleeve boxes for your perfumes or cosmetics!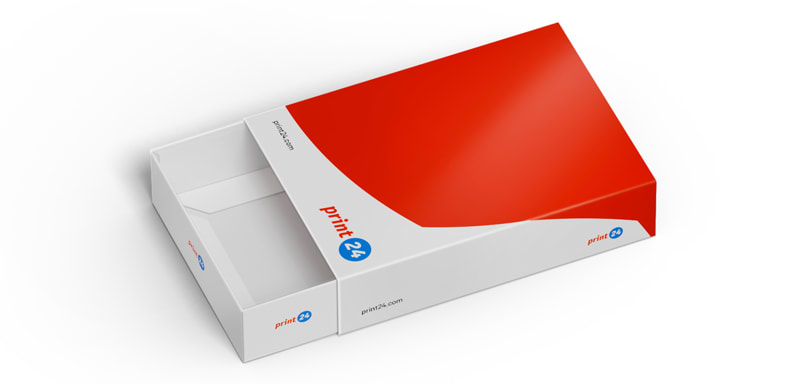 Sleeve boxes in various formats
Choose from different formats when printing your sleeve boxes with us. The handiest and flattest product measures 110 x 80 x 25 mm, while the largest is 310 x 220 x 25 mm. In between, there are various options, with heights of between 25 and 65 mm. If you know which products you'd like to package, you can select the suitable format with a single click in the configuration menu.
Please note: Always leave a 2-mm bleed in your print file. And only use the PDF template provided by us to create your print data. This prevents any complications when printing the sleeve boxes.
Robust GC2 chromo board for solid sleeve boxes
To give your sleeve boxes optimum strength, we only use high-quality 350 gsm GC2 chromo board for printing. Double-coated on one side, the cardboard displays excellent flexural rigidity and high volume.
Printing in classic CMYK
We print the outside of your sleeve boxes using the tried-and-tested CMYK four-colour process. This allows you to enjoy a wide range of colours suitable for both photos and large-scale colour application. We print both sections of the sleeve boxes, giving you lots of scope for your creativity.
Beautiful boxes – how about some refinements?
Although our chromo board is stylish enough on its own, you can further improve its look with some refinements. Lamination enhances both look and feel, and the soft-touch version is particularly pleasant to the touch, while glossy-laminated cardboard feels especially smooth. Matte lamination makes the surface of your sleeve boxes scratch-proof and even more robust.
You can also select a combination of lamination and UV spot varnish. The glossy variant can be enhanced with UV spots on each side. In the case of matte and soft-touch finishes, one side is laminated and the other treated with UV spot varnish. By the way: We only refine the outside of your boxes. Got more questions about the printing options or our refinements? Then just call us or chat with us!