Banderoles
Print better online
Have banderoles printed
The banderole was originally a "small banner" used by nobles. On documents, banderoles served as seals. Today, we understand this term primarily to mean fine bands of paper that are placed around books or other products. They attract more attention and can provide additional information about products.
If you already have digital print data and motifs at hand, you can create your individual bands here and have them printed at a favourable price. You can choose from five different formats and over 20 paper options. Printing is possible in CMYK and special colours for up to 2,500 banderoles per order.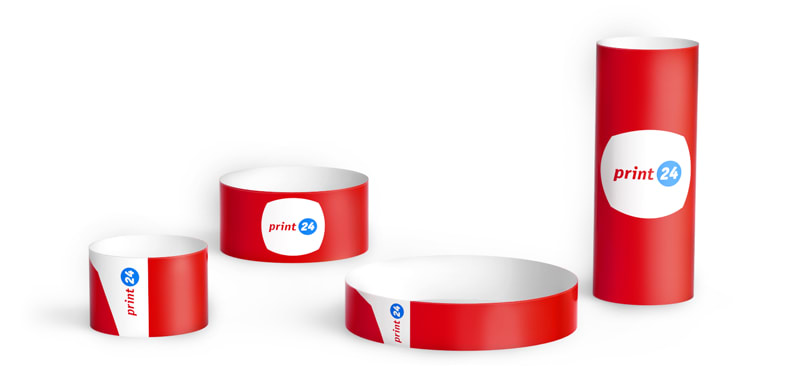 Print high quality banderoles for your products
Among our customers are many publishers or companies that want to make their books more individual and of higher quality with a sleeve. In addition to eye-catching motifs, the sleeve can also contain descriptive texts, slogans or information about special events or other products from the company.
Banderoles are also ideal for packaging clothing. At the same time, the paper band can serve as a kind of "seal" for customers. If the band is not damaged, the product is still new.
In the food sector, banderoles are very popular for enhancing chocolate bars or praline wrappers as well as fine culinary delicacies. This also applies to napkins. Both disposable napkins and fresh cloth napkins can be perfectly presented with a band.
Attention: Paper and colours are not food safe and should therefore only be used if an outer packaging is available!
Five formats for your products
We print banderoles in five different formats as well as in portrait and landscape format for you. You can choose from narrow banderoles in 35 x 520 and 35 x 550 millimetres, wide products in 60 x 280 or 60 x 400 millimetres.
The extra wide 200 x 250 millimetre banderoles are suitable for large products. The area of the banderoles corresponds to the print area. This means you have the entire surface available for your design.
High-quality papers for a successful first impression
Banderoles ensure that your product leaves a lasting impression on the recipient or consumer from the very first moment. That's why we only offer you high-quality paper for printing.
Those who focus on sustainability and sell "green" products will find the perfect paper types for their banderoles in grass paper or 100% recycled paper. Especially the 275 gsm grass paper is something very special. The small inclusions of grass fibres look very natural. This also applies to the brownish paper colour.
Our premium coated art paper is available in five weights from 115 gsm to 250 gsm. You have the additional option of choosing matt or glossy paper.
For premium products, our fine paper is ideal, which can be printed in chamois, ribbed, bright white and linen. All premium papers are suitable for conventional printers, just like the offset papers. This means that you can process the banderoles individually in your printer after printing and, for example, personalise them. Premium papers are available in grammages of 100 to 130 gsm, offset papers in grammages of 120 and 170 gsm.
Flexible CMYK printing and high-quality special colours
You can print very plain banderoles in black. It is also possible to print photos and other motifs on the banderoles using the CMYK process. CMYK can also be combined with special colours such as Pantone. These colours are ideal for exactly reproducing your company colours or for printing the entire surface of the banderoles in one colour. With a screenproof, you have the option of having a digital preview of your banderoles sent to you for a small extra charge.
Have up to 2,500 banderoles printed at once
We can print banderoles from as little as one piece, e.g. as a special decoration for a very personal gift. Our print shop has sufficient capacity to produce up to 2,500 banderoles in up to 10 versions per order for you. If you need it particularly fast, you can choose the priority option for an extra charge. In this case, your banderoles will be printed with priority and sent by express.Get your banderoles printed now - high quality, fast delivery, low prices at print24.com! We are happy to take on other printing jobs for you and print e.g. books, brochures, napkins or flyers.