Bookmarks
Better print online!
Personalised bookmarks printing
Bookmarks continue to remain hugely popular, even in an age of e-books. Because the desire to read traditional books is unwavering. So utilise the charming advertising appeal of personally printed bookmarks, and get print24.com to create these products in top quality and at fair prices. You'll not only be able to choose from many different types of paper or printing inks, but can also define your own special formats for your bookmarks. Configuration is super easy online on your PC. Get started with your order now, and benefit from the expertise and service of one of Europe's largest online print shops! Print24.com prints your bookmarks quickly and in reliable, high quality!
Whether you call it a bookmark or a page marker, the common goal pursued by these products is to show us where we're up to in our reading. They also help protect books, because corners don't need to be folded over to show where you've stopped. Bookmarks are of course perfect as promotional gifts for bookshops. But this practical piece of paper can also offer excellent promotional opportunities for other types of businesses. Utilise the impact generated by your personal bookmarks, which print24.com creates in top printing and material quality!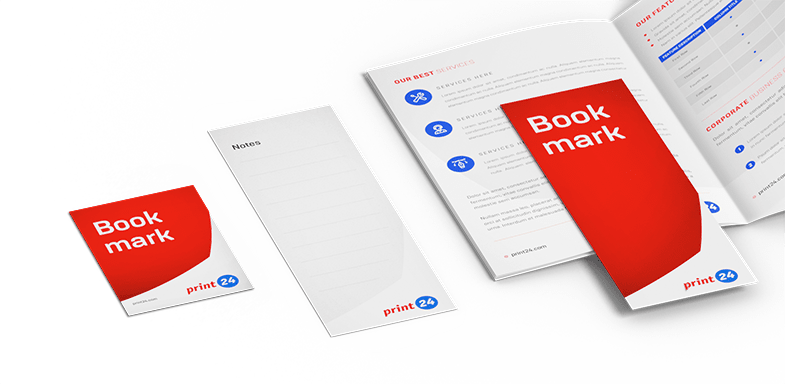 Two formats, printed single or double-sided
We can print your bookmarks single or double-sided on the paper of your choice. You have two different format options, which can printed in either portrait or landscape style:
74 x 105 mm (A7)
75 x 210 mm
But if you'd rather have a special format, that's no problem either. Because at print24.com, you can do just that! Simply select this option in the configuration menu, and enter your desired format.
What sort of paper would you like for your bookmark?
You can choose from 11 different types of paper for your bookmark. It's up to you whether you want the end product to have a stylish look, whether you place the greatest emphasis on strength, or whether you want the bookmark to be compatible with conventional printers for further processing. Choose from two classic coated art papers with grammages of 250 and 350 gsm, or opt for a particularly classy premium board. If you want to make your bookmark extra special using your choice of paper, go for one of the four premium papers:
300 gsm Premium Chamois
350 gsm Premium Ribbed
340 gsm Premium Bright white
350 gsm Premium Linen
Our high-quality offset paper is also available to print your bookmark:
350 gsm Offset
400 gsm Offset
Environmentally conscious customers use the 300 gsm white recycled paper, which not only ensures excellent colour reproduction, but also bears the "Blue Angel" seal. We can also recommend the high-quality 300 gsm chromo board (reverse side uncoated) as another paper option.
Need advice on choosing the right paper? You're welcome to contact our competent service staff by telephone.
More than just a piece of paper: Refinement options
Want your bookmarks to not only look great but also feel great? Then we recommend refining the surface. We offer a lamination option, which sees us add an extra coating to your products. Choose from the following:
Gloss: This refinement option adds particular shine.
Matte: This option gives the surface a very elegant, discreet look.
You can also add UV varnish to your bookmarks. This gives printed motifs greater depth, while an additional layer of varnish provides better protection.
Linen finish: The classic linen finish looks particularly stylish.
Soft touch: Bookmarks refined in this way have a particularly pleasant feel.
Your printing options for high-quality bookmarks
Accentuate your bookmarks by selecting a variety of printing inks! At print24.com, you can enjoy the full spectrum of modern printing. For example, you can combine plain black with special Pantone inks, or add silver elements to classic four-colour printing. We can of course also print photos, logos or text onto the bookmarks in portrait or landscape format. The following combination options are available, for both single and double-sided printing:
Black
Black + Pantone
Black + Gold
Black + Silver
As a special highlight, we offer two options for printing gold or silver inks - offset printing and digital printing. With the latter, it is also possible to use with small print runs. Printing of Gold Digital/Silver Digital is done using metallic toner with special pigments that create a reflection. As a result, it is in no way inferior to offset printing and enables metallic effects even in gradations. With the "Gold/Silver Digital" option, four-colour printing can be enhanced with gold and silver at the same time! The luxurious silver and gold decorations stylishly complete your professional appearance.
CMYK
CMYK + Pantone
CMYK + Gold
CMYK + Gold Digital
CMYK + Silver
CMYK + Silver Digital
CMYK + Gold/Silver Digital
Processing after printing
After printing, your bookmarks will be cut to your desired format before your order is shipped. Please send the print data in the specified dimensions and do not use cut marks or final format frames.
You should place your texts and pictures at a distance of 1.5 mm from the edge in order to avoid them being cut during processing into the desired format.