Sticky notes
Better print online!
Personalised Sticky notes
Sticky notes are undoubtedly among the most commonly used paper products. Because they're not just a piece of paper you can write on. Adhesive strips mean they can be stuck wherever necessary to remind us of important appointments or other things. Whether as a promotional gift or essential office supply, at print24.com, we print sticky notepads on high-quality adhesive paper. We offer three different formats for your sticky notes, which you can select easily in the configuration menu. Place your trust in our expertise when printing your sticky notepads, and enjoy optimum quality at top prices, regardless of whether you're ordering 50 or 10,000 pads!
Did you know that over 50 billion sticky notes are produced every year? And it's no wonder, because these practical paper assistants not only help us remember important things at the office, but also at home or with our hobbies. We can use them to remind our children of the all important afternoon dental appointment, or effectively remind ourselves about a crucial deadline.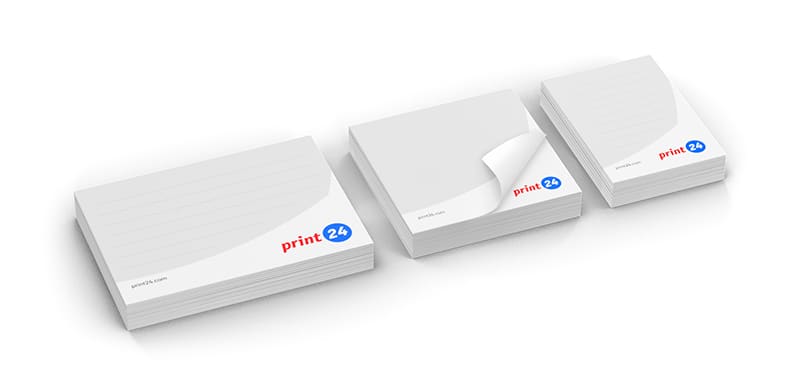 Various Formats
When configuring your sticky notes, you can choose between different formats: 50 x 72mm, 72 x 72mm and 100 x 72mm. We can print on the entire surface in each case. For example, you can decide whether you want to print a special background graphic so that the user can keep notes on it. You can also place your lettering, logos or slogans on the top or bottom of the sticky notes. The large-format sticky notes are particularly suitable for use in warehouses, for example, where notes need to be made even more visible, while the small format is also sufficient in offices.
If you opt for the 50 x 72 millimetre format, we can print your sticky note pads in either portrait or landscape format. You can also choose whether the pads should contain 50 or 100 sheets. This can be crucial, for example, if you want to send these print products as part of a promotional campaign or if you need to store a large run of sticky notes.
High-quality paper for your sticky notes
We print your selected motifs, texts or graphics on special white adhesive paper with a grammage of 70 gsm. This high-quality paper is not permanently adhesive and can be removed without leaving any residues. When using it, please note that the sticky notes are only designed for indoors, as the adhesive paper has the same properties as normal paper.
The sticky notes should similarly not be stuck on food, as the glued surface contains solvents not suitable for consumption.
Printing your sticky notes
All sticky notepads are printed single-sided. You may choose from classic black and white or standard CMYK four-colour printing. We only use high-quality inks, which we also use for our other print products.
This guarantees premium printing quality thanks to excellent reproduction of colour and detail.