Desk pad
Better print online!
Personalised desk pad
While a desk pad does protect desk surfaces, these paper underlays offer a number of other practical uses, e.g. as sketchbooks or blotting pads. At print24.com, you can have desk pads printed with your motifs or texts in two conventional formats, including with special colours, from batches as small as 50 to large volumes of 20,000 pads at a time. Whether for your office, your clinic or for promotional gifts, desk pads by print24.com are the perfect combination of high-quality printing and low prices. You too can benefit from our expertise as one of Europe's largest online print shops!
Paper desk pads are also excellent blotting pads. Not only does the paper serve as an underlay when signing letters or taking notes, but the individual sheets themselves can also be written on. The pads thus provide lots of space for quick notes during telephone conversations or, with the appropriate form, for important appointments, which can later be transferred to your diary.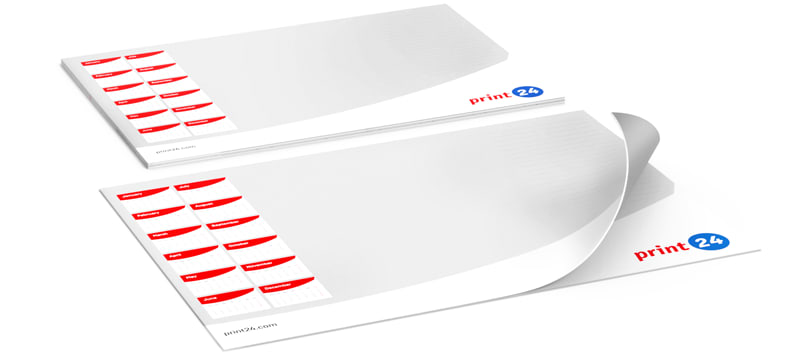 The advantages of paper desk pads
Many different materials like transparent plastic or even high-quality leather can be used for desk pads. Unlike these, paper offers a number of advantages:
The desk pad can actually be used as an underlay to write on und can be reused several times as a sketchbook or week planner. No cleaning required, since a new paper can simply be used. Cheap to buy, highly customisable with logos and imprints and easy to manufacture in corporate designs.
The desk sketchbook
It's not just architects who create sketches of their buildings; fashion designers also rely on pencils and paper when it comes to quickly record ideas. And almost everyone in an office will use diagrams and sketches to illustrate facts to others or explain an action plan. In this case, desk pads by print24.com can also be used as practical sketchbooks, which are always on hand when you're at your desk.
Practical formats for many desk-pad sizes
Desk pads can be ordered from print24.com in two practical sizes. The smaller 335 x 485-mm format is ideal for when your pads have to be used on many different desks, or if they have to share the space with a computer keyboard.
If you opt for the DIN A2 (420 x 594 mm) format, you'll enjoy lots of room for your motifs or text. These large desk pads cover a vast part of the workspace.
Both desk-pad sizes are glued. You can choose whether to have the top or bottom glued, based on the standard landscape format.
At print24.com, you can order your printed desk pads in a version with 25 sheets or one with 50 sheets.
Paper, style and format
When it comes to printing, you can opt for 90 gsm Offset or the more environmentally friendly, white 80 gsm Recycled paper, which also bears the Blue Angel certificate.
Both paper types can be used in all conventional printers, so if you wish to print individual sheets of your desk pads yourself, it's no problem at all.
Many different printing options for your desk pads
We boast the full spectrum of modern printing when it comes to your desk pads. The cheapest variant is simple black-and-white printing. If, however, you wish to use special colours, we recommend Pantone, giving you a selection of special colours to choose from.
1/0-coloured Black
2/0-coloured Black + Pantone
2/0-coloured Black + Gold
2/0-coloured Black + Silver
For particular visual effects, you can also add gold or silver lettering. Both Pantone and silver/gold can be combined with conventional CMYK four-colour printing or the simple black-and-white printing. It is always the front side of the pad which is printed on; the back is left plain.
4/0-coloured CMYK
5/0-coloured CMYK + Pantone
5/0-coloured CMYK + Gold
5/0-coloured CMYK + Silver