Gift tags
Better print online!
Have gift tags printed
At print24.com, you can print gift tags with punched holes in print runs starting at 1 piece − at low prices, quickly and in excellent quality. Our printed products are therefore just as suitable for private clients as they are for business customers. At our printing company, you also benefit from the numerous finishes available, as well as printing in custom colours such as Pantone. If you want to get going right away, start your print job here and configure your print file easily online with just a few clicks.
How about, as well as wrapping your presents in festive paper, you also add a little greeting on a gift tag? With this little tag, you can enhance your gift and add a message of your choice. For example, use the tag to say "thank you" to your customers for their loyalty or wish them a merry Christmas. For large baptisms or wedding receptions, gift tags are perfect for a small thank-you message to the guests that can be attached to the guest gifts. Regardless of which occasion you use our gift tags for, you can design these printed products to your own exact specifications and have them made by us. If you have any questions on creating the print file or selecting the design, we would be happy to help you further on a one-to-one basis by email or over the phone.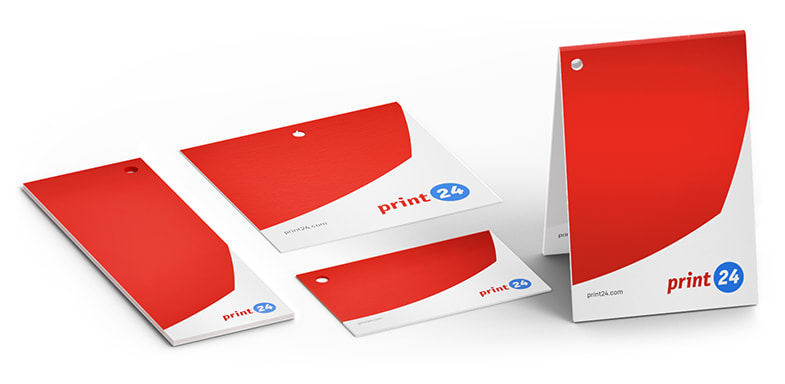 Tags available in four formats
Four different formats are available for the printing of your gift tags. Our classic formats are A7 and A7 long, which give you a print area of 74 x 105 mm or 52 x 148 mm in portrait format. Even handier are the sizes 98 x 98 mm and 85 x 55 mm. The square tag, in 98 x 98 mm, can be printed on one or both sides; for all the other formats, four-sided printing is possible.
Customise your tags to the occasion - your paper options
Make the most of your tags when you choose a special paper! You can choose between coated art paper, premium board, fine paper with different surfaces (chamois, ribbed, high white, linen), offset paper, recycled paper and chromo board in different grammages. Offset papers have the advantage that they can be processed with conventional copiers or laser printers and written on with pens. Names or short messages can also be printed and inscribed individually. By the way, all recycled papers carry the "Blue Angel" seal.
For that special something − your finishing options for gift tags
In order to make your gift tags even more impressive, we can add a finish on request. Using a cellophane coating, your tags can be laminated in matt, gloss, linen or soft touch. As well as giving them a surface that is pleasant to touch, this will also make them more visually appealing and, at the same time, sturdier. As a further refinement, you could select UV surface varnish for the whole tag or highlight individual areas with UV spot varnish.
As a special highlight, we offer the possibility of applying a foil in gold, rose gold or silver with digital foil. The process does not require an embossing die and can therefore also be used for a small print run. The foil is applied using a special chrome roller. It is in no way inferior to hot foil stamping and enables metallic effects even in gradations.
Processing options
Additionally, please note that the trimming and creasing options depend on the number of sides selected. When trimming with or without rounded corners, for example, only one- or two-sided printing is possible. If you opt for a premium paper, the corners cannot be rounded. To attach the gift tags to presents with a ribbon, you can position the punched hole in the top left, middle or right.
Gift tag printing also possible in custom colours
We print your gift tags using the CMYK four-colour process as standard. This allows you to be very free in your choice of design, which will be optimally reproduced thanks to this modern printing process. If the tags are going to be in your corporate design or printed with a flat area of colour, you can, if required, also add these elements in the appropriate Pantone colour.
In addition, gorgeous effects can be achieved with gold or silver. A combination of black printing with Pantone, gold or silver is also possible.