Gift wrapping paper
Better print online!
Print gift wrapping paper
Have gift wrapping paper custom-printed at print24.com with your motifs, graphics or corporate design. We can offer you both high-quality papers as well as five different formats. The printing of your own gift wrapping paper for Christmas, birthdays or anniversaries is possible starting at just one sheet. You can configure your print job right here online.
What would a gift be without the excitement of unwrapping it and finding out what is concealed inside the package? Gift wrapping paper has traditionally been used to ensure that every present becomes something very special, even before it is unwrapped. At print24.com, you now have the option of designing gift wrapping paper to your own exact specifications and having it professionally printed. For example, you can have paper made in your corporate design and use it to wrap your customers' purchases. In this way, you can offer your customers a supplementary service while at the same time drawing attention to the source of the present in a stylish way. You are thus using an excellent opportunity to make your brand a discreet presence at birthdays, anniversaries and weddings.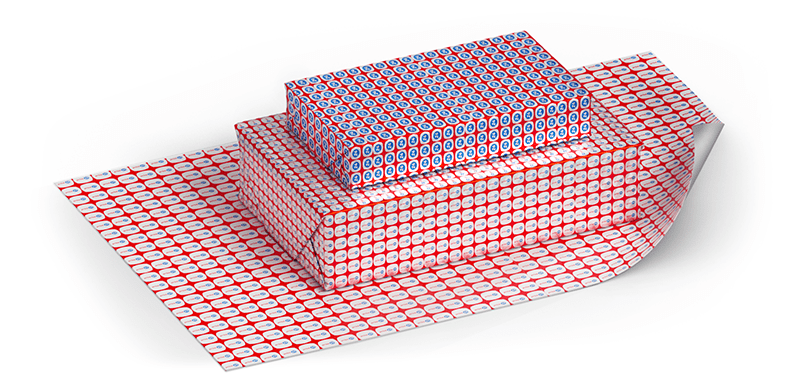 Customised paper for Christmas, weddings or birthdays
How about wrapping the Christmas presents for your nearest and dearest with your own personalised gift wrapping paper? Photos from your last holiday might be suitable, or you could photograph your children's paintings and then have them printed onto the gift wrapping paper. You could also create your own designs with the help of a graphics program.
Printed gift wrapping paper also works well for wedding gifts. In this way, you can personalise and enhance your presents even more. The same applies, of course, to significant birthdays or anniversaries. Thanks to our flexible print run sizes, our gift wrapping paper production can be carried out on any scale.
Different sizes for your sheets of gift wrapping paper
For the printing of your sheets of gift wrapping paper, we offer a range of five different well-proven sizes. The standard formats A3, A2, A1, A0, B1 and B2 can be printed in either portrait or landscape format.
Various paper options
Your gift wrapping paper is made from high-quality coated printing paper available in three different thicknesses, from 115 gsm to 170 gsm, each of which comes in matt or gloss. They are characterised by their high quality, are wood-free and double varnished. For this reason we cannot guarantee it can be subsequently written or printed on.
Combine printing options with gold and silver
The printing is carried out using the tried-and-tested CMYK four-colour process. This offers the greatest possible flexibility for the selection of the design. In addition to photos, the printing of slogans, texts or large areas of colour can also be accomplished in excellent quality. Due to the large size of the gift wrapping paper formats, you should make certain that your graphics have a sufficiently high resolution. This will prevent pixelated printing results.
To highlight individual elements on the wrapping paper, we can also print in gold or silver. A combination of CMYK with Pantone, Gold or Silver is also possible. Simply select the desired variant in the configurator and create the colours in your print file.