Door hangers
Better print online!
Custom door hangers printing
Door hangers are very versatile, and can be used in hotels, as mirror tags in cars, or as paper tags for advertising campaigns. All you need are suitable motifs or texts. We'll then reliably take care of printing your products. It doesn't matter if it is for a small business or large marketing campaign, print24.com can print between 25 and 50,000 door hangers at a time. Not only will you enjoy low prices; you'll also benefit from a wide range of refinement and printing options and premium quality! We'll be glad to advise you on all orders by telephone. Simply use our service hotline.
Door hangers printed with "Please do not disturb" have played a key supporting role in many films, and have perhaps even been used by you too. They can be found at virtually every type of accommodation property, from basic to 5-star. If you also run a hotel or a guesthouse, you can configure your own door hangers here with print24.com and order them online. Using modern printers, we can print several thousand door hangers for you without a problem. Get started with your order here!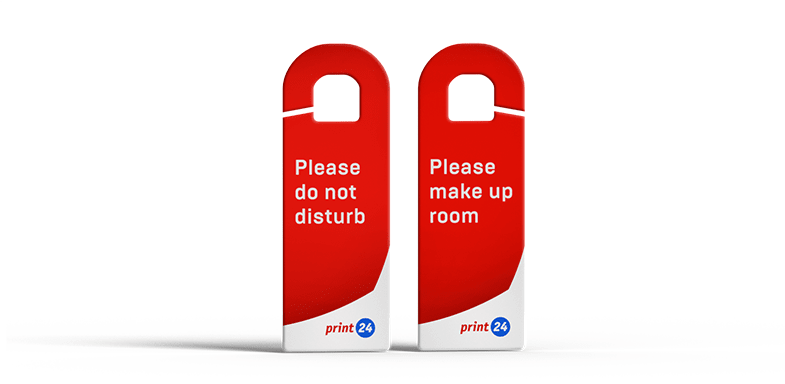 Advertising campaigns with door hangers
When was the last time you took the subway or train? Were you also inspired by a discreetly eye-catching advertising campaign using door hangers affixed to luggage racks or handrails? Did you also benefit from a coupon or voucher distributed thanks to these hangers? Perhaps you too want to enjoy the great advertising potential these hangers offer your business. Then get started with your print order at print24.com. With low printing costs, we ensure you can achieve extensive reach with large quantities. If you have any questions, you can contact our service team by telephone or email!
Space for your motifs
All door hangers are supplied in a 105 x 297-mm format. This area may be used for your text or motifs.
After printing, all door hangers are die-cut in the shape of a typical door hanger.
Mirror tags for rental cars or car dealers
If you manage a larger fleet for leasing or for your business, mirror tags can help with organisation. For example, you can place them in a car to show that it has been cleaned and is ready for use. Or you can use them to denote all vehicles in a particular group. If you sell used cars, you can have pre-made door hangers printed in order to enter important car specifications, such as output or extras, as well as price, later on. Thanks to our wide range of refinement options, you can create mirror tags perfectly matching the relevant car category, e.g. a luxury limousine's should be different from that of a small car.
More than just paper – make your selection
With print24.com you can print your door hangers either on one or both sides. You can choose from different types of paper, from simple to robust.
Coated art paper is a cost-effective option. It is available in grammages from 170 - 400 gsm. The 350 gsm premium cardboard is ideally suited for repeated usage.
The offset papers in 350 gsm and 400 gsm are characterised by best printing results and even more stability. For our environmentally conscious customers we recommend the 300 gsm recycling white. The recycled paper has the blue angel certificate. The 300 gsm chromo board impresses with its maximum stability and the uncoated reverse side can be written on.
Even more room for creativity: Refinement
There are many different finishing options to choose from. Thus your door hangers stand out clearly from current standards and become something very special.
Depending on the type of paper you choose, you can choose between cellophane wrapping, embossing and varnish.
Lamination/special foils
In cellophane wrapping, a wafer-thin film is applied to the printed product. Your products are not only coated, but are also more resistant and therefore more durable. Depending on your wishes, this film can achieve a glossy or matt effect. In addition, there is the possibility to choose a special matt film with a velvety or linen-like surface.
Blind embossing
In blind or relief embossing, individual motifs, logos, ornaments or lettering are highlighted three-dimensionally. The product is deformed at the relevant points, i.e. embossed in height or depth, giving it an additional haptic effect.
Hot foil flat embossing
With this type of finishing, a transfer foil is applied to the previously defined surfaces by heat and pressure. Depending on the foil used, different effects are achieved, such as high-gloss metal foils in gold, silver or bronze/copper.
Hot foil relief embossing
Hot foil relief embossing is a combination of blind-/relief embossing and hot foil embossing: Using heat and pressure, a transfer foil is applied to the surfaces to be finished and the corresponding areas are also embossed in height. This creates unique light reflections and amazing haptic effects.
UV varnish
The UV surface varnish is an additional layer that provides glossy and perspective effects. UV varnish can be applied over the entire surface or partially (UV spot varnish). The coating not only produces outstanding high-gloss effects, the product is also resistant and thus protected from scratches.
UV spot varnish
The UV spot varnish provides glossy and perspective effects, but the varnish is applied only partially, i.e. on individual motifs, logos or lettering. The printed product thus becomes an individual and exquisite piece of decoration.
Print door hangers with special colours
Do you use a special colour for your corporate design? Or simply want to make your door hangers stand out from the crowd? Or perhaps you just want an extremely low-cost solution in black and white? Then take advantage of print24.com's full range of modern printing technology.
Black
Black + Pantone
Black + Gold
Black + Silver
Whether it be simple in black, or high-quality using Pantone special inks, it's no problem for our printers. We can also create gold or silver colours using a standard CMYK four-colour printing process. You can choose to print one or both sides of your door hangers. The following combinations are offered:
CMYK
CMYK + Pantone
CMYK + Gold
CMYK + Silver