Tickets
Better print online!
Print tickets professionally
Paper tickets continue to be of practical use, even in an age of digital boarding passes and trade fair tickets. Because the big advantage of a printed ticket is that your guests receive a physical product to grant them access to the event. Our online print shop allows you to configure your own tickets for events, concerts, museums or private functions, and order them conveniently online in batches of up to 50,000. Using state-of-the-art printing technology, the print24.com team ensures your tickets can be printed in top quality, and at fair prices. Get started with your printing order now, and rely on the proven expertise of one of Europe's largest online print shops!
In times of tightening budgets, museums have been particularly affected by austerity measures. print24.com gives you, as a museum operator or budget manager, the opportunity to have tickets printed at particularly reasonable prices, without compromising on quality. Enjoy countless refinement features when printing your tickets in batches of up to 50,000 items per order.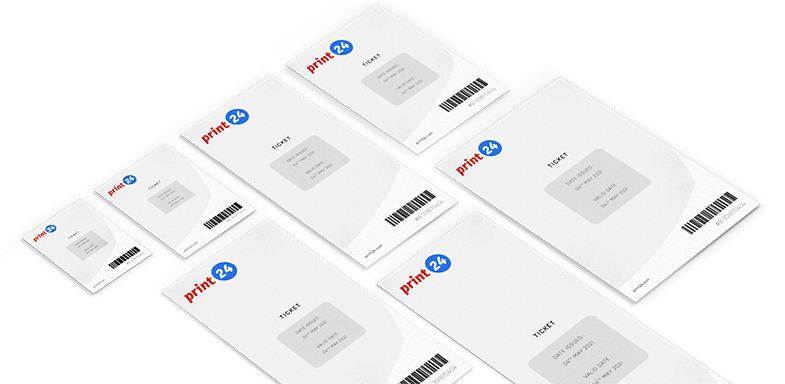 High-quality tickets for events and trade fairs
Are you an events planner or organising a trade fair? Then print24.com's ticket printing service is guaranteed to be of use to you! We create your tickets in many different formats, including with premium special colours upon request. The exquisitely printed and designed tickets can add to the exclusivity of invite-only events. We can print in batches from as small as 25.
Personalised tickets for your functions and parties
Planning a private function and want to surprise your guests with personalised tickets? Then use our expertise as an online print shop, and allow us to create them for you. With a minimum batch size of 25, our service is ideal for private customers who value professional workmanship when it comes to their design templates!
The version: single or in a block
At print24.com, we can print tickets either individually or as a block. If you choose the former, your tickets will be cut to size after printing. This option also allows you to have the tickets numbered and perforated, choosing between single or double numbering. Having the ticket number on two sections of the document reduces the risk of forgery. Numbered tickets are always perforated so that one section can be torn off upon entry.
If you order your tickets in a block, we'll group them into clusters of 25, 50 and 100, which can then be used at a box office, for example. The blocks are glued at the top and have cardboard backing for added strength.
Both block and individual tickets can be printed single-sided or double-sided. The back of tickets is often used to feature terms and conditions, directions when using public transport, or advertising for other events. Call or email our service staff if you have any questions about the printing process.
A variety of formats for printed tickets
print24.com offers you different formats to print tickets, including five classic DIN sizes. The formats apply to both individual and block variants. All formats can be printed both in portrait and landscape.
52 x 74 mm A8
74 x 105 mm A7
100 x 210 mm
105 x 148 mm A6
105 x 210 mm DL
105 x 297 mm
148 x 210 mm A5
Strong, premium papers to choose from
When we print your entrance tickets, you can choose between different types of paper. All coated art papers can be chosen in either a matte or glossy finish. The offset paper can also be further processed later on in copiers or printers. Block tickets are printed on high-quality 170 gsm coated art paper as a standard.
170 gsm Coated art paper
250 gsm Coated art paper
350 gsm Coated art paper
170 gsm Offset (printer-suitable)
350 gsm Offset
170 gsm Recycling white (printer-suitable)
High-quality, modern printing inks for your tickets
In addition to the double numbering on your tickets, we offer you an extra feature to increase forgery protection in the form of Blacklight ink. This special ink is visible under UV lights, allowing entrance security to check whether a ticket is an original or a forgery. When creating your printing data, the Blacklight ink must be set as a separate colour channel. Blacklight inks can be combined with either black or CMYK four-colour printing, single or double-sided.
If you have the front of your tickets printed, you can choose between standard colours or many special colours. Pantone, for example, give you access to a selection of special colours, which can also be combined with the classic four-colour printing process (CMYK) to achieve additional visual effects. The following combinations are available:
Single-sided:
1/0-coloured Black
2/0-coloured Black + Pantone
2/0-coloured Black + Blacklight
4/0-coloured CMYK
5/0-coloured CMYK + Pantone
5/0-coloured Euroscale + Blacklight
Double-sided:
1/1-coloured Black
2/2-coloured Black + Pantone
2/2-coloured Black + Blacklight
4/4-coloured CMYK
5/5-coloured CMYK + Pantone
5/5-coloured Euroscale + Blacklight