Aprons
Better print online!
Have aprons printed or embroidered
Whether it is in the catering trade or in the kitchen at home, aprons play an essential role. At print24.com, you can customise waist aprons or have classic bib aprons embroidered as a very individual gift idea. You can choose between several versions in six different colours, on which we can print or embroider up to two designs for you. You can start your order right here online with just a few clicks via our configuration menu.
At print24.com, you have the opportunity to professionalise the external image of your catering or sales team. For example, you could customise a set of bistro aprons with your company logo for those of your employees who work at the food counter. Another option is the customisation of waist aprons for your bar. Additionally, apron customisation at print24.com is also perfect for resellers who want to refine the garments with their own design before selling them.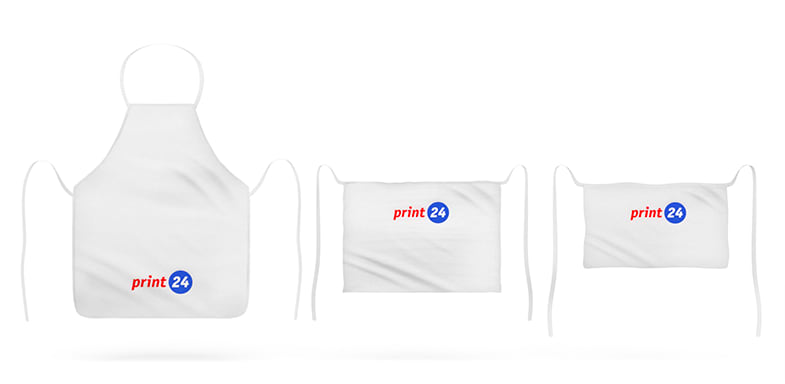 Four different apron versions for your customised design
The traditional half apron is a simple but efficient apron for the catering trade. Behind the bar or when waiting tables, this product is indispensable. The short length leaves ample legroom.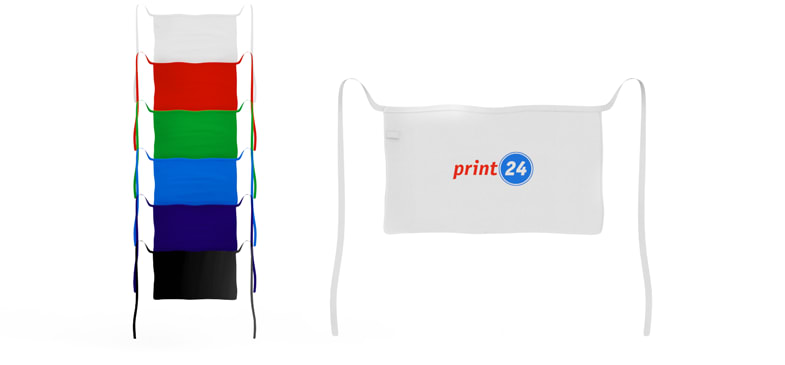 The typical bistro aprons are slightly longer, making them ideal for baristas or for serving in cafes. These are available in white, red, green, blue, navy blue and black. Bistro aprons, also known as serving aprons, are practical and dress your staff uniformly. Printed or embroidered bistro aprons provide a corporate design in the catering sector or are a real eye-catcher with individually printed slogans!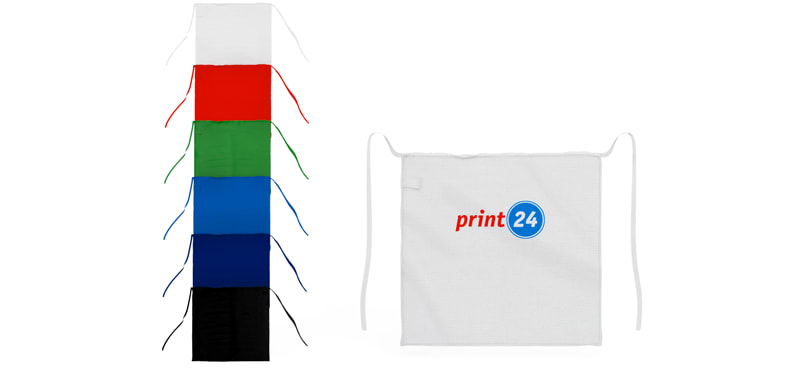 The bib apron, on the other hand, is above all perfect for cooking or baking as it protects your clothes from splashes of sauce or other debris. Order your own bib apron with individual company logo or slogan! Embroidered or printed bib aprons are also a great gift idea for hobby chefs.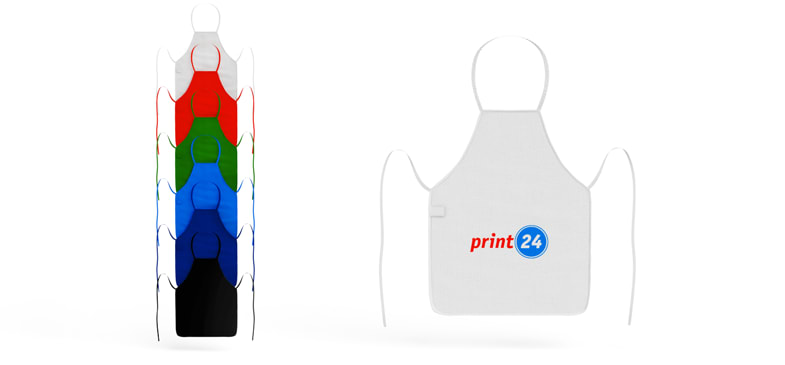 Many sizes for different requirements
When it comes to materials and workmanship, you can count on true professional quality for a reasonable price. All the aprons are made of a sturdy and easy-care blend of 65 percent polyester and 35 percent cotton.
The waist apron measures 90 x 50 cm, the bistro apron 100 x 75 cm, the bib apron 60 x 80 cm.
Large choice of colours
Bistro apron in colours Blue, Green, Navy, Red, Black and White
Bib aprons in Blue, Green, Navy, Red, Black and White
Half apron in colours Blue, Green, Navy, Red, Black and White
The methods of processing for aprons
With this product you have the choice between transfer printing or embroidery. Bistro aprons, bib aprons and half aprons can be decorated with high-quality embroidery.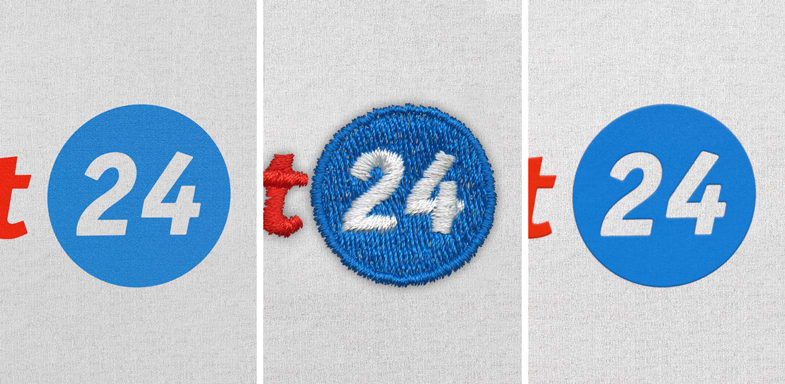 Embroidery
While motifs are applied to surfaces by printing, embroidery enables them to be woven directly into textiles. This particularly durable embroidery, which is also resistant to washing and light, is particularly suitable for heavy-duty clothing, such as workwear. The use of high-quality yarn colours creates colour-fast and noble-looking embroidery designs. At the same time, a unique look and feel is achieved, which makes your clothing look exclusive. In addition, individual transfer printing is also possible with these three versions. We print your logo or your personal message in practical digital print on your barbecue apron.
Transfer printing
The product is processed in digital transfer printing. Motifs and fonts are printed in CMYK on a backing paper and then transferred to the fabric with a transfer press. In transfer printing, flat colours as well as the finest colour gradients, for example in photos, can be brilliantly represented. By printing on white transfer film, colours are reproduced perfectly, as the background does not shine through. Furthermore, transfer printing is characterised by high contour sharpness and coverage. A further advantage is undoubtedly the independence of fabric and colour, which is achieved by transfer printing. Regardless of which textiles are printed, the appearance of the print is identical on every fabric.
You can place your motifs here
Depending on the selected model, you can select different positions where your slogan, name or other motifs will be printed or embroidered. For example, embroideries are possible in the thigh area or traditionally on the bib.
You can also have your desired motif embroidered in the middle. It is also possible to have two different motifs at two different positions on the aprons. Please bear in mind, however, that different printing methods cannot be combined.
Bistro apron and Half apron
Embroidery
Thigh - left or right: 100 x 100 mm
Transfer printing
Front - centred: 250 x 150 mm
Thigh - left or right: 100 x 100 mm
Above the knee - centred: 70 x 60 mm
Bib aprons
Embroidery
Bib - centred: 100 x 100 mm
Thigh - left or right: 100 x 100 mm
Transfer printing
Front - centred: 250 x 150 mm
Bib - centred: 100 x 100 mm
Thigh - left or right: 100 x 100 mm
Above the knee - centred: 70 x 60 mm