Chef coats
Better print online!
Have chef coats printed or embroidered
For chefs, working in a customised chef coat forms part of their professional image. At print24.com, you can have high-quality chef coats printed or embroidered with your name, the name of your restaurant or kitchen, or another design, all in top quality. Different styles of coat in different colours are available for you to choose from, in all the standard sizes. Start your order easily online and convince yourself of the exceptional quality available at reasonable prices from one of the largest printing companies in Europe.
Functional clothing in the kitchen is not primarily about appearance. However, chef jackets customised with printing or embroidery make a very professional impression. For one thing, these robust and durable garments are perfect for working in kitchens. For another, they allow you to create the perfect overall image for your kitchen team. If the chef coats were then customised with your own designs, the overall picture would be optimal.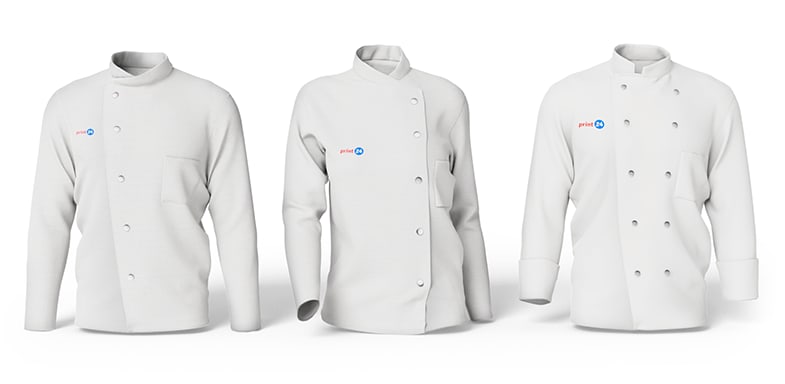 Top quality with professional chef jackets
In catering, chefs must be able to rely on their materials at all times. This also applies to workwear. And with printed or embroidered chef coats from print24.com, you are making a great choice.
There are two versions available: a classic, fitted chef jacket for men or women and a unisex chef jacket. The high-quality, pre-shrunk and colour-fast professional chef jacket for men or women is made of a very robust and easy-care blend of 65 % polyester and 35 % cotton, in a weight of 215 gsm.
These dryer-safe coats can be washed at up to 95°C. Thanks to the practical press studs, the chef coat can be put on and taken off quickly.
The unisex chef coat has a straight cut and is made of 100 % cotton, in a weight of 185 gsm. The sleeve cuffs have a practical slit.
Different sizes to choose from
For the print or embroidery you can choose the ladies jackets in the clothing sizes 34 to 50. For men, the model is available in sizes from 44 to 66 for personalisation.
The standard model of the unisex cooking jacket can be printed or embroidered at print24.com in sizes from XS to 4XL.
Women Premium: 34, 36, 38, 40, 42, 44, 46, 48, 50
Men Premium: 44, 46, 48, 50, 52, 54, 56, 58, 60, 62, 64, 66
Unisex: X-Small, Small, Medium, Large, X-Large, XX-Large, XXX-Large, XXXX-Large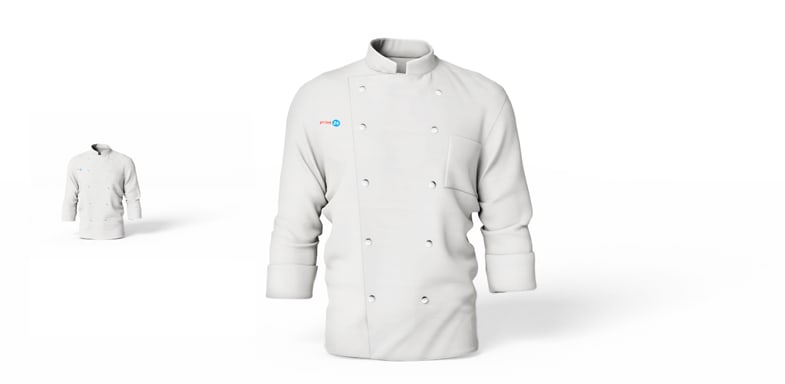 More than just the traditional white for colour selection
For the printing or embroidery you can choose the ladies jackets in the colours anthracite, white, pink, light brown and black. For men, the model is available in the same colours except pink.
Women Premium: Anthracite, Pink, Black, White, Light brown
Men Premium: Anthracite, Black, White, Light brown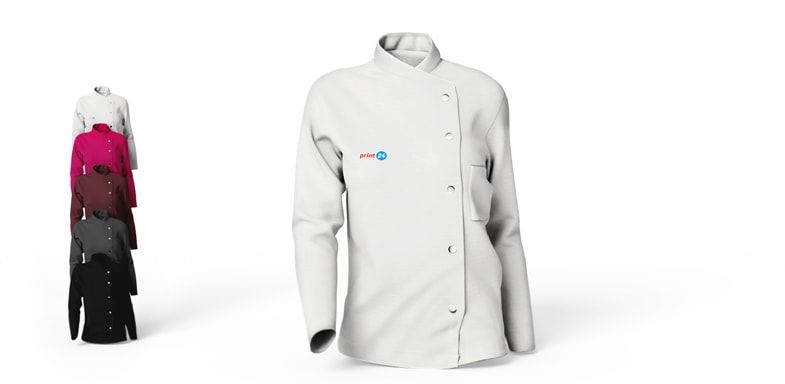 The standard model of the unisex cooking jacket can be ordered from print24.com in the traditional colour white.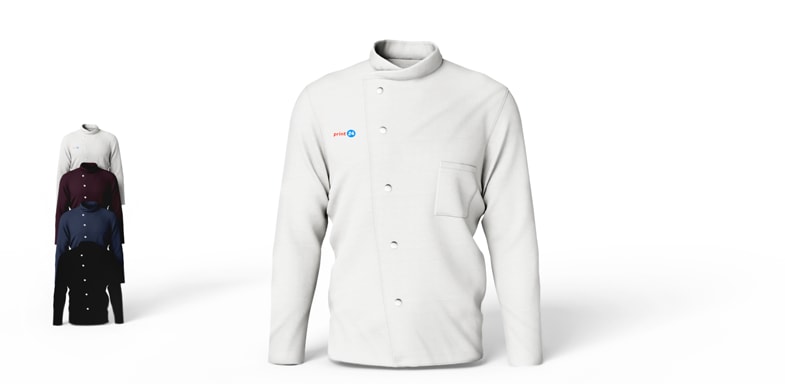 Embroidery or printing − the choice is yours
With print24.com you benefit from maximum flexibility when placing your embroidery or transfer print motif.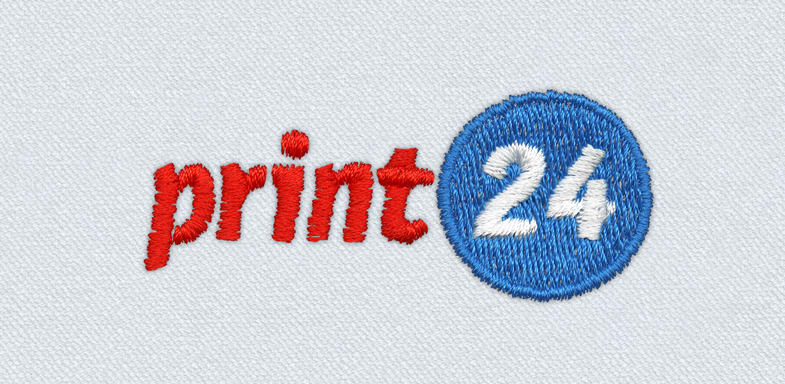 Embroidery
While motifs are applied to surfaces by printing, embroidery enables them to be woven directly into textiles. This particularly durable embroidery, which is also resistant to washing and light, is particularly suitable for heavy-duty clothing, such as workwear. The use of high-quality yarn colours creates colour-fast and noble-looking embroidery designs. At the same time, a unique look and feel is achieved, which makes your clothing look exclusive.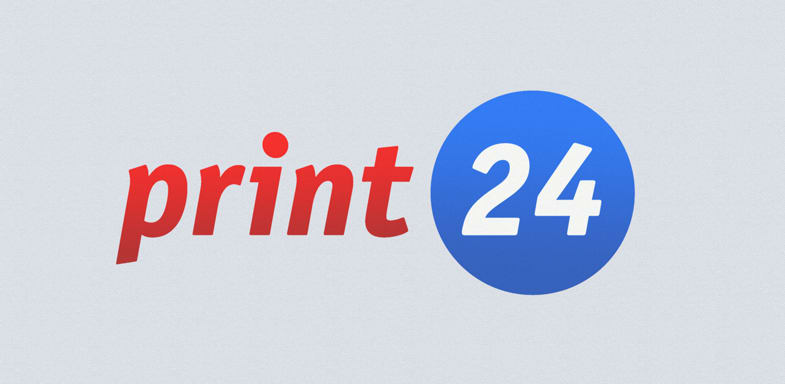 Transfer printing
With the digital transfer printing process, motifs and fonts are printed in CMYK on a backing paper and transferred to the fabric with a transfer press. In transfer printing, flat colours as well as the finest colour gradients, for example in photos, can be brilliantly represented. By printing on a white transfer film, colours are reproduced perfectly, as the background does not shine through. Furthermore, transfer printing is characterised by high contour sharpness and coverage. A further advantage is undoubtedly the independence of fabric and colour, which is achieved by transfer printing. Regardless of which textiles are printed, the appearance of the print is identical on every fabric.
Where should your motifs be placed?
Depending on the chef jacket you choose, you can select from different positions for the embroidery or printing of your slogan, restaurant name, your own name or another design. For example, you could position the embroidery in the neck area or in the classic position on the collar.
Embroidering:
Sleeves - left or right: 30 x 30 mm (not for Women Premium)
Neck area - 80 x 50 mm
Front - left:
70 x 40 mm (Unisex)
100 x 50 mm (Men)
100 x 100 mm (Women)
Front - right:
100 x 100 mm (Women)
You could also have your desired motif applied to the sleeve. Alternatively, two different motifs can be applied in two different positions on the chef jacket. Please bear in mind, however, that embroidery cannot be combined with printing.
Printing:
Collar area - left or right: 80 x 25 mm
Cuff area - left or right: 80 x 15 mm
Neck area - 100 x 50 mm
Sleeves - left or right: 80 x 80 mm
Front - left or right: 100 x 100 mm
Front - lower left or right: 100 x 50 mm
Back - centred: 250 x 150 mm