Polo shirts
Better print online!
Polo shirt printing
It doesn't always have to be a T-shirt. How about printing your own personalised polo shirts at print24.com? Or creating a new outfit for your club with our help? Or getting us to print polo shirts for your next corporate event? Our modern print shop not only focuses on top material quality, but also outstanding print results at reasonable online prices. At print24, you can enjoy super easy configuration, as well as many design options to professionally print your polo shirts for private purposes or for your company. You can incidentally print up to 2,500 polo shirts per order – and larger quantities are also possible.
The polo shirt was designed in the 1920s and was originally worn by English polo players as sports clothing. During the 1930s, French fashion brand Lacoste also made it a popular clothing item for tennis, complying with the clothing rules at the time. The fitted sports cut with accentuated collar and button tab was a perfect mix of the classic T-shirt and a short-sleeved men's shirt. And the polo shirt continues to remain popular to this day. It has gone from being a pure sports shirt to a sporty, casual top worn by men and women both in the office and recreationally. print24 offers you Classic and Premium polo shirts for women and men at a reasonable price!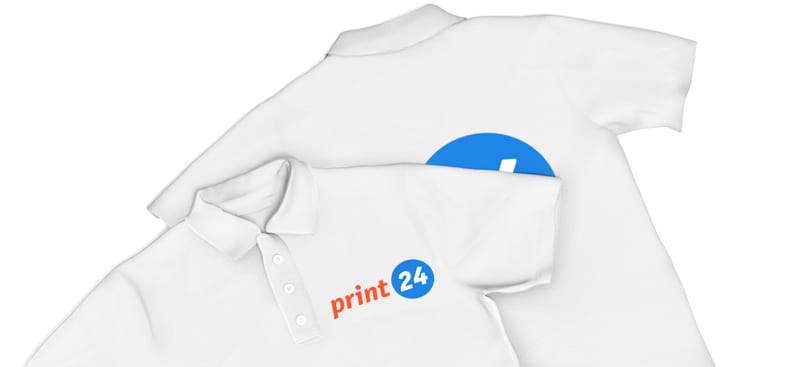 All material information
The grammage of the high-quality shirts is 210 gsm (Classic) and 220 gsm (Premium). Women's polo shirts are slightly waisted, while the men's fit is fashionably optimised. All shirts are made from 100% cotton and feature an elegant 3-button tab in the shirt's colour. Classic side slits provide further enhancement.
All print24 polo shirts can be machine washed at 30 °C. Do not bleach or tumble dry. The shirts should be ironed warm (not hot), so as not to damage the material. Tetrachloroethylene may be used for cleaning.
For HIM or HER – lots of sizes
We print polo shirts for men and women for you. Women's polo shirts Classic are available in sizes S to XXL and women's polo shirts Premium in sizes XS to XXL.
Women Classic:
Small, Medium, Large, X-Large, XX-Large
Colours:
Apple Green, Blue, Greying, Pale Blue, Navy, Chalk Pink, Red, Black, White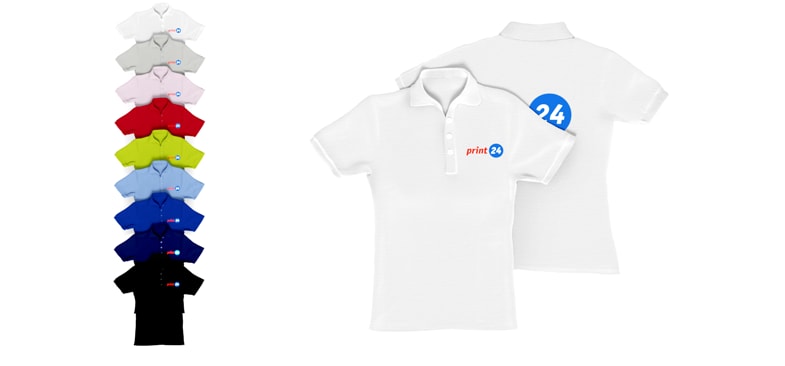 Men's polos Classic are available in sizes from S to 5XL, shirts Premium in sizes from S to XXXL.
Men Classic:
Small, Medium, Large, X-Large, XX-Large, XXX-Large, 4X-Large, 5X-Large
Colours:
Apple Green, Blue, Dark Grey, Greying, Pale Blue, Navy, Red, Black, White
Women Premium:
X-Small, Small, Medium, Large, X-Large, XX-Large
Colours:
Dark Grey, Pale Blue, Navy, Red, Black, White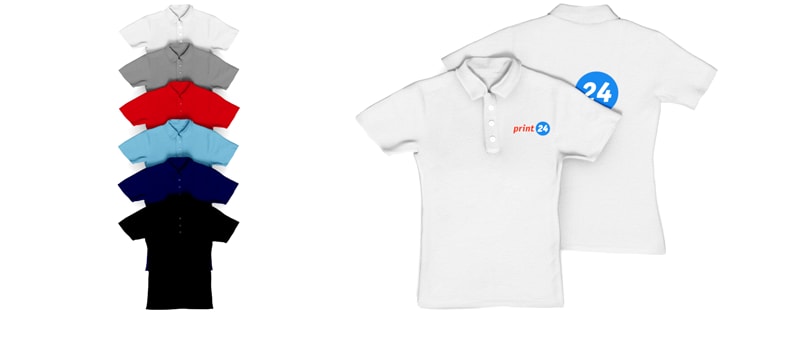 Men Premium:
Small, Medium, Large, X-Large, XX-Large, XXX-Large
Colours:
Blue, Dark Grey, Navy, Red, Black, White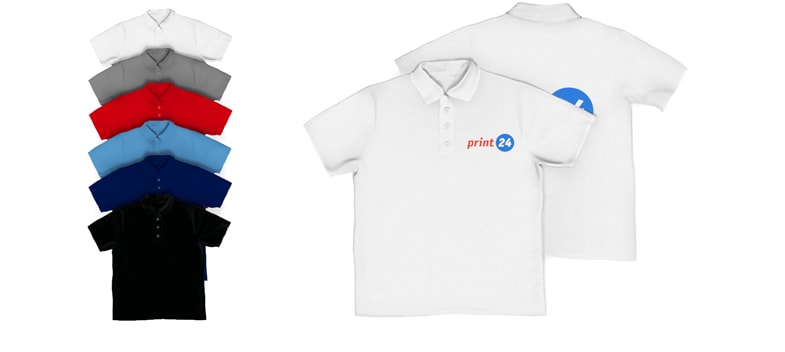 These are the printing processes for your personalised polo-shirts
When ordering your polo-shirts you have the choice between digital printing, screen printing, transfer printing or embroidery - you decide for yourself!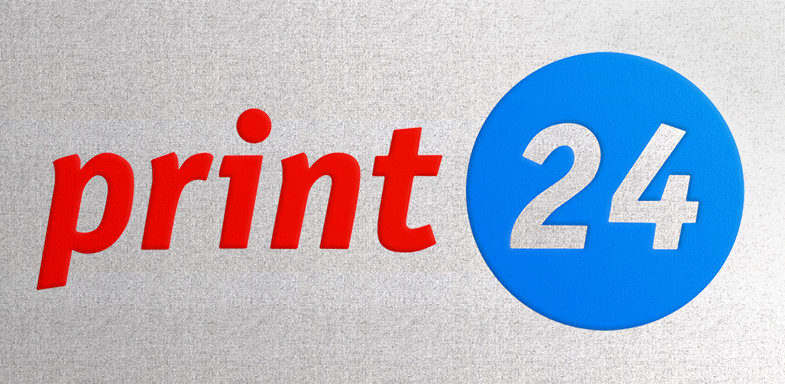 Silkscreen printing
Screen printing is a real all-rounder among the printing processes. Here the printing ink is printed through a finely woven fabric onto the corresponding textile using a rubber squeegee. The areas that should not be coloured in the final printed image are made colour-impermeable by means of a stencil at the corresponding mesh opening. The direct transfer to the fabric makes the haptics very neutral and, in contrast to alternative printing processes, feels less gummed. This ensures a high wearing comfort which does not affect the fabric feel even after repeated washing and ironing. The screen printing process, which is characterised by a long durability and resistance, produces rich colours with high covering power even on dark textiles. Especially for long runs, this process achieves top printing at comparatively low costs. In addition to printing with conventional inks, so-called spot colours can of course also be selected. For example, metallic colours such as gold, silver and bronze are considered exclusive spot colours with a particularly high recognition value. Metallic colours are not created in CMYK but are pure Pantone colours. You should use the following Pantone colours to display these elements: Pantone 871 C (gold), Pantone 877 C (silver) and Pantone 876 C (bronze). Of course, all other metallic colours of the standard Formula Guide and Metallic Formula Guide from Pantone are also available.
Please note: For an optimum print result, line width should be at least 0.5 mm. Please choose a font size of at least 11.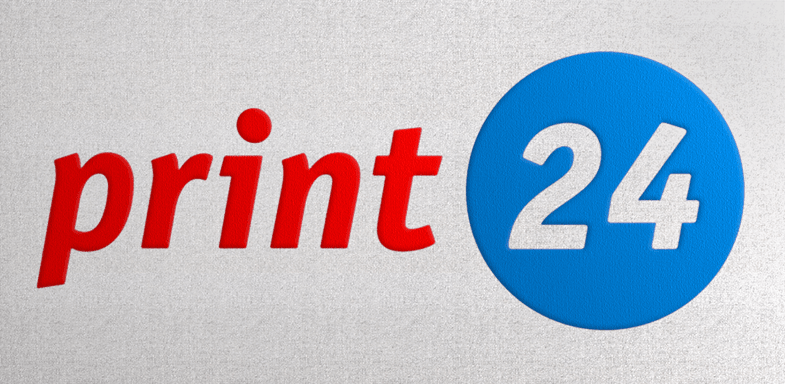 Digital printing
With digital printing, relatively large areas can be printed on textiles. In this process without printing form, motifs are printed directly onto the textiles using an inkjet printer. The process makes individual prints possible even for single pieces. Furthermore, many colours and colour gradients can be displayed, since the printing technique is based on the so-called subtractive colour mixing of CMYK.
To ensure we can print your polo shirts, and the ink sticks, these are first treated with an "Odourless Fixation Agent". This spray must then be dried in two 6.5-minute sessions at 160°C. No further coating is applied after printing. The inks themselves are not only environmentally friendly but also feel nice thanks to the "Softtouch" feature. We can additionally print in white. And there are no screen-making costs, as is often the case with other printing processes. Another advantage of our textile printing inks is the fact that you can easily wash the printed polo shirts at 30 °C.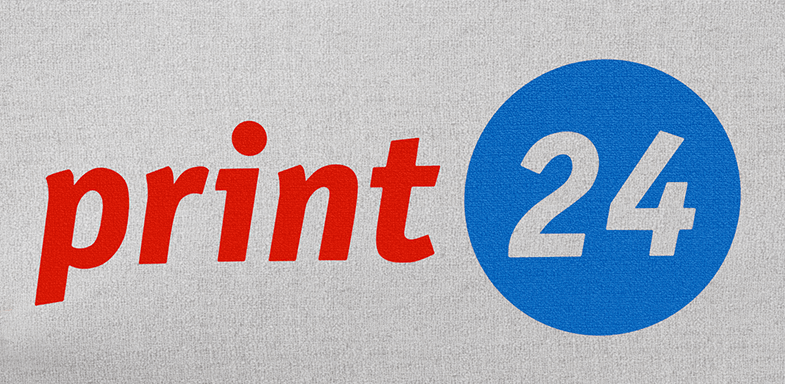 Transfer printing
With this process, motifs and fonts are printed in CMYK on a backing paper and then transferred to the fabric with a transfer press. In transfer printing, flat colours as well as the finest colour gradients, for example in photos, can be brilliantly represented. By printing on white transfer film, colours are reproduced perfectly, as the background does not shine through. Furthermore, transfer printing is characterized by high contour sharpness and coverage. A further advantage is undoubtedly the independence of fabric and colour, which is achieved by transfer printing. Regardless of which textiles are printed, the appearance of the print is identical on every fabric.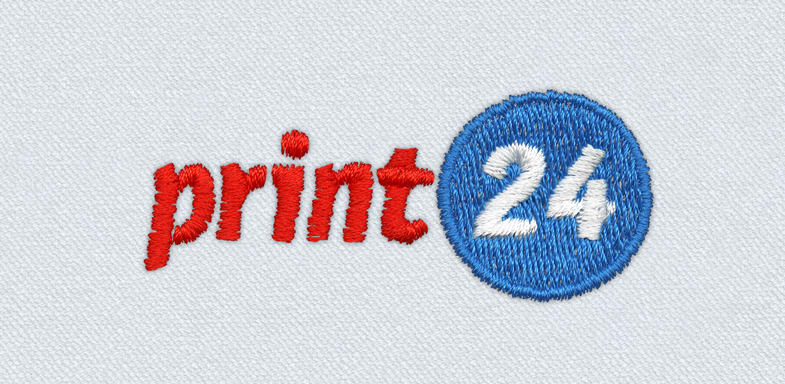 Embroidery
While motifs are applied to surfaces by printing, embroidery enables them to be woven directly into textiles. This particularly durable embroidery, which is also resistant to washing and light, is particularly suitable for heavy-duty clothing, such as workwear. The use of high-quality yarn colours creates colour-fast and noble-looking embroidery designs. At the same time, a unique look and feel is achieved, which makes your clothing look exclusive.
Which sides should we print?
At print24.com, you can choose to only print the front or back, or both sides of your polo shirts. Shirts in men's sizes S to XXL and women's sizes M to XXL provide a printing space of 396 mm x 498 mm for your motifs or texts.
Screen printing:
Sleeves - left or right: 100 x 80 mm (100 x 70 Women S - M)
Collar area - left or right: 80 x 25 mm
Neck area: 80 x 50 mm
Back - centred: 300 x 400 mm
Front - centred: 300 x 400 mm
Front - left or right: 100 x 100 mm
Front - lower left or right: 100 x 50 mm
Transfer printing:
Sleeves - left or right: 80 x 80 mm
Collar area - left or right: 80 x 25 mm
Neck area: 100 x 50 mm
Back - centred: 250 x 150 mm
Front - centred: 250 x 150 mm
Front - left or right: 100 x 100 mm
Front - lower left or right: 100 x 50 mm
The XXXL men's polo shirts offer even more space, with a mammoth area of 53 x 69 cm. Women's XXS shirts provide 26 x 32 cm of space for your graphics on the front and back.
Digital printing:
Women Premium - front and back centred:
260 x 320 mm (XS - S)
300 x 498 mm (M)
340 x 498 mm (L)
360 x 498 mm (XL)
396 x 498 (XXL)
Men Premium - front and back centred:
396 x 498 (S - XXL)
530 x 690 (XXXL)
Embroidery:
Collar area - left or right: 60 x 20 mm
Neck area: 80 x 50 mm
Front - left or right: 100 x 100 mm
Front - lower left or right: 80 x 50 mm