Zip-up hoodies
Better print online!
Personalised zip-up hoodies
The origins of zip-up hoodies are said to trace back to the USA of the 1920s and '30s, when a clothing manufacturer kitted out its toiling warehouse workers with these practical, hard-wearing cotton hoodies and jackets. Today, these clothing items are essential for achieving a sporty, casual look. At print24.com, you can have zip-up hoodies printed with your own motifs. Whether as an individual or a company, our modern printing equipment can easily print up to 2,500 hoodies at a time for you.
Zip-up hoodies combine the advantages of a sweatshirt with the benefits of a jacket, making them perfect sports companions, e.g. during warm-ups, or in breaks between matches or events at tournaments. They are also a useful accessory on cooler summer evenings or autumn days.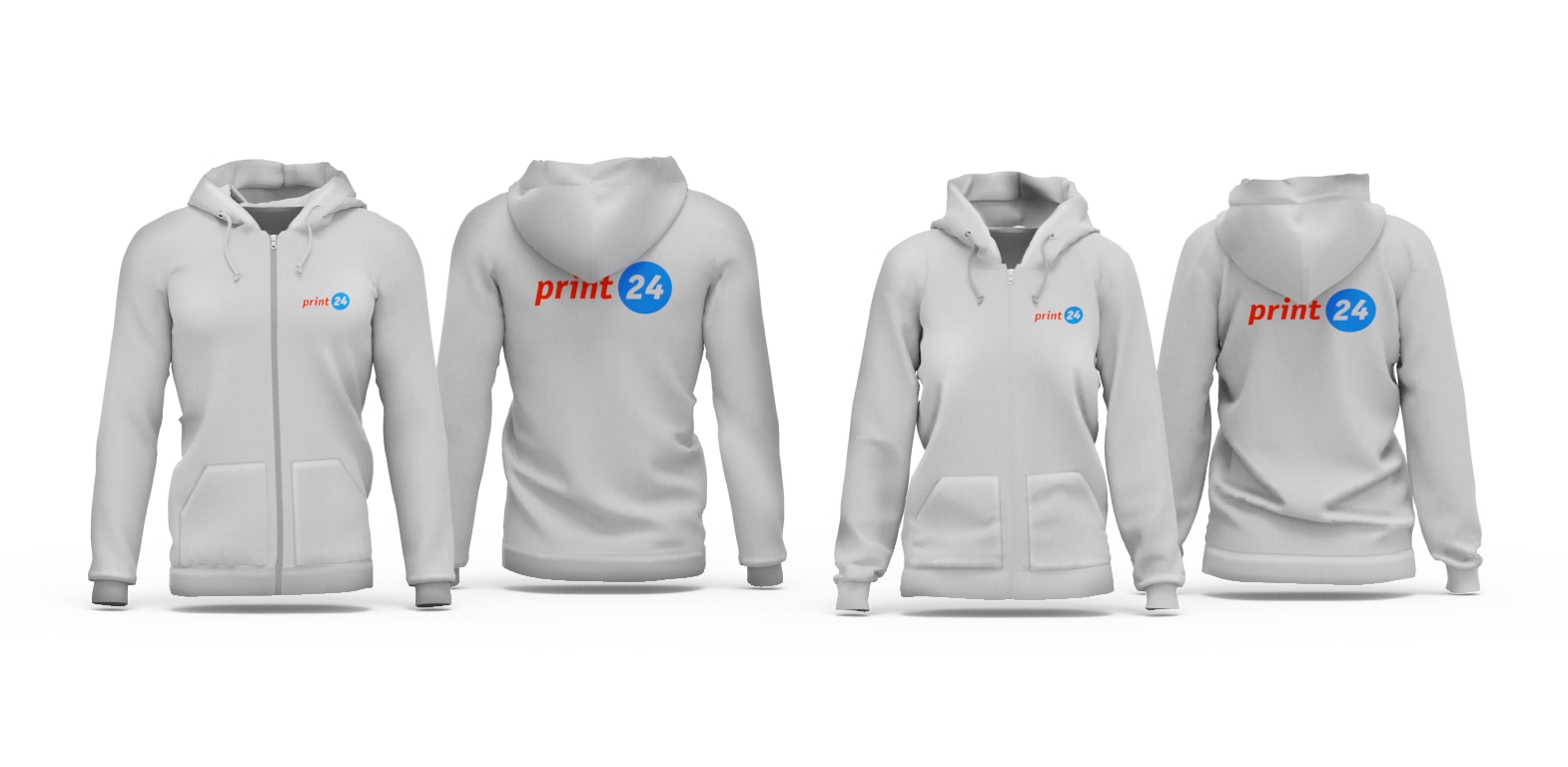 Soft material for a pleasant wearing comfort
All zip-up hoodies have a practical front pouch and double hood. The elastane cuffs on the arm and hemline, coupled with the brushed Molton material, make for comfortable wearing. The high-quality material undergoes extra roughening to make the inside more fleecy. The hoodies are made using materials with a grammage of 320 gsm, which are 80% cotton and 20% polyester. The addition of polyester allows them to better preserve their elasticity. The Classic version is made of 280 gsm molton brushed fabric with 50% cotton and 50% polyester.
This makes the two variants more robust and they can shrink less during washing. In addition, the addition of polyester helps to maintain their elasticity.
Washing instructions: The zip-up hoodies should be machine-washed at a maximum temperature of 30 °C, and should not be dried in clothes dryers. Bleaching is also prohibited, though warm ironing is permitted.
Standard sizes and extra-large zip-up hoodies for men
We print zip-up hoodies for men and women in all standard sizes, from S to XXL for men, and XS to XXL for women. Men's zip-up hoodies also come in the extra XXXL size.
Women Classic:
Small, Medium, Large, X-Large
Women Premium:
X-Small, Small, Medium, Large, X-Large, XX-Large
Men Classic:
Small, Medium, Large, X-Large, XX-Large, XXX-Large
Men Premium:
Small, Medium, Large, X-Large, XX-Large, XXX-Large
Simple colors
All sweatshirts can be printed in the basic colors gray or black. For women's jackets, dark red is optionally available as the basic color, for men it is dark blue instead.
Women Classic:
Greying, Dark blue, Red, Black
Women Premium:
Burgundy, Greying, Black
Men Classic:
Greying, Dark blue, Red, Black
Men Premium:
Greying, Navy, Black
How we print your zip-up hoodies
You can choose between digital printing, screen printing, transfer printing and embroidery when ordering your sweat jacket.
Important: When creating your print file, make sure the line width is at least 0.5 mm, and you select a font size of at least 11.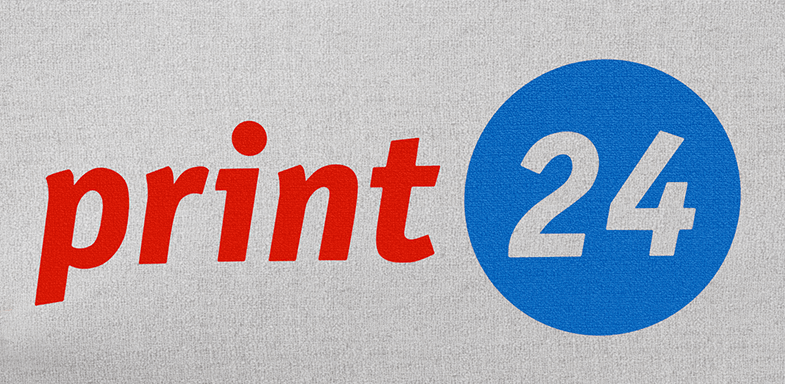 Transfer printing
The product is processed in digital transfer printing. Motifs and fonts are printed in CMYK on a backing paper and then transferred to the fabric with a transfer press. In transfer printing, flat colours as well as the finest colour gradients, for example in photos, can be brilliantly represented. By printing on a white transfer film, colours are reproduced perfectly, as the background does not shine through. Furthermore, transfer printing is characterised by high contour sharpness and coverage. A further advantage is undoubtedly the independence of fabric and colour, which is achieved by transfer printing. Regardless of which textiles are printed, the appearance of the print is identical on every fabric.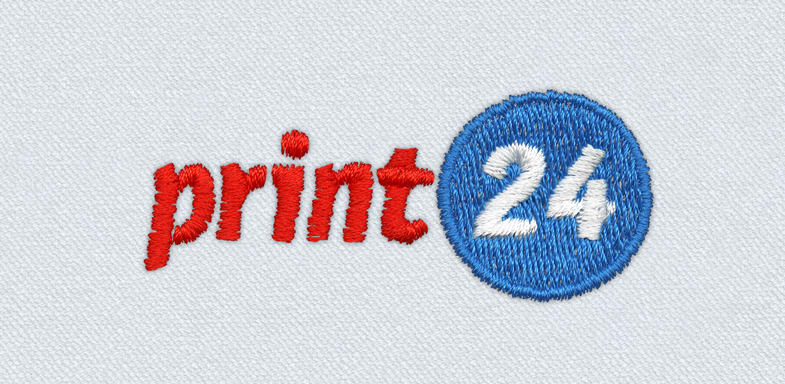 Embroidery
While motifs are applied to surfaces by printing, embroidery enables them to be woven directly into textiles. This particularly durable embroidery, which is also resistant to washing and light, is particularly suitable for heavy-duty clothing, such as workwear. The use of high-quality yarn colours creates colour-fast and noble-looking embroidery designs. At the same time, a unique look and feel is achieved, which makes your clothing look exclusive.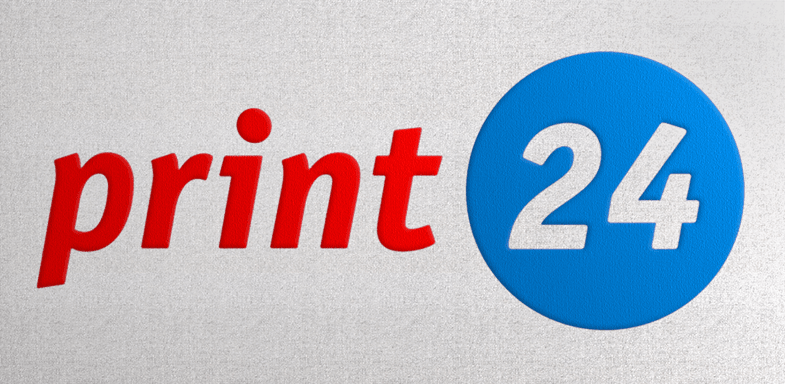 Digital print
The modern ink-jet process and the use of high-quality inks mean we do not need to apply any further coating to increase the print's durability after printing. It also allows you to print in white, and to enjoy maximum motif detail, as no screening is required. But there's an additional advantage associated with our modern printing process: The soft-touch surface gives the soft, elastic print a pleasant feel. And finally, this printing system does not involve any screen-making costs for you. Every zip-up hoodie has a printing area of 13 x 19.9 for your motifs at the top left or right, or on the back. You can choose whether you want to print these areas separately or together. In order to achieve an optimum printing result, the zip-up hoodies are pre-treated with an "Odourless Fixation Agent" – a spray ensuring the printing ink sticks properly. With the modern digital printing process, relatively large areas can be printed on textiles. In this process without printing form, motifs are printed directly onto the textiles using an inkjet printer. The process makes individual prints possible even for single pieces. Furthermore, many colours and colour gradients can be displayed, since the printing technique is based on the so-called subtractive colour mixing of CMYK. Once your motif has been printed on with bright, environmentally friendly inks, your hoodies will be dried in two sessions, each at 160°C and lasting almost seven minutes. A modern Kornit Avalanche Hexa 1000 is used for the printing process itself.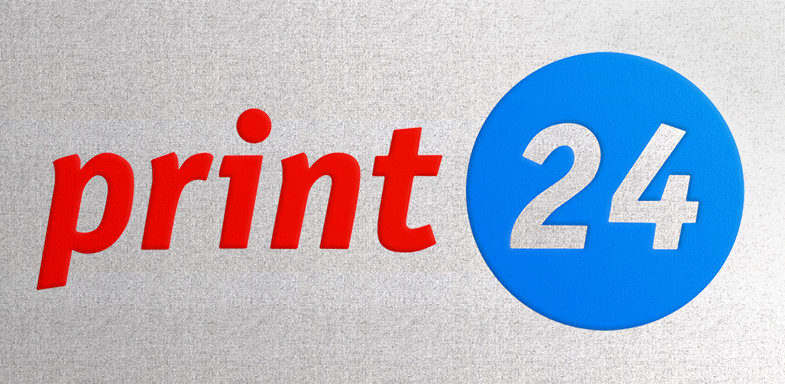 Silkscreen printing
For this product, you can choose the screen printing process, which is a real all-rounder among the printing processes. Here the printing ink is printed through a finely woven fabric onto the corresponding textile using a rubber squeegee. The areas that should not be coloured in the final printed image are made colour-impermeable by means of a stencil at the corresponding mesh opening. The direct transfer to the fabric makes the haptics very neutral and, in contrast to alternative printing processes, feels less gummed. This ensures a high wearing comfort which does not affect the fabric feel even after repeated washing and ironing. The screen printing process, which is characterised by a long durability and resistance, produces rich colours with high covering power even on dark textiles. Especially for long runs, this process achieves top printing at comparatively low costs. In addition to printing with conventional inks, so-called spot colours can of course also be selected. For example, metallic colours such as gold, silver and bronze are considered exclusive spot colours with a particularly high recognition value. Metallic colours are not created in CMYK but are pure Pantone colours. You should use the following Pantone colours to display these elements: Pantone 871 C (gold), Pantone 877 C (silver) and Pantone 876 C (bronze). Of course, all other metallic colours of the standard Formula Guide and Metallic Formula Guide from Pantone are also available.
Enough space for large and small motifs
With print24 you can print either only the front, the back or both sides of your hooded jackets. Depending on the chosen printing method, product variant and size, a printing range from 250 x 150 mm up to 396 x 498 mm is available on the back for your motifs or texts. On the front and sleeves there is space for logos, names or small lettering from 80 x 80 mm to 130 x 199 mm.
Silkscreen printing:
Sleeves - left or right: 100 x 80 mm
Back - centred: 300 x 400 mm
Front - left or right: 100 x 100 mm
Transfer printing:
Sleeves - left or right: 80 x 80 mm
Back - centred: 250 x 150 mm
Front - left or right: 100 x 100 mm
Embroidery:
Front - left or right: 100 x 100 mm
You have the choice whether you want the front side of your jacket to be printed on the right or left side and the back side separately or together.
Please keep in mind that different printing methods cannot be combined.
Digital print:
Front - left or right: 130 x 199 mm
Back - centred:
Women Premium
260 x 320 mm (XS - S)
340 x 498 mm (M)
396 x 498 (L - XXL)
Men Premium
396 x 498