Running t-shirts
Better print online!
Have running t-shirts printed
A running t-shirt is perfect for sports. Sports teams use these shirts for training or wear the garments under their football shirts. At print24.com, you can have functional shirts printed using flock film or flex film. We print high-quality products, which are available in different colours. There are six different print areas to choose from. Each shirt can be printed with up to two designs. Would you like to start right away? If so, you can configure your printed products right here online.
Are you a sponsor of your favourite club or has your association decided to purchase new team clothing? Then, at print24.com, you've come to just the right place. Here, you can have your teams' shirts custom-printed or flocked. This product is also perfect for gyms or leisure clubs looking for fashionable and practical tops that can be given the perfect finish. Incidentally, as we can also print just one individual shirt for you, this printed product is also perfect as a birthday gift idea for recreational athletes or leisure clubs.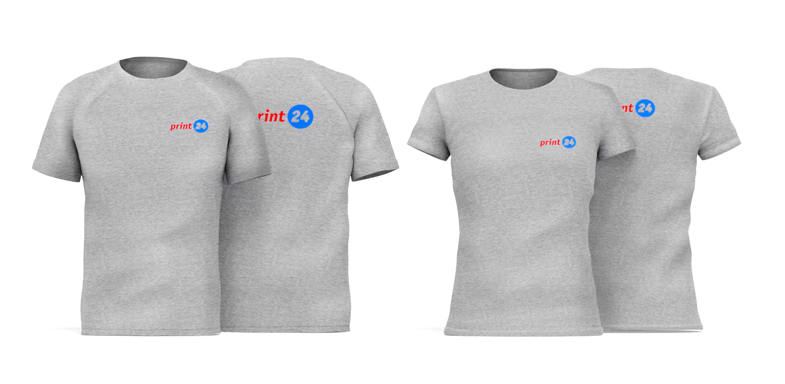 Excellent quality for a fair price
For printing, we use high-quality running t-shirts. The shirts have a round neck collar and are characterised by their high level of wearing comfort. At the same time, the garments are optimised for perfect temperature compensation so that, while playing sport, sweat is optimally wicked away.
The running shirts are made of modern polyester material with a cotton-touch finish. This keeps the shirts lightly flexible and comfortable to wear. The version for women is slightly fitted.
Large selection of sizes
The printable tops are available in sizes 36 to 48 for women and XS to 3XL for men.
Women:
36, 38, 40, 42, 44, 46, 48
Please note that you can order several different sizes per print order.
Men:
X-Small, Small, Medium, Large, X-Large, XX-Large, XXX-Large
Strong colours for your functional shirts
Print24.com can print on running shirts in various bright colours, depending on the chosen design. For ladies for example in red or orange and for men red or navy are available.
Women:
Blue, Grey, Orange, Red, Mint green
Please consider the chosen shirt colour when choosing your printing colours, so that your motif is shown to its best advantage.
Men:
Grey, Navy, Red, Black
Flocking or flex film
For the design of your running shirts, you can choose between flex or flock printing. Both processes denote a transfer printing process in which the print motif is "transferred" to the textile using a carrier material. The flex foil used for flex foil printing consists of a carrier foil, a coloured foil layer and a layer of hot melt adhesive. Flock transfer printing uses a special flock transfer foil, which gives the print a typically fluffy, velvety feel.
The desired motif is cut from the pre-dyed foils and "welded" to the textile by heat. With flexo foil printing and flock foil printing, a wide range of colours is possible and the transfer process used makes it possible to work with absolute ink coverage. Another advantage is the long durability of this durable and tear-resistant print.
Flexible placement of your print design
When having your shirt flocked or a flex film applied, you have six different options. At the same time, we can print either one or two designs onto the shirts for you. A print area of ​​60 x 60 mm is available on the left or right sleeve. In addition, the back of the men's shirts has a print area of 280 x 350 mm, with 280 x 80 mm on the back of the women's shirts.
Front - centred: 250 x 140 mm
Front - left or right: 80 x 80 mm
Sleeves - left or right: 60 x 60 mm
On the front of the functional shirts, you can have your advertising message or club logos printed in a 250 x 140 mm area or in an 80 x 80 mm area on the left or right.
Two print areas can be selected for each shirt. If you have any further questions, please feel free to give us a call or get in touch by email. Our service team would be happy to offer you friendly and competent assistance.
Back - centred:
280 x 80 mm (women)
280 x 350 mm (men)