Signboard
Better print online!
Print custom signs online
Want to have signs professionally printed? And want to enjoy a wide range of different materials and formats? Then get configuring on print24.com! Whether it be an advertising sign for your event or an election poster, a façade sign or wall panelling, the signs from our print shop are highly versatile. We can also create up to 50 signs at a time through larger print orders. All materials, except acrylic clear perspex, can be printed on both sides. In doing so, you'll benefit from our long-time experience in the printing industry. We only use top materials and high-quality inks for your prints.
Like pavement signs, signboards are very quick and easy to use in every respect. Depending on their design, the mounting can be looser or firmer, and, depending on the material, you can use your signs for longer or only brief periods of time. In every case, however, advertising signs or info-signs are distinguished by the fact that they can target your message at anyone and everyone.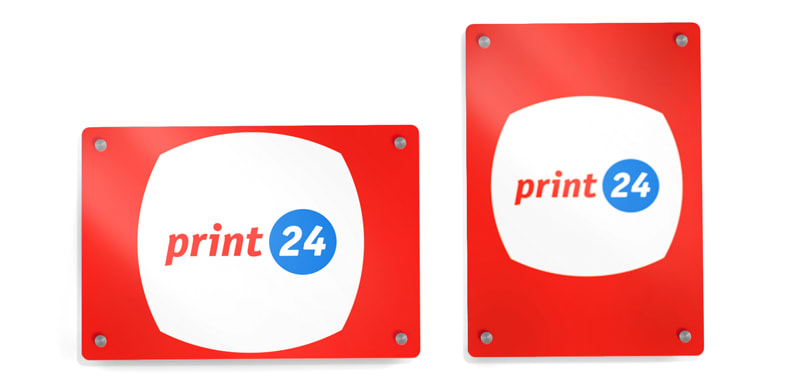 Many formats, tailored to your use
From small 110 x 510 mm up to 1,500 x 3,000 mm, you can configure and print your format or your individual free-form online. Signs made from Akylite, alu-dibond, hard foam and lightweight foam can be ordered from print24.com starting from 200 x 300 mm.
If you opt for signs made from XT clear perspex, size options start with 300 x 400 mm and go up to DIN A0 format. All signs available at print24 can be printed in portrait or landscape format.
The individual materials in detail
Alu-Dibond:
With a density of 3500 gsm and a thickness of 3 mm, alu-dibond is very robust and dimensionally stable. The plates are available in matt black, white and brushed metallic gold, copper and silver. The three metallic plates are silver on the back, the black plate is glossy black and all four can only be printed on the front. Only the white Aludibond plate offers the print on both sides. We offer the shock-proof aluminium composite board with a polyethylene core. The weather-resistant material can be pierced and milled.
Hard foam:
The lightweight, flexible PVC foam sheet comes in thicknesses of 3 mm, 5 mm or 10 mm and therefore has a density between 1,100 to 5,000 gsm. The waterproof material has limited UV resistance but is very easy to handle. Hard-foam signs can be cut, milled or pierced.
Twin-wall sheeting (Akylite):
A tear-proof polypropylene board 2.5 mm thick and with a density of 450 gsm. The material is 100% recyclable.
XT clear perspex:
This material is even thicker than alu-dibond and somewhat more expensive. With a density of 6000 gsm and a thickness of 5 mm, the impact-resistant, weatherproof clear acrylic glass not only features a solid surface but is also highly attractive. The UV print goes behind the perspex. Special priming allows the perspex to be used outdoors. This involves applying a special varnish, the so-called primer, on the glass before the actual print, enabling the printing ink to stick better.
Lightweight foam:
With a density of 635 gsm and a thickness of 5 mm, the lightweight foam is, as the name suggests, the lightest material used for our sign prints. The dimensionally stable sandwich board is very easy to cut and has a PUR foam core.
DISPA® paper plate:
DISPA® paper panels are an environmentally friendly alternative: They are 100% recyclable and at the same time very dimensionally stable because they consist of an embossed paper core with several paper layers. At 850 gsm and 3.8 mm thickness, DISPA® is ultra-light and bend-resistant. In addition, excellent printing results can be achieved on a smooth, white surface.
Corrugated board white:
Our corrugated board is a high-quality cardboard with a corrugated core inside and smooth, white cover plates, which can be printed on perfectly. Due to the hollow spaces, the corrugated cardboard is very light and yet stable. It is recyclable and therefore environmentally friendly. We offer corrugated board in 3 different thicknesses: The thinnest and thus lightest is only 1.4 mm thick, with a gsm of 320 gsm. We also have boards with a thickness of 2.3 mm and 4 mm, each with 500 gsm and 550 gsm respectively.
Re-board® honeycomb cardboard:
Re-board® honeycomb cardboard is a real all-rounder: not only is it fire-resistant, absolutely environmentally friendly and 100% recyclable - but it is also extraordinarily stable: this lightweight trend material can be used to make furniture, among other things. We offer Re-board® honeycomb board in a thickness of 10 mm and a grammage of 1,400 gsm.
Individual processing for professional signs
Do you need a special processing of your signs? Akylite, hard foam, alu-dibond and XT clear perspex signs can be pre-drilled with 4 corner holes by our experts. The holes have a diameter of 10 mm. In addition to the holes, you can order your signs with rounded corners. This processing option is available for the materials akylite, light foam, hard foam or alu-dibond.
If you want to use your signs at public events or put them up at public establishments, they need to have the B1 fire safety certification. Opting for our hard-foam signs keeps you and your visitors on the safe side because this material is certified under DIN 4102-1n and meets all the requirements of the B1 fire safety category. Signs made from hard foam are highly flame resistant and do not continue to burn on their own.
UV direct printing
For the printing of your signs we use UV direct printing and for this purpose we use printing inks of the highest quality. The signs can be printed on the front as well as on the back.
In the UV direct printing process, the ink is cured by ultraviolet light and forms a solid ink layer.
The dried ink then has a slightly satin finish and is reminiscent of laminated material. This gives the ink greater strength and better protection against yellowing. UV direct printing does not require any thinners or solvents and is therefore a more environmentally friendly printing technique.
Sign-accessories for any purpose
For hanging, mounting or placing upright - for each purpose we have the fitting accessory. The selection of accessories in the configuration menu depends on the choice of material. You can choose a set of four suction cups for the akylite signs. French cleat hangers are available for hard foam- and alu-dibond signs.
Only for the sturdy material Aludibond do we offer board holders with which you can mount your signs at 90 degrees to the wall.
Our high-quality stainless steel spacers or aluminium bases can be ordered with the alu-dibond, XT clear perspex and hard foam starting at 5 mm. The practical ceiling mounting set, with a maximum bearing load of 10 kg, can be ordered with akylite, alu-dibond, light- or hard foam signs. For the stable alu-dibond material we also offer a board holder for attaching signs perpendicular to the wall.