Telescope boxes
Better print online!
Custom telescope boxes printed
Telescope boxes are the classic form of packaging for board games, chocolates or even jewellery. They have been used by companies all around the world for many years as a way of packaging products securely and attractively, both for storage and transportation. Because the great advantage of these cardboard boxes is the fact that they are easy to open, and their contents are protected from dust and dirt. You can print telescope boxes with your own personal design at print24.com. Our range is aimed at both small factories and large businesses, which require a large volume of such products.
Are you making your own costume jewellery or do you design your own board games? Perhaps you even sell handmade clothing or need stylish packaging for your goods? Then print24.com gives you the opportunity to print customised telescope boxes – in top quality, at low cost, and in quantities from as small as 1. Because handmade products don't deserve standard packaging. If you want to make something special out of your packaging, we recommend using special colours like gold or silver, or refinements. These options are super easy to configure. We'll be glad to assist.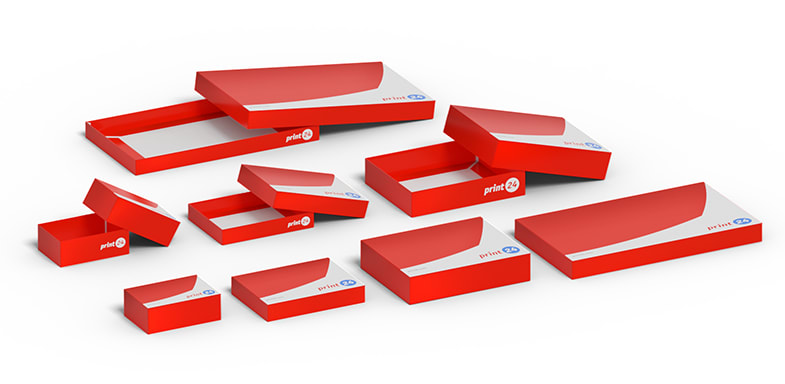 Various formats, perfectly tailored to your needs
From the small square box measuring 100 x 100 x 25 mm to the large telescope box with dimensions 310 x 220 x 40 mm, you're bound to find the right format for you. With a maximum height of 60 mm, many boxes are also suitable for packaging taller products. We offer a total of four square boxes and 13 rectangular boxes.
When creating the print file, please be sure to add a 2-mm bleed, and only use the PDF template provided by us. In this way, you'll avoid any unnecessary complications during printing, and we'll be able to smoothly and promptly perform all the tasks for you.
High-quality paper for more strength
All formats of our telescope boxes are made from 300 gsm GC2 chromo board, which we print as per your specifications. The chromo board has a high volume, is double-coated on one side, and is thus extremely rigid, making it the ideal material for your telescope boxes!
High-quality printing
The outer side of both parts of your telescope boxes are printed using the classic CMYK four-colour process, giving you great flexibility in choosing your motif. For example, you can even print photos onto the boxes. We'll be glad to assist if you have any queries about colour selection. Just call or email us.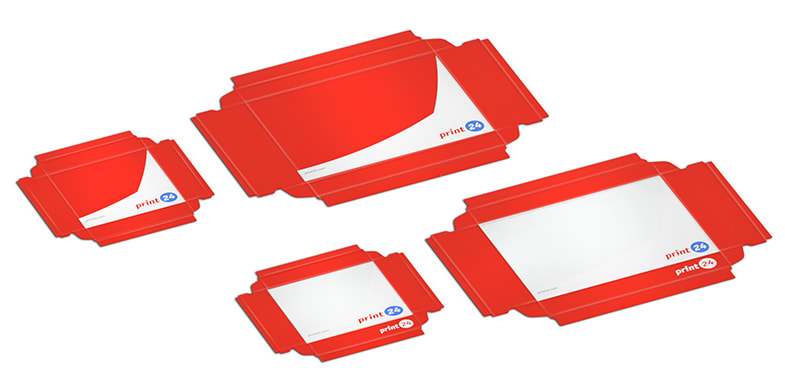 Refinements – for that aha! effect
We can laminate the outer sides of your telescope boxes. This refinement comes in three variants: While the gloss finish ensures a great-looking surface, the soft-touch has a particularly pleasant feel. Choosing the matte lamination option, on the other hand, gives your box an extra layer which protects the exterior from scratches.
We can also accentuate certain motifs in your print with UV spot varnish. In combination with matte lamination or soft-touch coating, you can create both visual and tactile effects by opting for UV spot varnish.