Baseball caps
Better print online!
Have baseball caps printed or embroidered
The baseball cap is fashionable accessory and practical headgear in one. This makes baseball caps the perfect advertising medium. At print24.com, you can have baseball caps professionally printed with your custom designs at low prices. Alternatively, you could have them embroidered. You can choose between two different designs in a range of different colours. Create your print file right here online with just a few clicks and start the order immediately.
The baseball cap has been around for a very long time. It was being worn as early as the mid-nineteenth century by baseball players on the New York Yankees team. However, it was not until the 1970s that this peaked cap became more popular as streetwear. Today, the baseball cap is both a fashion statement and a practical head covering for those in uniform, as well as a cap for clubs and groups.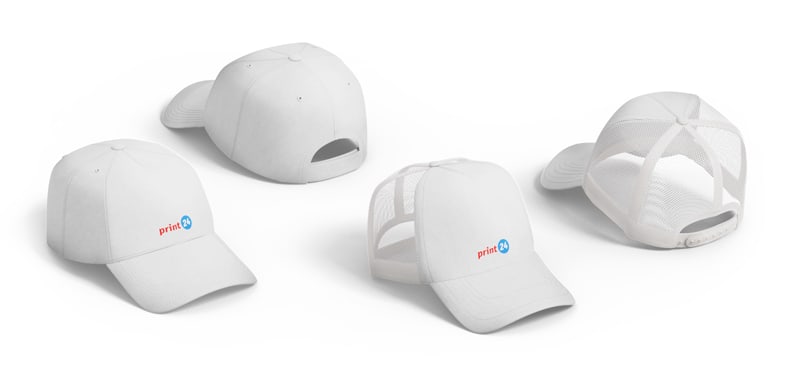 Baseball caps as high-quality promotional gifts


At print24.com, you can take advantage of the great popularity of baseball caps among younger target groups and have caps created with your designs, slogans or sayings. You can choose from stylish and trendy colours that can be perfectly combined with your designs. As a promotional gift, the cap is suitable for agencies as well as for fitness clubs or start-ups.
Print baseball caps for clubs and associations
Is your next club tour coming up? Do you still need a stylish cap for the participants? Or do you need a custom-designed baseball cap for your sports club? Would you like to have caps printed with the logo of your school or university? Then, at print24.com, you've come to just the right place. Our products are aimed not only at business customers but also at clubs and other groups. And our baseball cap printing is also suitable for private use, for example for stag parties.
Baseball caps with attention to detail
We offer two different types of baseball caps for printing. The classic mesh cap is made of sturdy polyester and, with the mesh at the back, provides very good ventilation. The second version is made of 100 % cotton and is a bit softer and more supple. Both cotton cap and mesh cap consist of 5 trendy panels. Our baseball caps are uni-size caps, but can easily be adapted to any shape of the head. With the mesh cap, the size is adjusted by a practical "click & snap" fastener, whereas with the cotton cap a size adjustment is possible by means of Velcro. Both basecap variants have six decorative seams on the peak.
To be a good companion in all weather conditions, our baseball caps have a plastic shield that provides shade and rain protection at the same time. Our cotton baseball caps have a lined satin sweatband, the mesh caps are equipped with a fashion sweatband. The cotton basecap also has four embroidered air holes for a comfortable wearing comfort.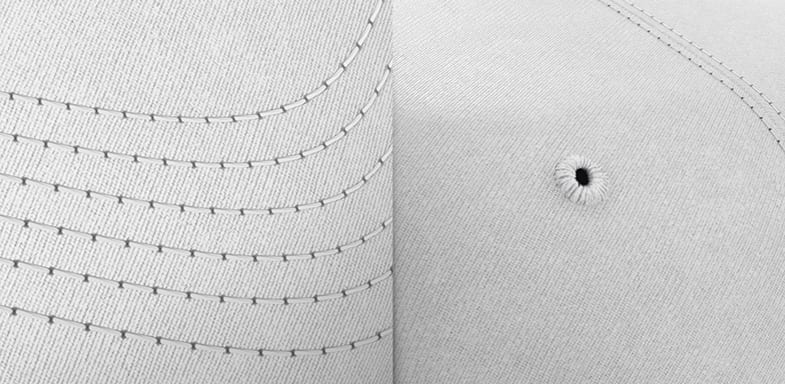 Two versions in a range of different colours
The mesh caps can be printed in 18 different colours. Also included are classic combinations of black and white or orange and white.
Our cotton caps are available in various different colours. When creating your print file, please keep in mind how your designs will look on the particular background colour you choose. The cotton caps are available in colours including black, green, pink or yellow.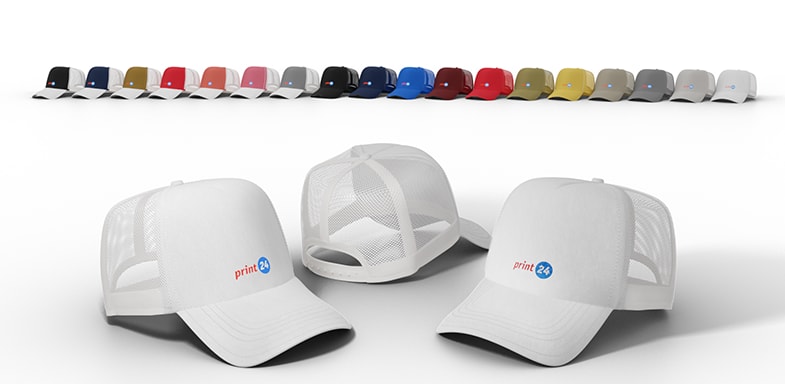 Mesh-Baseball caps:
Blue, Burgundy, Dark grey, Yellow, Khaki, Light grey, Navy, Olive, Red, Black, White,
Light grey/White, Neon pink/White, Olive/White, Orange/White, Red/White, Royal blue/White, Black/White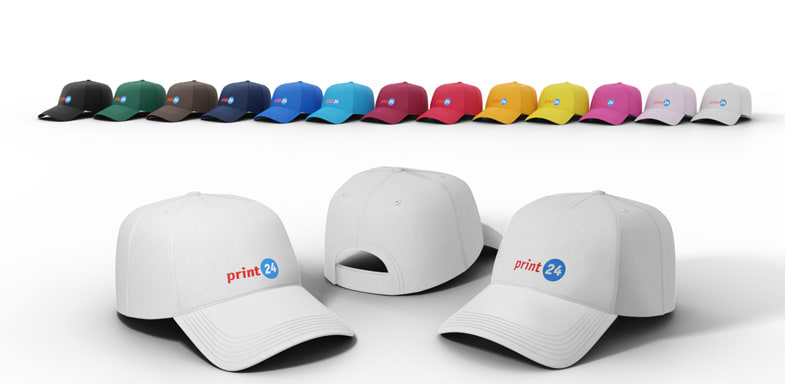 Cotton-Baseball caps:
Atlantic, Blue, Burgundy, Brown, Dark green, Yellow, Grey, Navy, Orange, Pink, Pink, Red, Black, White
Embroidery or printing?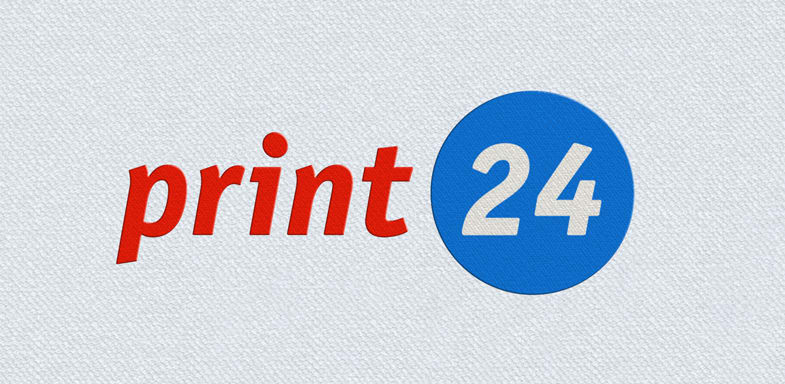 Transfer printing
Motifs and fonts are printed in CMYK on a backing paper and then transferred to the fabric with a transfer press. In transfer printing, flat colours as well as the finest colour gradients, for example in photos, can be brilliantly represented. By printing on white transfer film, colours are reproduced perfectly, as the background does not shine through. Furthermore, transfer printing is characterised by high contour sharpness and coverage. A further advantage is undoubtedly the independence of fabric and colour, which is achieved by transfer printing. Regardless of which textiles are printed, the appearance of the print is identical on every fabric. There are two different sizes of the print area available on the front of the caps: 100 x 50 mm or 50 x 50 mm. Thanks to the CMYK printing, even photos or multicoloured graphics can be printed on the cotton or mesh cap.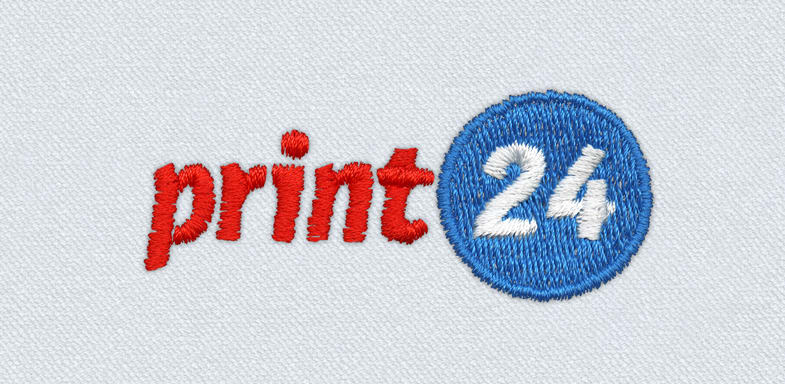 Embroidery
The alternative is high-quality embroidery. While motifs are applied to surfaces by printing, embroidery enables them to be woven directly into textiles. This particularly durable embroidery, which is also resistant to washing and light, is particularly suitable for heavy-duty clothing, such as workwear. The use of high-quality yarn colours creates colour-fast and noble-looking embroidery designs. At the same time, a unique look and feel is achieved, which makes your clothing look exclusive. The embroidered motive can include up to 12 different thread colours that are included in our Pantone catalogue. The embroidery area corresponds to the print area.