Spiral-bound brochures
Better print online!
Have spiral-bound brochures printed
Spiral-bound brochures are very versatile. Whether it is as a robust café menu, a practical notepad for employees or a high-quality product catalogue for companies, here at print24.com you can have your brochures custom-made with a high-quality metal wire-o binding. You can choose from both eight different formats and appealing finishes for the content pages. Configure your print job easily right here online and let print24.com print your spiral-bound brochures at an affordable price.
In opting for spiral-bound brochure printing, you are deciding on a sturdy printed product that can be used in a variety of ways. For example, the robust brochures are ideal for companies to use for their annual reports for shareholders or investors, as well as for training materials for employees and customers. Thanks to the sturdy binding, the document can pass through many hands without any pages coming loose. In the catering industry, spiral-bound brochures lend themselves to use as ice-cream, beverage or other menus. If the pages are given an additional cellophane finish, your menu contents will have an additional layer of protection. You can also opt for spiral-bound brochure printing if you want to provide your employees with an attractive pad for taking notes in meetings or for business appointments.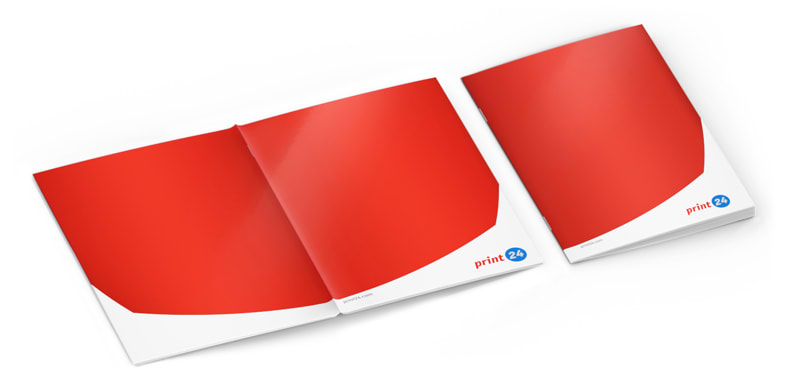 Wide choice of formats
We can create spiral-bound brochures in eight different formats for you. All our standard sizes, as well as "art size", can be printed in portrait or landscape format. In addition to the handy A6 format, we also offer A5, DL and the classic A4 format. Square brochures are also available. Here you can choose between 148 x 148 mm and 210 x 210 mm. And the 105 x 297 mm brochures offer you a portrait-only print format.
Various printing options
We print your brochures' content pages using the tried-and-tested CMYK four-colour process. This can be used for photos and graphics as well as text or backgrounds, leaving you very free in your choice of design. However, when creating the print file, please note any specifications given regarding image resolution. The relevant information can be found in the print data sheet on this page. Alternatively, you can have your brochure content printed in black only. The optional cover is not printed and is made of 418-gsm polypropylene.
With or without a cover and with up to 96 pages
If you select a cover for your brochures in the configuration menu, we can then create brochures for you with up to 42 pages. Even small spiral-bound pads with just eight pages are possible. If you order your brochures without covers, they can have up to 96 pages each.
For the version with a cover, coated art paper in a weight of 170 gsm is available. If you select the brochures without a cover, you also have the option of premium coated art paper in a weight of 250 gsm.
Robust, tried-and-tested binding
The spiral binding for your brochures is a metal wire-o-binding. It is available in white, black or silver. The wire-o binding holds the pages of your brochure firmly while at the same time making it easy to leaf through them.
Finishing options for the content
To protect the brochure pages, you can order them with a cellophane finish or a UV surface varnish. At the same time, these finishes give the content a more attractive look. For cellophane finishing, you can choose between matt, gloss, velvet or linen versions. Please note that you can have a finish applied to a maximum of 60 pages and only if no cover has been selected.