Flags
Better print online!
Print your flags
With print24.com you can print flags and banners in perfect quality and at fair prices. The products are ideal for companies who want to make a statement at their own location or to brand their products. In addition, the hoisting flags are suitable for public clients to implement the official flagging on public buildings. Many clubs and fans also use our flags, for example for events or league games.
For printing, flags are available in eleven standard formats with a height of up to five metres. Special formats are also possible. The high-quality design of the flags guarantees a long service life on masts with and without outriggers. Here at print24.com you can have us create up to 100 flags per order.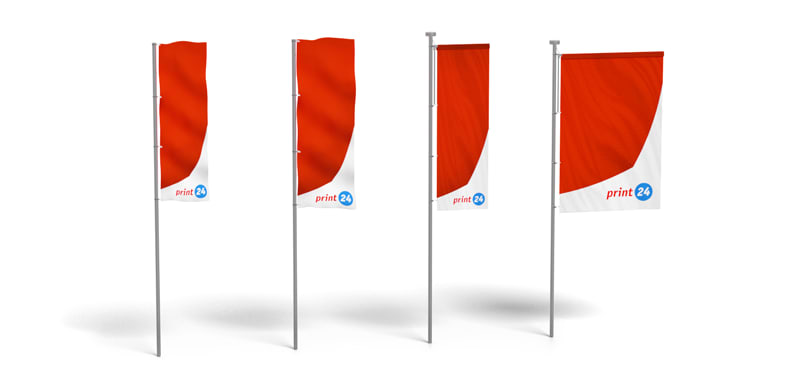 Printing flags on high quality material
We print your motifs on 110 gsm strong bunting. It is made of weather-resistant polyester and is therefore easily suitable for outdoors. Of course, you can also use your flags for indoor events, for example for club parties, trade fairs or corporate events. The bunting has a B1 fire protection certification. Your flags are therefore also suitable for use in public spaces because they comply with fire protection regulations.
Depending on your choice, our flags are suitable for masts with or without outriggers. To be robust and resistant in wind and weather, the bunting is reinforced all around. Side carabiners are fitted in each corner and at a distance of one metre to secure the flag additionally.
Proven printing process for maximum flexibility in the printing motif
We print your flags in the CMYK four-colour process. So you are very flexible in the selection of your print motifs. Whether photos, lettering or logos, you have the free choice how to customize your flag.
For photos, however, please note that the resolution is high enough to achieve a corresponding sharpness on the flag. This will avoid possible pixelation of your motifs.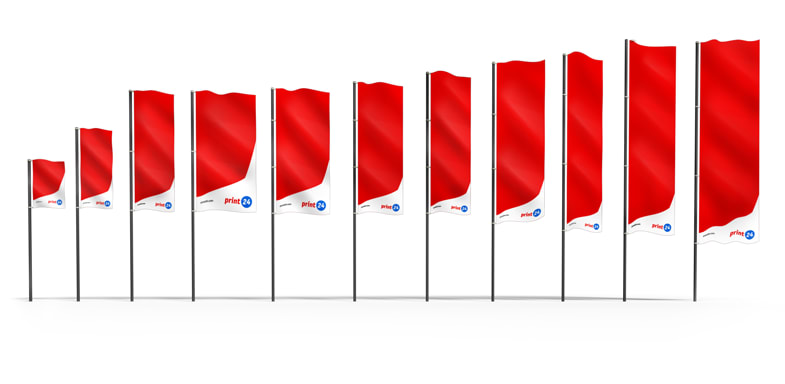 Different formats for the flag design
You can have flags and banners printed at print24.com in eleven different standard sizes. Since the selected format corresponds to the printing area, you have the largest flag in 1,500 x 5,000 mm and a huge 7.5 square metre area available for your motifs! Even in front of large buildings, these flags are very effective on the mast and the motifs printed on them are visible from afar.
The smallest of our flags measures 800 x 1,200 mm. In addition, flags with dimensions of 800 x 2,000, 1,000 x 3,500 or 1,500 x 3,000 mm are also possible. Simply select the desired size in the configurator. If you would like to specify the dimensions of your flag individually, simply enter the desired special dimensions.