Business Cards
Better print online!
Business cards conveniently printed and created
Even in the age of digital calendars and tools, business cards are still important print products that are perfectly suited for customer loyalty and the expansion of your own network. The handy cards made of cardboard or paper can be handed over to potential employers after a business meeting or conversation. Whether at the next medical conference or the next trade fair, the small card the size of a credit card is a must. It is said that some business cards left behind were the foundation for a successful career. As simple as the principle of business cards is, the more you should pay attention to details, value and seriousness when designing them.
With print24.com you can not only design your own business cards, but thanks to many different paper types, refinements and printing options you can also have a card printed that will make sure that no recipient forgets you. If you want to choose between different variants and are unsure you should only order one business card for viewing. Or you can place a large order for up to 500,000 copies. No matter what quantity you decide on: Business card printing with print24.com means excellent quality at fair prices and fast delivery at all times.
Business cards in standard and special formats
At print24.com you can print business cards in the standard formats 85 x 55 mm and 90 x 50 mm. The advantage of these formats is that the cards can be easily stored in the wallet, in the business card holder and rolling cards.
In addition, it may be attractive to deviate from the usual business card format to draw more attention to the card and stand out from the standard. At print24.com you can print business cards in a special format. Note the minimum and maximum sizes of 55 x 55 and 55 x 85 mm.
Business cards one-sided, two-sided or as a folded card
The one-sided printed business card with blank back is the classic. In some cases this can be a very practical solution for leaving an individual greeting or a short offer on the back. At the same time these are the cheapest business cards. A tip: You could, for example, only have the front printed with the corporate design of your company. Your sales representatives will then individualise the back themselves.
A more versatile business card design can be achieved with the two-sided printing, with logo or graphic on the front and contact details on the back.
With folding business cards you can customise four pages individually! These "maxi" business cards are ideal for inserting multiple locations or different services.
Paper options at print24.com
As standard, you can choose from coated art papers in the thicknesses of 250 and 350 gsm. Higher quality than coated art paper is the 350 gsm premium cardboard. We can also print your business cards on chromo board in a grammage of 300 gsm. The reverse side of this is uncoated.
Why not try something unusual with high-quality groundwood pulp board in a thickness of 1.4 mm at a grammage of 575 gsm? This is cardboard made of shredded wood with a slightly cream colouring. This colouring results from the lignin content of the cardboard. The material ensures that your business cards are stable and the slightly structured surface of the cardboard is very suitable for printing.
One level more exclusive is Premium paper. It is also characterised by its special surface. We can use the following variants for business card printing:
300 gsm Premium Chamois
350 gsm Premium Gerippt
340 gsm Premium Hochweiß
350 gsm Premium Leinen
If you are looking for a very inexpensive variant, offset paper or recycled paper in white is possible. The paper thicknesses: 350 gsm or 400 gsm for the offset paper and 300 gsm for the ecological paper variant.
If you want your business card to look very exclusive and professional, Luxecore papers are recommended. They have a grammage of 750 gsm and are available in the following variants:
Chamois
Ribbed
Bright white
Linen
Please note that only the 85 x 55 mm format is available for Luxecore papers in single-sided and double-sided printing.
Your colour options for business card printing
Very noble can look business cards, which are printed quite simply only in black. Here, for example, you can choose a luxurious type of paper. You will impress with exclusive understatement. Printing in black can be combined with special colours such as HKS or Pantone. These colours are ideal for corporate design colours or full-area printing.
With gold or silver, individual words or initials can be emphasized in black printing: A great visual effect!
The CMYK four-colour process ensures maximum flexibility in the choice of motif. This allows us to print photos or other graphics on your business cards. CMYK can also be combined with HKS, Pantone, gold or silver.
As a special highlight, we offer two options for printing gold or silver inks. First the classical method in offset printing and second in digital printing. With the latter, it is also possible to use with small print runs. Printing of Gold Digital/Silver Digital is done using metallic toner with special pigments that create a reflection. As a result, it is in no way inferior to offset printing and enables metallic effects even in gradations. With the "Gold/Silver Digital" option, four-colour printing can be enhanced with gold and silver at the same time! The luxurious silver and gold decorations complete your professional appearance. Whether delicate highlights or full-surface printing - silver and gold inks can mean the difference between just looking at and wanting to keep.
Business card refining
You can achieve the highest possible degree of individualisation for your business cards with refinements. After you have already decided on paper and printing options, print24.com offers you a wide range of options for enhancing your cards. For example, you can have fine papers embossed or surface finishes combined with embossing to give your business cards the perfect effect.
After printing, your business cards are cut to size. By default, the corners are not further processed. Optionally, you can choose in the configurator that we round off the corners. This can give your cards an extra "twist" that sets them apart from other business cards.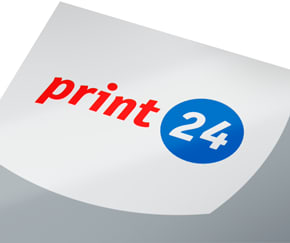 A protective varnish makes your product more resistant to wear and tear, more attractive to the touch and even more appealing to the eye. That's why a protective coating is the recommended finish for postcards, for example.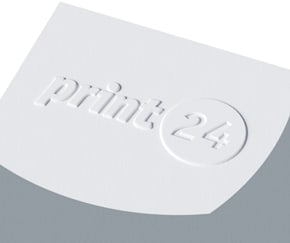 With blind embossing, you can highlight a motif vividly. If you choose a high embossing, your motif will be displayed in a raised position, if you choose a deep embossing, the motif will be imprinted as a dent in your printed product.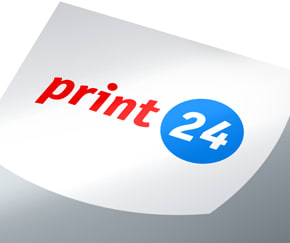 With laminating, a wafer-thin film is applied to your printed product. This gives your printed product a higher quality and at the same time makes it more robust.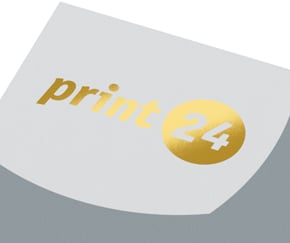 Hot foil stamping uses pressure and heat to apply coatings from a carrier foil to your printed product. This allows you to enhance your print product with metallic effects, for example.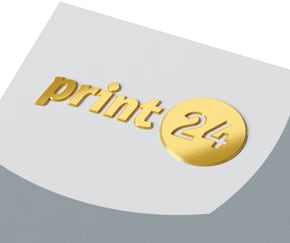 Hot foil relief stamping is a combination of relief stamping and hot foil stamping and combines visual and tactile effects.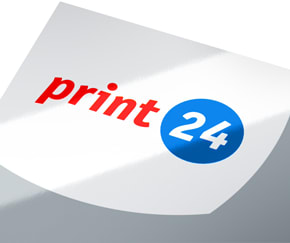 With UV surface varnishing, an additional layer of varnish is applied to your printed product, which gives it additional protection and makes it look even higher quality.
With UV spot varnishing, the varnish is applied only partially. This allows you to highlight certain areas of your product both visually and haptically.
FAQ to product business cards
Which paper selection is suitable if business cards are to be printed only on one side?
If you only want to print your business cards on one side, it makes sense to use chromo carton. The chromo carton is uncoated on the reverse side. This has the advantage that you can easily take notes with a ballpoint pen.
is the back of the card "deformed" when I want to emboss my business cards with a blind embossing?
Paper of any thickness is deformed on both sides by blind embossing, sometimes referred to as embossing and debossing.
How are business cards usually printed?
The classic option is to choose the coated art paper, which is finished on one side or on both sides with lamination.
Can I order several different business cards as a collective order?
Each order is a separate position, even if one page of the business card remains the same.
What are the standard dimensions for business cards?
For business cards, there are no standard dimensions that are defined in a DIN/ISO standard, such as for letterheads. However, over time the sizes 85 x 55 mm and 90 x 50 mm have become established over time.
How big must business cards be to fit in business card boxes and wallets?
For business cards, there are no standard dimensions that are defined in a DIN/ISO standard, such as for letterheads. However, over time the sizes 85 x 55 mm and 90 x 50 mm have become established over time.
What should I print on the back of a business card?
The possibility of printing the back of your business card should not be underestimated. Especially for people with international business contacts, it is a good idea to print a different language version of the front on the back. Other helpful information that can be placed on the back are directions or opening hours.