Calendars
Better print online!
Print calendars at the best price
At print24.com you can print calendars as wall calendars, year planners or monthly calendars according to your own taste. When designing the calendar sheets, there is plenty of room for your creative ideas or photo templates, so that a simple calendar can become a real work of art. In addition to birthday calendars for the private useage, our calendars are of course also suitable for promotional gifts to customers and business partners. Especially the wall planners and wall calendars should not be missing in any office!
Your personally designed photo calendars can be printed by us from just one piece onward. For larger orders from companies, our print shop offers sufficient capacity for orders of up to 250 desk calendars and up to 5,000 wall planners!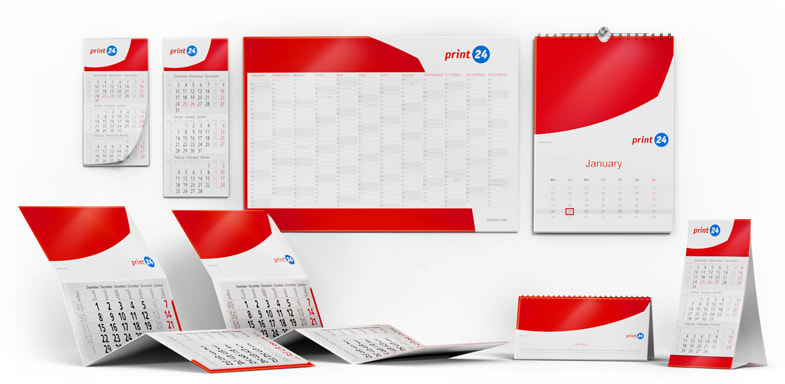 Our calendar variants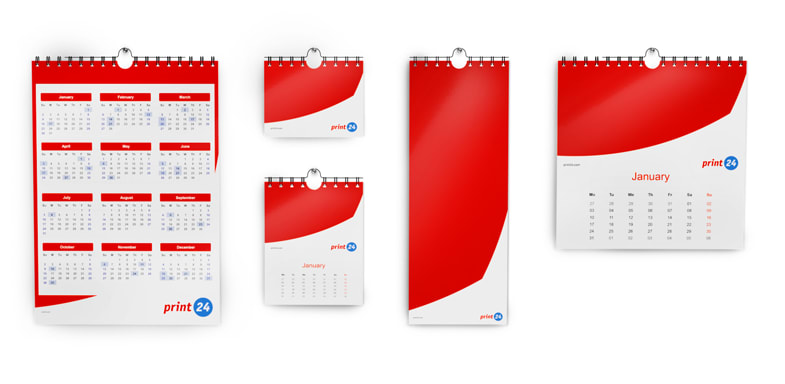 Wall calendar
With this classic among calendars, you can choose between spiral binding wires in various colours and an optional backing board in different materials. There are numerous standard formats to choose from, but if required you can also define your own special format for your wall calendar.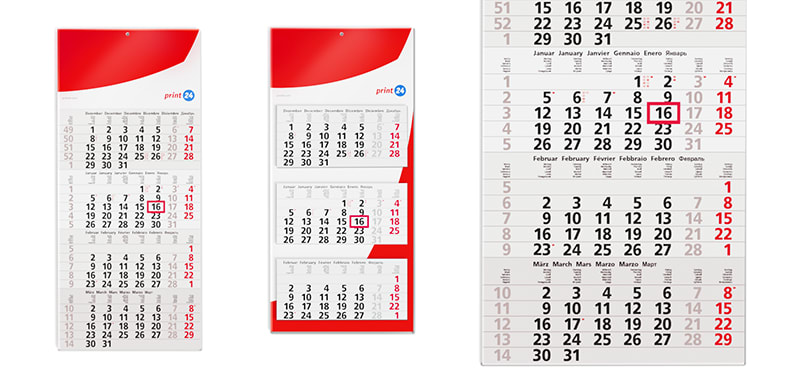 Monthly calendar
With monthly calendars you always have several months in view at once. Either 3 or 4 perforated calendars are applied to the printable backing. The single-sheet variant is somewhat more compact, while the multi-sheet variant offers additional printing areas thanks to the spaces in between.
In which formats can I print calendars?
Here you can first select the desired calendar format for printing. With 14 different formats, our wall calendars offer the most choices. You can configure these practical calendars in the handy DIN A6 format (105 x 148 millimeters) or, for example, as large-format, square photo calendars with the dimensions of 420 x 420 millimeters. In addition, we can also print wall calendars in other DIN sizes, such as A4 (210 x 297 millimeters) or in the format DIN-Lang (105 x 210 millimeters), which is perfect for mailing. We are happy to realise wall calendars in special format for you.
The practical wall planners display a clear overview of the entire year and can be designed in sizes from A3 (297 x 420 millimeters) to DIN A0 (841 x 1,189 millimeters). Special formats are also possible here, which you enter directly in the configurator. For wall planners and wall calendars, the print area is the same as the calendar format.
Our monthly calendars are configurable in different designs as single-leaf calendars of three or four months each, or as multi-block calendars of three or four months, and as desktop calendars. The size of the single-sheet calendar ranges from 300 x 490 to 300 x 600 millimeters, depending on the model. The printing area ranges up to 300 x 150. The multi-block calendars are larger and, depending on the design, measure between 330 x 700 and 330 x 900 millimeters.
For these calendars, the print area is the same format. The desk calendars can be printed in the sizes 105 x 297 and 148 x 180 millimeters in portrait or landscape format. Depending on your choice, our wall calendars contain between 13 and 15 sheets of design, and our table calendars have 13 sheets.
High quality papers for your individual calendar
For printing your wall calendars, desk calendars and year planners, we use high-quality, double-coated premium art paper as standard for high colour depth and brilliance. You can choose between the strengths 135, 170 and 250 gsm and the variant matt or glossy. For particularly elegant and exclusive wall or desk calendars, it is also possible to use ribbed or linen premium paper.
Furthermore, you can choose between 170 gsm offset and 170 gsm recycled paper. We create monthly calendars from one sided glossy and coated board. This gives them the necessary stability
Processing
After printing, we provide wall and desk calendars with a stable metal wire O binding. You can choose between a white, black or silver version.
Monthly calendars have a red date slider as well as red marked holidays. Your calendar is designed for the year 2022 and is multilingual (German, French and English). Multi-block calendars have a shape optimised for postal dispatch with a grooved back wall and a quadrilingual calendar for 2022 (German, English, French, Spanish).
For hanging, we add a hanging eyelet to the multi-block calendars and a hanging punching to the single-leaf calendars. Our printing house can print single calendars as well as several thousand calendars for you. The maximum quantity is 50,000 for wall calendars, 5,000 for wall planners, 10,000 for single-sheet calendars and 5,000 for monthly desk calendars.
Finishes for calendars
Depending on the paper selection, we can process your wall planner and calendar with UV varnish. As a result, the surface has a higher quality and is made more resistant by the additional paint layer.
If desired, we can laminate the surface of the table calendar sheets or finish it with UV varnish. In addition, spot finishes with a hot foil stamping or UV spot varnish are possible. For example, you can highlight individual dates or motifs on the calendar sheet.
Calendar printing in CMYK, special colours as well as gold and silver possible
You can print your wall calendars in a variety of ways. In addition to the tried-and-tested CMYK four-colour process, you can also choose from special colours such as Pantone as well as gold and silver.
Both the front and the back can be printed. A combination of CMYK with gold, silver or Pantone is also possible and can be used, for example, to highlight special elements. For a full-surface application, special colours are perfect, since they do not cause colour deviations.
Year planners are realised in CMYK by default. This also allows photos or graphics to be printed on the planner. The same applies to your multi-month calendar. We use CMYK and if required Pantone for the printing of your self-designed desk calendars. With these special colours, for example, you can perfectly reproduce the colours of your corporate design.
If you would like a preview of your calendars, you can order a screen proof for a small fee. The digital preview is stored in your customer account.
FAQ to product calendar
Can I order my calendar with a cover sheet?
Our calendars can be ordered with a cover sheet. This only has to be taken into account for the number of calendar pages. In addition, the cover sheet can be decorated with various forms of refinements.
How strong is the back cardboard of the calendar when choosing grey cardboard?
The greyboard has a grammage of 300 gsm.
is it possible to fold the calendar and send it in an envelope?
Yes, with the multi-month calendar this is possible. The 3-month one-page calendar has a perforated calendarium with a grooved carton on the back. This allows the calendar to be folded to the large letter format B4.
Does the calendar have loops to hang up?
Yes, the calendar has a thumb punch in the middle of the Wire-O binding and a suspension bracket (so-called open Wire-O binding). This is already included in the Wire-O binding and does not have to be ordered separately.
Is there a calendarium available that I can use for my calendar?
Currently, only wall planners have calendariums available in the data sheet. Furthermore, design templates can be selected in FreeDesign for all versions of calendars.
Is it possible to make an additional hole in the calendar?
No, this is not possible for production reasons.
Can every sheet of my calendar be laminated?
Only the cover sheet of your calendar can be laminated.
What is a Wire-O binding?
Wire-O binding, also known as wire comb binding, is a robust and dimensionally stable type of binding in which a wide variety of materials and sheet thicknesses can be joined together without difficulty. The pages can be turned over completely and remain open without any aids.
What are the different calendar types suitable for?
Wall calendars are the classic among calendars. They are suitable as birthday calendars, advertising calendars or self-designed photo calendars.
Wall planners show 12-15 months at a glance. Especially for this reason they are used by companies as holiday and appointment planners.
Multi-month calendars show, as the name already says, several months on a view. This variant is very popular as advertising calendar and can be dispatched in form of the three-month calendar comfortably in a large format letter.
The desk calendar is like a little stand-up display, which makes it possible to place the calendar stable on the desk.
Can I also design and print a calendar as a non-professional?
This is possible with the FreeDesign tool. Here you can choose free themes/templates and create them with your own texts and images.