Folders
Better print online!
Print folders
You can print presentation folders with print24.com in excellent quality and in ten different variants. The practical folders are ideal for transporting and collecting important documents, but can also be used as a files folder or contract folder. In school, studies and training, the folders are perfect for storing work sheets, class tests or exams.
With exclusive refinements you can make your presentation folders even more attractive. In addition, we offer you the entire spectrum of modern digital printing, including special colours as well as gold and silver. The printing of your presentation folders is already possible from an edition of 1 item and can easily be increased to 50,000.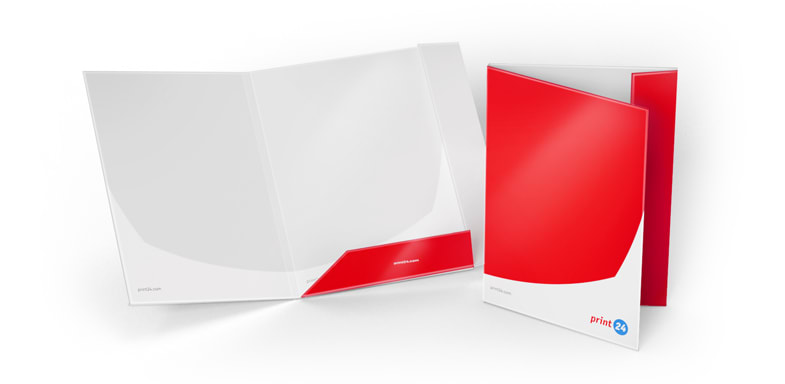 Different versions, suitable for your requirements
We create presentation folders for you in DIN A4 format. You have the choice between different versions with no, two or three flaps. In addition, you can choose whether your workbooks should have a one, five, eight or ten millimetre wide spine. The wider the spine, the more documents can be stored in the folder!
On request, we can insert a window into your presentation folder and attach a fastener. As an option, our DIN A4 folders are also equipped with a practical filing tab. Simply select the version that meets your requirements!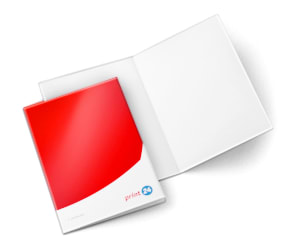 Folders without flap are the most economical version among the presentation folders, as they are not punched, but only cut. Optionally available with punching for insert sheets.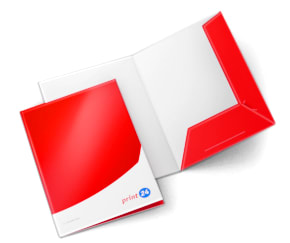 In folders with 2 flaps, your documents are kept safe by punched wing flaps. Optionally available with address window, business card slot or filing flap.
Your documents are held securely in all directions in a folder with three punched wing flaps on the left-hand side. Optionally available with plug-in closure and business card slot.
Paper options - more than just standard
For the printing of your folders we use coated art paper or chromium sulphate board with uncoated back. The printing papers are available in different thicknesses from 300 to 350 gsm. All papers can be printed in matt or gloss.
Our chromium sulphate board has the advantage that the uncoated back can be written on with conventional pens. This is ideal, for example, to add your own notes in the folder.
Print options for your folders
We can print the inside and outside of your folders. If you choose to print on one side, this selection corresponds to the print on the outside. You can choose the CMYK four-colour process as standard. This allows you to print images, logos or coloured graphics perfectly onto the folders.
After printing, your folders are punched on the basis of the template and then creased. For space-economical reasons and to minimise the wear your board folders are delivered unfolded.
Refinish presentation folders - use your possibilities
The name of the product already contains its intended purpose: the presentation. This makes the visual impression of your folders all the more important. You can optimise this as well as the haptic impression with a refinement. Choose between varnish, lamination or embossing.
Without
Blind embossing: gives motifs or individual text elements, for example, a three-dimensional look that can also be felt.
Cellophane coating: a very thin film is laminated onto the surface of the folder. This makes the product not only more precious, but also more robust. In addition, a haptic effect can be achieved with the Softtouch texture variant.
Digital hot foil: a wafer-thin foil applied by heat and pressure to the previously defined elements. This can be done partially and over the entire surface on glossy picture printing paper. Depending on the film used, different effects are achieved. We offer high-gloss metal foils in gold, silver or copper. Pixel-based data cannot be used for this purpose. The minimum line thickness is 0.5 mm. No embossing form is required for the Digital hot foil!
Cellophane coating + Digital hot foil
Hot foil flat embossing: the paper is coated with a foil available in red, silver or gold and other colours. This allows you to achieve very exciting optical effects.
Hot foil relief embossing: we additionally create a three-dimensional effect. The folder is varnished with UV surface varnish, which creates very attractive light reflections.
UV surface varnish: is an additional varnish layer which is applied over the entire surface. The coating not only produces outstanding high-gloss and perspective effects, it also makes the product more resistant and protects it from scratches.
UV surface + blind embossing
UV surface + hot foil flat embossing
UV surface + hot foil relief embossing
TIP:You can combine UV surface varnish with different embossings. This increases the exclusivity of your folders even further.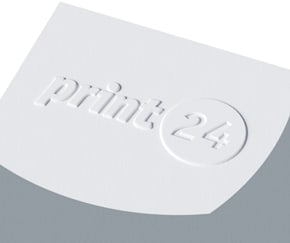 With blind embossing, you can highlight a motif vividly. If you choose a high embossing, your motif will be displayed in a raised position, if you choose a deep embossing, the motif will be imprinted as a dent in your printed product.
Calculation example
Folders with blind embossing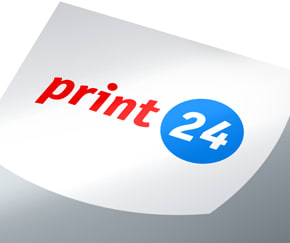 With laminating, a wafer-thin film is applied to your printed product. This gives your printed product a higher quality and at the same time makes it more robust.
Calculation example
Folders with cellophane coating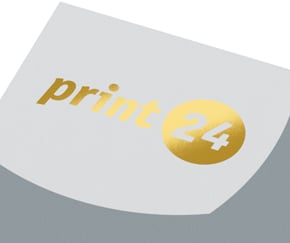 Hot foil stamping uses pressure and heat to apply coatings from a carrier foil to your printed product. This allows you to enhance your print product with metallic effects, for example.
Calculation example
Folder with hot foil stamping