Note pads
Better print online!
Printing note pads
Papers are still unbeatable in spite of smartphones and tablets when it comes to quick notes or transcripts. Here at print24.com you can print note pads in six different formats as well as special formats. Our print shop is perfect for you if you need waiter pads for your restaurant or beer garden or if you want to order writing pads for your employees.
In addition, depending on the format, the note pads can be used for very different purposes. You can, for example, print templates or forms on the pages. Our printing capacities are very flexible. So we print your pads from just one piece or if needed up to 20,000 pieces at once.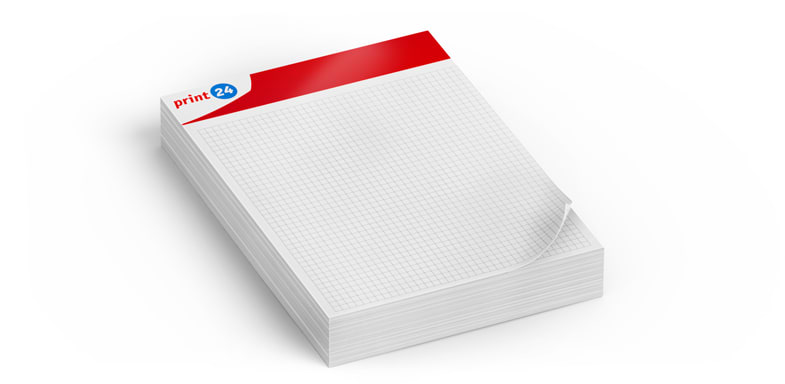 Print note pads in standard sizes and special formats
With five formats and a square format, we offer you all the popular and proven paper sizes for printing your note pads. The smallest possible print size is A7 (74 x 105 millimeters). This size has proven itself for example for notebooks.
For waiter pads the format A6 with 105 x 148 millimeters is perfect. If the individual block pages should also be used for sending in long standard envelopes, you should have your pads printed in DL format.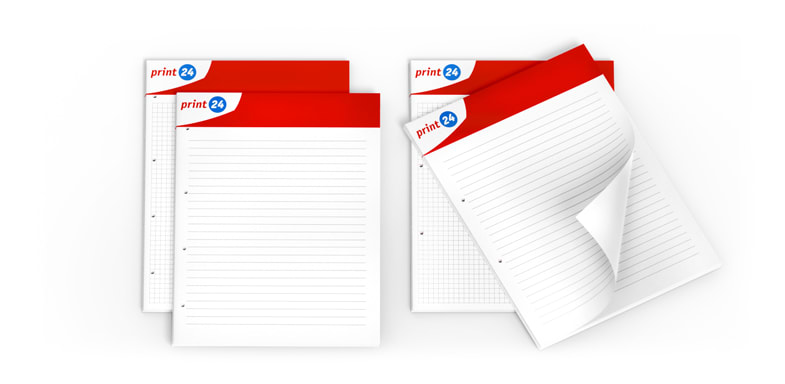 Block size and processing
After printing, your note pads are glued at the top with a grey backing board. On request, we can add a double or quadruple perforation on the left side of the paper. The hole spacing is 80 millimeters according to ISO 838 with double curl and 80 x 80 x 80 millimeters with four holes. The perforation makes it easy, for example, to file protocols or notes in a folder or briefcase.
We can equip your note pads with 25, 50 or 100 sheets. You simply select the desired number of sheets in the configurator.
On request, we can also bundle your note pads when ordering larger quantities. Then, starting at a certain denomination, we place a banderole around the blocks.
High quality materials for your note pads
We create your note pads on printable paper. Thus, the individual pages can be further processed later with commercially available printers or copiers.
You can choose from 90 gsm wood-free offset paper. It is characterized by its very even surface and the high whiteness. Or you use 80 gsm strong, bright white premium recycled paper. It is FSC certified and has the seal "Blue Angel".
Black, CMYK, special colours - everything is possible
We print your note pads in black, CMYK or spot colours like Pantone. In addition, you can also create gold and silver as colours. Black and CMYK can be combined with Pantone, gold or silver.
Special colours are recommended if you want to have your note pads printed in corporate design, for example, and to achieve exactly the colour shades used there. Pantone is also suitable if you want to colour a note pads over its entire surface.
Gold and silver are perfect for highlighting lettering, for example, if you want to create writing pads for your hotel guests.
Would you like to get a preview of your print? Then select a screen proof for a small fee. For a screen proof, we create a digital preview and add it to your account.