Folding boxes
Better print online!
Print folding boxes
Folding boxes are very handy when it comes to packaging products or gifts. With a few simple steps, the packaging is closed and makes an appealing impression. At print24.com you can have your individually designed folding boxes printed.
You can choose from four different shapes in up to ten different sizes. So you can adjust the size perfectly to your needs, to make the box, for example, as a jewellery present box, exclusive product packaging or packaging for giveaways at trade fairs.
The print is possible from 1 piece onward. Our modern print shop is also designed for large orders of up to 50,000 boxes in up to 10 different versions (= 500,000 boxes) per order.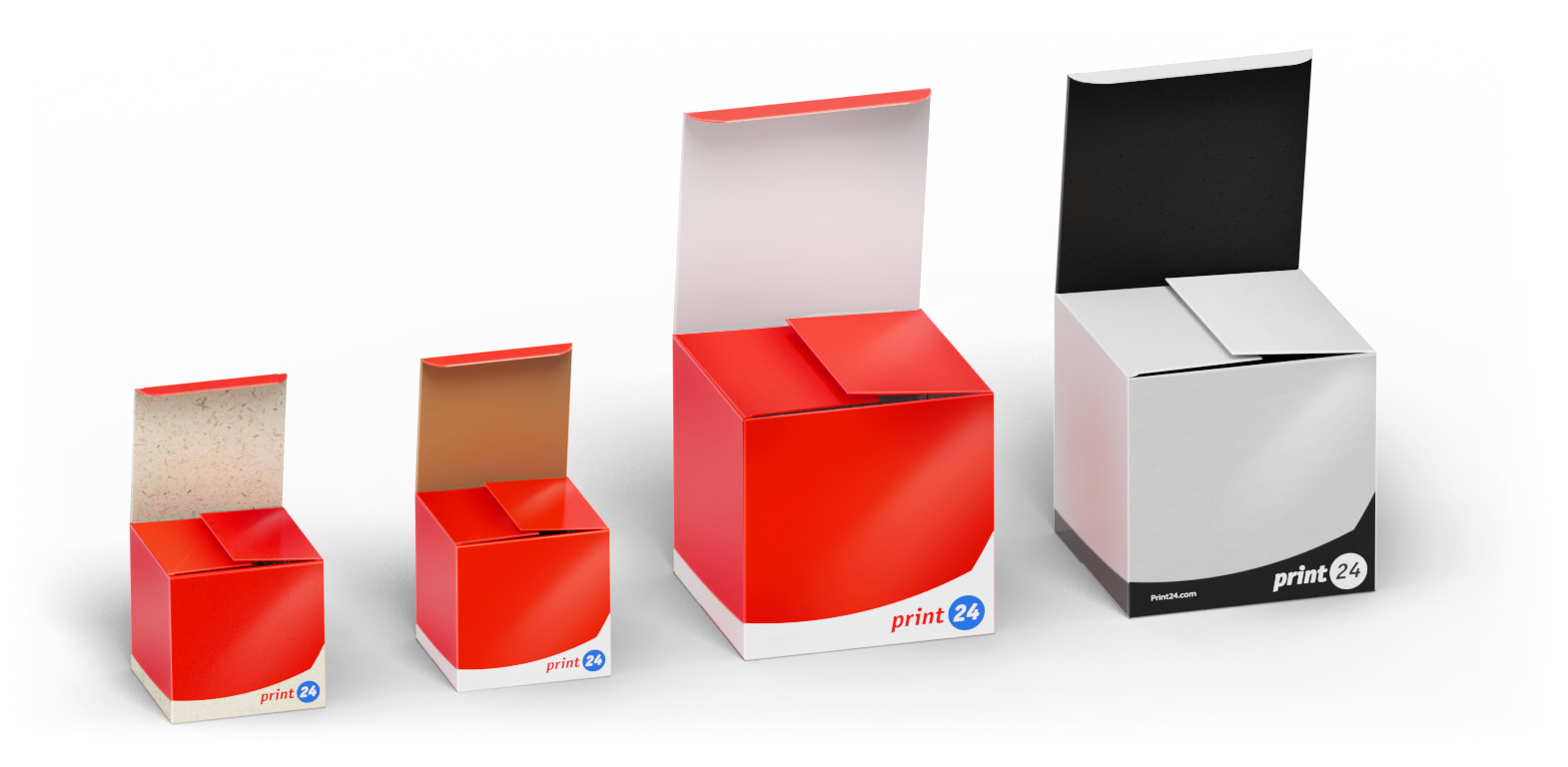 Many different formats for your folding boxes
Even more packaging volume is offered by our largest folding box, which measures 180 x 180 x 180 millimetres. You can have each individual side of the folding boxes printed with your motifs.
At print24.com you can print on folding boxes in four different shapes. You can choose between square, rectangular, cube-shaped and column-shaped folding boxes, each in a different size. The smallest of our folding boxes measures 40 x 20 x 40 millimetres.
Folding boxes of high quality and sturdy Chromo board
The 250 gsm to 400 gsm GC2 chromo board used by us provides the necessary strength for your folded boxes. Double-coated on one side, the cardboard is particularly rigid, and enables great volume, allowing your products to be perfectly packaged, and also protected from dust and dirt.
Modern printing technology for optimum printing results
By default, we use the CMYK four-colour process to print on your folding boxes. Thus, you are very free in the choice of motifs and benefit from the perfect printing technology for the brilliant and high-contrast display of photos as well as fonts.
The more individually you have your folding boxes printed, the better your gifts will reach their recipients and the higher quality they will look before they are unpacked. We will be happy to create a digital preview of your folding boxes for a small extra charge. To do this, select the "Screenproof" option in the configurator.
High-quality folding boxes for your products
As soon as we have printed your folded boxes, they are punched, creased flat and glued. For space-saving reasons, we deliver all boxes unfolded. When you want to use the boxes, simply sit them upright. The instant base will automatically assemble itself, and your packaging is ready.
Exclusive, unique boxes: Your refinement options
Choose from two refinement options for your folded boxes. For example, we can laminate the exterior, giving the boxes a smooth surface if you select the glossy option. Create a pleasant feel with soft-touch lamination, while the matte refinement makes the boxes scratch-proof.
You can also combine the glossy lamination with UV spot varnish. Opting for the matte or soft-touch finish will refine one side with this option, and the other with UV spot varnish. If you have any questions about the refinement options, or want to know more about possible configurations, you are welcome to call or chat with us.