Folded Cards
Better print online!
Print folded cards at the best price
Folding cards are perfect for sending invitations or congratulations. These printed products can also be used for advertising mailings. With print24.com you have found the perfect printing company to have your folding cards professionally printed.
If you wish, you can not only design your cards online, but also benefit from a wide range of finishing options and papers. Start your print job online right here and benefit from top quality folding card printing at low prices!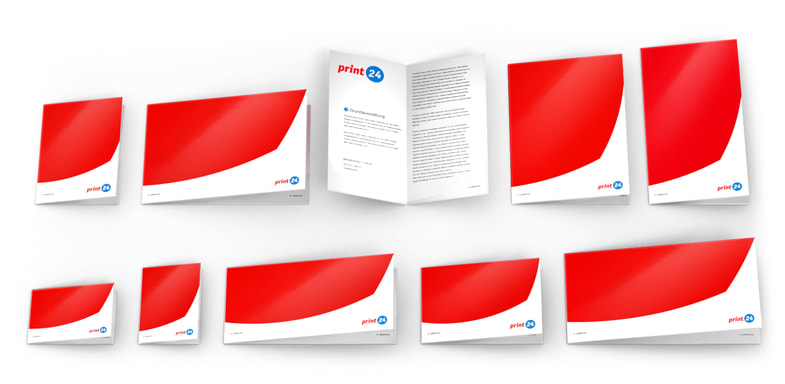 Folded cards for every occasion
High-quality double cards can be used very versatile. In addition to private customers, our clients also include resellers who sell their self-designed folding cards in their own shops or online shops. In addition, companies use our printing expertise to create greeting cards or Christmas cards. These products are very popular as invitation cards for weddings, birthdays or anniversaries. For this purpose, many customers order the matching envelopes at the same time. Of course, you can also use folding cards for traditional thank-you mail after big celebrations such as baptisms, communions or galas.
Flexible quantities to suit your needs
As one of the largest print service providers in Europe, we offer our customers not only a very large selection of print products, but also a very high degree of flexibility in the desired quantities. This means that we can print only a few folding cards for private customers just as reliably and with the same high quality as 500,000 cards for large companies.
In which formats can I order folding cards?
We can print your folded cards in various DIN and standard formats. Perfect for small gift cards, for example, is the DIN A7 format (74 x 105 mm). DIN A6 (105 x 148 mm) is the classic for greeting cards and DIN-Lang (105 x 210 mm) is ideal for mailing.
A nice format for invitations for special occasions is Maxi-Card (125 x 235 mm). A large format for special content is for example DIN A5 (148 x 210 mm). In addition to the standard sizes, printing is also possible in special formats. We can print all folded cards in landscape or portrait format.
Your paper options for folding cards
Recommended for folded cards are papers in a higher grammage. These include coated art paper, coated board premium, offset paper, white recycled paper and chromo board with uncoated back, the thickness of which depends on the choice between 300 and 350 gsm.
In formats from DIN A6 we can also print your cards on 170 and 250 gsm coated art paper. This paper also has the Gloss or Matt option. The coated board premium we use is always matt.
Print and refine folded cards - your options with print24.com
With a refinement you can give your cards that certain something. Thus, an additional haptic effect can be achieved with a blind embossing. This refinement is recommended, for example, to emphasize individual text elements. Likewise, a logo can also be embossed on the card.
If you choose hot foil embossing, your folded card will get a unique look thanks to the coloured foil in blue, red, copper, silver, gold or bronze. In addition, 3D effects can be obtained by choosing the hot foil relief embossing. A three-dimensional effect is also created if you have individual motif components or text elements edited with relief paint.
As a special highlight, we offer the possibility of applying a foil in gold, rose gold or silver with digital foil. The process does not require an embossing die and can therefore also be used for a small print run. The foil is applied using a special chrome roller. It is in no way inferior to hot foil stamping and enables metallic effects even in gradations.
If you opt for cellophane coating, also known as lamination, we apply a very thin foil to the surface. You can choose from the options Gloss, Matt, Linen finish or Softtouch. Thanks to the lamination, your card is more stable and visually appealing.
A coating is also possible with UV spot varnish or UV surface varnish. The latter is usually applied to the entire surface of the card, while spot varnish accentuates only certain areas on your card. Note that the refining options are always dependent on the selected paper. After selecting the paper, the configurator will show you the possible refining options by clicking on the corresponding window.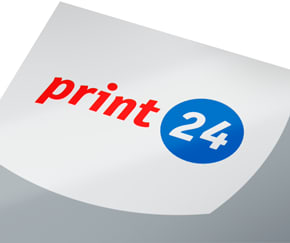 A protective varnish makes your product more resistant to wear and tear, more attractive to the touch and even more appealing to the eye. That's why a protective coating is the recommended finish for postcards, for example.
Calculation example
Folding cards with protective coating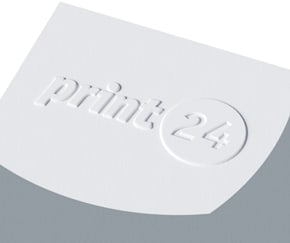 With blind embossing, you can highlight a motif vividly. If you choose a high embossing, your motif will be displayed in a raised position, if you choose a deep embossing, the motif will be imprinted as a dent in your printed product.
Calculation example
Folding cards with blind embossing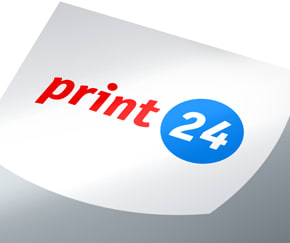 With laminating, a wafer-thin film is applied to your printed product. This gives your printed product a higher quality and at the same time makes it more robust.
Calculation example
Folding cards with cellophane coating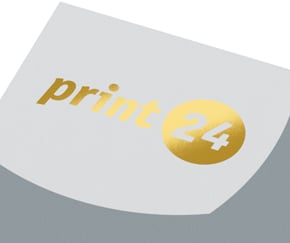 Hot foil stamping uses pressure and heat to apply coatings from a carrier foil to your printed product. This allows you to enhance your print product with metallic effects, for example.
Calculation example
Folding cards with hot foil stamping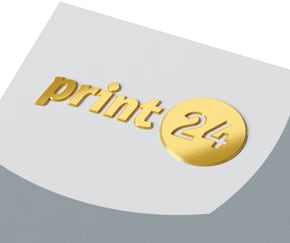 Hot foil relief stamping is a combination of relief stamping and hot foil stamping and combines visual and tactile effects.
Calculation example
Folding cards with hot foil relief embossing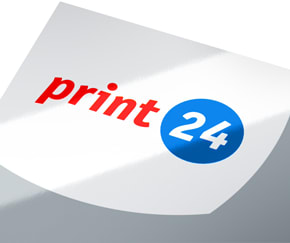 With UV surface varnishing, an additional layer of varnish is applied to your printed product, which gives it additional protection and makes it look even higher quality.
Calculation example
Folding cards with UV surface varnish
With UV spot varnishing, the varnish is applied only partially. This allows you to highlight certain areas of your product both visually and haptically.
Calculation example
Folding cards with UV spot varnish
Versatile printing options with Pantone, Gold or Silver
To make your folded cards particularly appealing, you can choose from several options for printing. By default, we print your cards in CMYK four-colour process, which promises the greatest flexibility in the choice of subjects. It's a perfect way to put photos, logos, simple or complex graphics on paper. If, however, you would like a large-area application of paint, we recommend special colours such as Pantone, which provide a very even print result. Likewise, company colours can be perfectly represented in the corporate design.
To give your greeting cards an elegant touch, we can print individual lettering, motifs or elements in gold and silver. Of course, CMYK printing can be combined with special colours. It is also possible to print very simple cards in black. This variant is suitable for example for condolence cards. By default, printing is four-sided. If the products are to be folded on several sides, this must be taken into account when creating the print data.
Envelopes - Additional offer from print24.com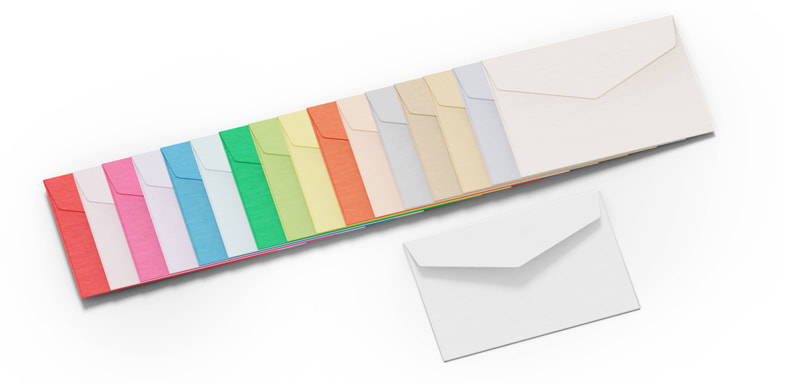 Order the matching envelopes directly with your folded cards and give your occasion an extra touch. Envelopes are available in the formats 114 x 162 mm (C6), 110 x 220 mm (DL) or 155 x 155 mm. In addition, there is the new standard format 148 x 148 mm.
The envelope is made of 120 gsm paper and is sealed with adhesive. It is available in different colour variants such as blue, red and yellow.