Letterheads
Better print online!
Print your personalised letterheads
With the right letterheads you always make a good impression. This applies to both private and business correspondence. At print24.com you can have your individual letterheads printed, for example with your logo or with design elements in your corporate design. You can use the letterheads not only for business mail, but also for exposés, company announcements or invoice templates.
The printing of your letterhead is possible from 1 piece onward. But we can easily print up to half a million for you. Thanks to the high paper and print quality, print24 is also suitable for resellers who want to sell their own stationery.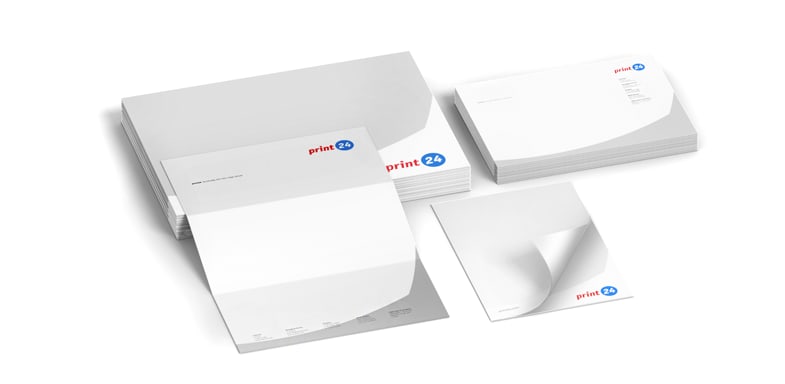 Create letterheads in the standard formats DIN A5 and DIN A4
Letterheads are printed in standard formats DIN A5 (148 x 210 mm) and A4 (210 x 297 mm) in portrait or landscape. This makes your letterhead perfect for sending with standard envelopes.
In addition, you can conveniently file common DIN formats into ring binders or classic folders. But you can also create your letterheads in special formats, which differ from the standard DIN sizes.
Our paper types for your letterheads
There are several options for your letterheads when selecting the paper. For special demands, for example for highly official letters or invitations, our premium papers are the perfect choice. With the 100 gsm premium chamois paper you choose a very elegant shade, which goes easily into the cream colour. The 115 gsm strong paper in high white, on the other hand, impresses with its very high whiteness. The ribbed and linen versions, in grammages of 120 and 130 gsm respectively, provide a special haptic impression.
Very practical and especially at large quantities significantly cheaper are our offset papers. They have the advantage that they can be further processed in common printers or copiers, for example for printing addresses or billing data. Offset paper can be selected in five weights, 80, 90, 100, 120 and 170 gsm for your letterheads. If you care about the environment, you can also use the 80 gsm premium white recycled paper. It has the environmental seal "Blue Angel" and is FSC certified. We also have grass paper as "green" natural paper. The natural-coloured material has a textured, tactile surface.
Refine your letterheads
For a very special impression, you can have your letterheads embossed. The blind embossing is particularly suitable for embossing initials or a logo in the paper. You can visually enhance the unique feel of this finish with a hot foil or hot foil relief embossing. Here you have the choice between the colours gold, silver, bronze, copper, red and blue.
If you choose a special format, it will be specially tailored. DIN A4 and DIN A5 stationery will be printed directly. On request, we can bundle larger quantities for you. You can order stationery from 1 piece up to a maximum quantity of 500,000.
Standard or special colours - what should it be?
Your letterhead will be printed in black, CMYK or special colours like Pantone as well as gold and silver. Especially on 170 gsm offset paper a simple print in black looks very elegant in combination with gold or silver. The CMYK process is particularly suitable for printing photos or graphics, as it can reproduce these motifs very brilliantly and with the necessary depth.
If you want a full-colour printing, special colours like Pantone are recommended because they do not produce any colour fluctuations when printing on a flat surface. If you already use fixed colours in corporate design, you should also create these in special colours. This ensures that the colour combination 1: 1 matches your company colours.
We can print on both sides of your letterheads on request. Black and CMYK can be combined with Pantone, gold or silver for both front and back printing.
As a special highlight, we offer two options for printing gold or silver inks. First the classical method in offset printing and second in digital printing. With the latter, it is also possible to use with small print runs. Printing of Gold Digital/Silver Digital is done using metallic toner with special pigments that create a reflection. As a result, it is in no way inferior to offset printing and enables metallic effects even in gradations. With the "Gold/Silver Digital" option, four-colour printing can be enhanced with gold and silver at the same time! The luxurious silver and gold decorations invite you to touch, marvel at and browse the pages and stylishly complete your professional appearance.
Whether delicate highlights or full-surface printing - silver and gold inks can mean the difference between just looking at and wanting to keep.